Genre:
Action Movie
Adventure
Animation
Release Date:
January 28, 2015
Duration:
92 minutes
Plot:
Plankton is about to succeed in his plan: he will steal the secret Crab Patty recipe. SpongeBob tries to stop him, and as they fight the secret recipe vanishes! What will Mr Krabs sell to his customers now? The news are out and the sea residents of Bikini Bottom go panic. Their world will end without Crab Patty! Wasn't that enough? Everyone think SpongeBob helped Plankton to steal the recipe. The two eternal enemies are faced with just one choice: to help each other for real and find the lost recipe. The usual suspects will stand by them: Patrick, Mr Krabs, Squidward and Sandy. Does this look like a big team to you? They will all be needed to confront the mysterious Burger Beard Pirate. He has a magical book in his hands, and everything he writes in that book becomes reality (just like in the "Inkheart" movie). That's how he stole the secret recipe and now he makes a profit from selling Crab Patties!
Our impressions and movie review:
The greatest part of the movie The SpongeBob Movie: Sponge Out of Water is classic 2d animation (ok, ok with a 3d aroma) staring SpongeBob SquarePants. In the rest, the Burger Beard Pirate (Antonio Banderas) with his flock of seagulls, fights against our beloved animated characters in 3d. We love Banderas but he surely had better performances before. Yet, he seems to enjoy the role of the Pirate Captain 😉 Especially when he is up against SpongeBob SquarePants and the rest crew as super heroes.
This movie is for young and elder fans of Bob and his Bikini Bottom friends. If you are a friend of SpongeBob you will see that this movie is faithfull to the animated series. Will you enjoy this film? Aye Aye Captain!
The SpongeBob Movie: Sponge Out of Water – Trailer
https://www.youtube.com/watch?v=TGjbpO1toTc
Credits:
Writers:
Glenn Berger, Jonathan Aibel, Stephen Hillenburg, Paul Tibbitt
Director:
Paul Tibbitt
Cast: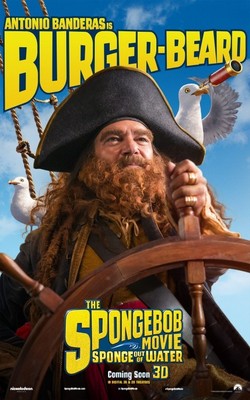 Antonio Banderas – Burger Beard
Tom Kenny – SpongeBob / Gary / Agreeable Mob Member / Waffle (voice)
Bill Fagerbakke – Patrick / Male Fish / Eager Customer (voice)
Rodger Bumpass – Doctor / Squidward / Angry Mob Member #2 / Doughnut / Squidasaurus Rex (voice)
Mr. Lawrence – Plankton / Plankton Robot / News Anchor Fish / Mob Member (voice)
Jill Talley – Karen (the Computer Wife) / Harold's Wife / Ice Cream Cone #2 (voice)
Dee Bradley Baker – Sandals / Customer #1 / Fish on Bubble / Perch Perkins / Angry Fish / Maple Syrup Jar / Waffle / Ice Cream Cone #1 / Furballs / Giant Cute Kitty / Rainbow / Spotlight Guard / Angry Guard #1 / Tough Mob Member (voice)
Clancy Brown – Mr. Krabs (voice)
Eric Bauza – Seagull (voice)
Tim Conway – Seagull (voice)
Eddie Deezen – Seagull (voice)
Rob Paulsen – Seagull (voice)
Kevin Michael Richardson – Seagull (voice)
April Stewart – Seagull (voice)
Cree Summer – Seagull (voice)
Billy West – Seagull (voice)
Carlos Alazraqui – Seagull / Dead Parrot (voice)
Nolan North – Seagull / Dead Parrot / Pigeon Cabbie (voice)
Paul Tibbitt – Kyle / Helpful Angry Mob Member (voice)
Carolyn Lawrence – Sandy (voice)
Sirena Irwin – Computer Voice / Shocked Mob Member (voice)
Mary Jo Catlett – Mrs. Puff (voice)
Mark Fite – Customer #2 (voice)
Thomas F. Wilson – Angry Customer #1 (voice)
Riki Lindhome – Popsicle (voice)
Kate Micucci – Popsicle (voice)
Matt Berry – Bubbles (voice)
Ezra James Colbert – Boy on the Beach
Lillian Ellen Jones – Sandcastle Girl
Brody Rose – Kicking Boy
Noah Lomax – Mikey
Jesica Ahlberg – Tanning Woman
Nina Repeta – Woman with Stroller
Corinne Engstrom – Young Woman Customer
Chip Lane – Customer
Brick Jackson – Customer
Keller Moore – Older Boy Customer
Bailey Campbell – Boy Customer #2
Henry Davis Morales – Young Boy with Cone
Nicolette Noble – Surfer Girl with Cone
Kari Klinkenborg – Woman on Sidewalk #1
Lisa Datz – Amy
Dane Northcutt – Nut Vendor Customer
Meredith Jackson – Mother with Cone
Ella Adele Burns – Young Girl with Cone
Mike Benitez – Nut Vendor
Kron Moore – Woman on Sidewalk
Eamon Sheehan – Young Father
Matteo Spears Satriano – Little Boy on Lifeguard Chair
John Brown – Food Truck Patron
David Dickson – Man Eating Krabby Patty
Ashley Nicole Hudson – ND Beach Goer
Amy Lynn Tuttle – ND Beach Goer
Marian Green – ND Beach Goer
Jake Kilfoyle – ND Beach Goer
Dean Neistat – ND Beach Goer
Ashley Siloac – Beach Goer
Epic Lloyd – Surfer Dude (voice) (as Lloyd Ahlquist)
Nice Peter – Surfer Dude (as Peter Shukoff)
Stephen Hillenburg – Baby in Stroller (voice)
Lori Alan – Pearl (voice)
Production Companies and Distributors:
Paramount Animation
Nickelodeon Movies
United Plankton Pictures
UIP
Α.Α.