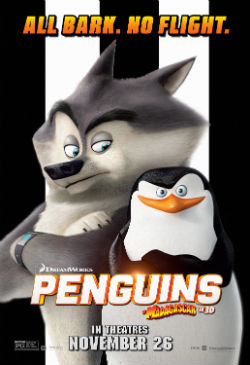 Genre:
Adventure, Animation, Comedy
Release Date:
November 8th, 2014
Duration:
92 minutes
Plot:
Skipper, Kowalski, Rico and Private staring in their own movie! Their rival is Dr. Octavius Brine who wants to destroy the world. When he kidnaps them and takes them to Venice, they discover that he is not really a human but an octopus, Dave. And this is not the first time they meet. Dave was the protagonist of marine animals at Central Park Zoo, till Penguins of Madagascar came. Soon, zoo visitors stopped paying any attention to Dave, and streamed to see the Penguins. This is something that Dave never forgot and never forgave.
The Penguins of Madagascar will find an unexpected ally, that even helps them escape from the hands, or rather tentacles, of Dave.
A secret group called North Wind, led by Classified. With him is Eva, a beautiful owl, Short Fuse, a demolitioner seal and Corporal, a polar bear. We cannot tell you the real name of Classified, but we can tell you he is a very cute grey wolf. Cute, but narrow-minded and spoiled. He is not willing to understand that the Penguins can help him. He even packs them and mail them to Madagascar! But their paths will cross again. The Penguins of Madagascar and North Wind must cooperate, or they will not manage to beat Dave.
Our impressions and movie review:

The Penguins of Madagascar had stolen the show in the Madagascar film series. They got their own series on Nickelodeon, "Operation Antarctica – 2012" a tv movie, and their own movie, which was released in 2014, was the natural consequence. Unfortunately, it lacks the magic and brilliance that distinguished them. To put it more simply, I have seen TV episodes on Nickelodeon with better written script. There are however a couple of very funny moments and young children will not have any difficulty to love this movie. Maybe they know better 😉
Penguins of Madagascar – Trailer
https://www.youtube.com/watch?v=S-50vrekqKI
Credits:
Writers:
Michael Colton, John Aboud
Directors:
Eric Darnell, Simon J. Smith
Cast:
Tom McGrath – Skipper
Chris Miller – Kowalski
Christopher Knights – Private
Conrad Vernon – Rico
John Malkovich – Dave
Benedict Cumberbatch – Classified – Πράκτορας Απόρρητος
Ken Jeong – Short Fuse
Annet Mahendru – Eva
Peter Stormare – Corporal
Andy Richter – Mort
Danny Jacobs – King Julien
Sean Charmatz – Cricket
Werner Herzog – Documentary Filmmaker
Stephen Kearin – Pilot / Aquarium Employee
Kelly Cooney – Mermain Penguin
Susan Fitzer – Antarctic Penguin
Chris Sanders – Antarctic Penguin
Emily Nordwind – Antarctic Penguin
Mike Mitchell – Antarctic Penguin
Hope Levy – Antarctic Penguin / Woman at Aquarium
Walt Dohrn – Antarctic Penguin
Jim Pirri – Gondolier
Elizabeth Pan – Shanghai TV Reporter
Jeff Fischer – Security System Voice
Stephen Apostolina – Penguin Prisoner
Al Rodrigo – Penguin Fan
Steve Alterman – Aquarium Announcer
Carter Hastings – Boy at Aquarium
Ava Acres – Girl at Zoo
Cullen McCarthy – Boy at Zoo
Nicholas Guest – Flight Attendant
Adriano Aragon – Angry Man
Lynnanne Zager – Computer Voice
Billy Eichner – New York Reporter
Angie Wu – Girl with Snow Globe
Production Companies and Distributors
DreamWorks Animation
Pacific Data Images (PDI)
20th Century Fox
To see the first four minutes of the movie "Penguins of Madagascar" click here!
A.A.