Genre:
Action Movie
Adventure
Sci Fi
Release Date:
June 24, 2015
Duration:
126 minutes
Plot:
2029. The war between humans and machines is coming to an end. Resistance, led by John Connor (Jason Clarke) is preparing the final blow that will bring Skynet to its knees. The machines have not said their final word. They use a Time Displacement Equipment (TDE) to sent back in time, in 1984, a Terminator who will kill Sarah Connor (Emilia Clarke) before she even gives birth to the leader of Resistance. Kyle Reese (Jai Courtney) volunteers to travel back in time and stop the Terminator. When he is gone, John is attacked by a T-3000, the most advanced Terminator ever.
In 1984, Sarah is waiting for Kyle and saves his life from a T-1000 (Byung-Hun Lee). She bares no similarities with the fragile and weak girl he would have saved. Next to her stands the Guardian (Arnold Schwarzenegger), a T-800 Terminator model! Sarah and the Guardian, not only saved Kyle, but also destroyed the T-800 that was sent to kill her.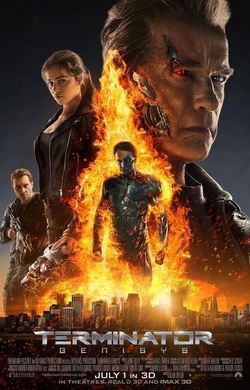 History has changed. Skynet had sent a T-1000 in 1973, to kill Sarah and her parents. At the last moment, the Guardian appeared – a Terminator that was reprogrammed by the Resistance and sent back in time. Since then, Guardian takes care of Sarah and prepares her for the creation of the Resistance, and she calls him "Pops".
Kyle is now in an unknown timeline. Yet, he has a very crucial information for Sarah: Judgement Day, the birthday of Skynet, is October 10, 2017. Of course, they are not going to stand idle for three decades. Guardian knows how to build a TDE, and with their own time machine they can travel to 2017 and destroy Skynet on its genesys. Genisys is also the name of the 2017 software, that will unite in a form of cloud computing over a billion computers, smart phones and other devices, creating this way the Skynet in this timeline. But the biggest problem they have to face is John Connor, who is now a T-3000!
Our impressions and movie review:
"Terminator Genisys" is a reboot of the famous film series and this is a great movie. Although "Genisys" is the fifth film, you will hear many people argue that this one is the true sequel to "Terminator" and "Terminator 2: Judgement Day" – you know that "T3: Rise of the Machines" and "T4: Salvation" were rather sloppy. The screenplay, written by Laeta Kalogridis and Patrick Lussier, is very good and it uses elements from the first two films. Some scenes have been shot almost the same, while other elements of the T1 and T2 are being revisited with a twist! Alan Taylor directs follows the footsteps of James Cameron, and he achieves really good results.
Jason Clarke embodies very well John Connor, both as a leader of the Resistance and – then – as the ultimate Terminator. Emilia Clarke, known as Daenerys in Game of Thrones, gives a great performance as the bold Sarah Connor. Jai Courtney is not bad, but we would prefer another actor in Kyle Reese's shoes. J.K. Simmons is enjoyable as always. He plays a small comic part: a detective who saw the Terminators back in 1984, and everyone think he is crazy. Dr Who Matt Smith has a small part as well, but crucial to the story. We will not tell you what he does, because who ever reveals this before you see the movie, is not a good friend 😉 Byung-hun Lee is convincing as T-1000, yet we missed good old Robert Patrick. We left the best for last: Arnold Schwarzenegger is amazing!
"Terminator Genisys" will be released in USA theaters on July 1st. This is the only 2015 film that can compete Mad Max: Fury Road. You will enjoy Genisys whether you are a sci-fi fan or not. As James Cameron said: "if you like the (old) Terminator movies, you will love the new film".
Terminator: Genisys – Trailer (Full HD)
https://www.youtube.com/watch?v=JIi9rPT4RoU
Movie quote from Terminator: Genisys
[just before the final attack, trying to inspire his brothers in arms]
John Connor: If we die tonight, mankind dies with us.
Movie quote from Terminator: Genisys
Skynet: You thought it would be that easy?
Movie quote from Terminator: Genisys
[the Guardian talking to T-800]
-I have been waiting for you.
Movie quote from Terminator: Genisys
Sarah Connor: Come with me if you want to live.
Movie quote from Terminator: Genisys
John Connor: I am not a machine. Not man. I am more.
Movie quote from Terminator: Genisys
[Sarah hugs Guardian before she travels in time with Kyle]
Guardian: This is pointless. Why hold on to someone, when you will let go.
Movie quote from Terminator: Genisys
Sarah Connor: My whole life I 've prepared my son to lead the fight against the machines. The last thing I could imagine is that he become one of them.
Movie quote from Terminator: Genisys
Kyle Reese: Whatever they did to him we need to reverse it.
Sarah Connor: What if that's what happens to all of us?
Movie quote from Terminator: Genisys
Detective O'Brien: I wanna help you. I do. But I 've got to understand. I know what's going on here, has to be really really complicated.
Sarah Connor: We 're here to stop the end of the world.
Detective O'Brien: I can work with that.
Movie quote from Terminator: Genisys
[he hits John Connor saving the lifes of Sarah and Kyle]
Guardian: John Connor talks to much.
To see James Cameron review of Terminator Genisys click here!
To see Terminator Genisys backstage footage click here!
Credits:
Writers:
Laeta Kalogridis, Patrick Lussier
Director:
Alan Taylor
Cast:
Arnold Schwarzenegger – Terminator
Emilia Clarke – Sarah Connor
Jai Courtney – Kyle Reese
Jason Clarke – John Connor
J.K. Simmons – Detective O'Brien
Matt Smith – Tim
Brett Azar – Young Terminator
Byung-hun Lee – T-1000
Sandrine Holt – T-800
Courtney B. Vance – Miles Dyson
Michael Gladis – Lieutenant Matias
Teri Wyble – Mariam
Nolan Gross – Skynet
Dayo Okeniyi – Danny Dyson
Starlette Miariaunii – Prison Rioter
Griff Furst – Burke
Gregory Alan Williams – Detective Harding
Kerry O'Malley – Kyle's Mom
Justin Lebrun – Guerrilla Guard
Christopher Heskey – Soldier #2
Kerry Cahill – Lt. Whitley
James Moses Black – Guard
Natalie Stephany Aguilar – Tiburon Kid On School Bus
Gus Rhodes – Cyberdyne Employee
Bryant Prince – Young Kyle Reese
John Edward Lee – Punk #1
Tina Gilton – Tiburon Hiker
Douglas M. Griffin – Garber
Tom Bui – Guerilla Soldier
John L. Armijo – San Francisco Cop #2
Joshua Mikel – Angry Driver
Lizeth Hutchings – Guerilla Soldier
Brandon Stacy – Police Officer
Otto Sanchez – Officer Timmons
Ari Atken – Tiburon Kid on School Bus
Mahal Montoya – Mom on the Beach
Moses Munoz – Ramirez
Terry Dale Parks – Cop
Kyle Russell Clements – Commander Pike Sumner
Giovanni Silva – Soldier
Patrick Kearns – Civilian
Sergio Kato – Guerrilla Officer (credit only)
Luke Sexton – Punk #3
Jesse Yarborough – Guerrilla Officer
Michael D. Anglin – Guerrilla Soldier
Elton LeBlanc – Doctor
Wayne Bastrup – Young O'Brien
Jerome Andries – Officer Fisher
John Garcia – Soldier
Cynthia LeBlanc – Hospital Vistor
Samantha Sadoff – Tiburon Kid on School Bus
Thomas Francis Murphy – Derelict
John Ceallach – Guerrilla Soldier 2
Carter Burch – Guerilla Soldier
John Lobato – Guerrilla Officer
Johnny La – Harry Lu
Douglas Wilcox II – Guerrilla Soldier
Matty Ferraro – Agent Janssen
Benjamin Wood – Guerilla Soldier
Gustavo I. Ortiz – Prisoner
Douglas Lacey – Guerrilla Soldier
Hannah Spiros – School girl
Bill Rainey – Doctor
David Michael Cefalu – Militia Soldier
Kerry Sims – Guerrilla Officer
Kage Havok – Guerrilla Soldier
Mark Adam – Kyle's Dad
Nathan O'Neil Smith – Officer Schanker
Grinnell Morris – Sarah's Father
Joshua Tran – Undercover Cop
John Teal Jr. – Guerrilla Soldier
Ross P. Cook – Soldier #1
Lori Campbell – Doctor
Seth Carr – Young boy (as Seth Banee Carr)
Eric Berris – Guerrilla Soldier
Alexander Eldimiati – Soldier
Anthony Michael Frederick – Cop
Todd T Taylor – Cop 1
Nathan Tremaine – Prisoner
Kyle Crosby – Soldier
Hassan Said – Guerilla Soldier
Garrett Hollingsworth – Street Punk
Mikiah Aubert – Girl Playing on Beach
Gregory Scott Bedford – Biker
Victoria Greene – Doctor
Mitchell Yee – Resistance Soldier
Steve Kish – Prisoner / Cyberdyne Employee
Brian Les Weinberger – Cyberdyne Corporate Event Employee
Patrick Constantine Bertagnolli Jr. – Officer Cazzuto
Edgar Leza – Detective
Mary Lu Marr – Tourist
Andre Allemand – Guerilla Soldier
Mark Lavell – Beach Goer
Neil Durr – Guerrilla Soldier
Erica Teeple – Tiburon Kid on School Bus
Terri Battee – Guerrilla Officer
Taylor Lissarrague – War Prisoner
Shawntae Hughes – Prisoner
Shamar Milton – Cyberdyne Employee
Dalton Puckett – Teenage Beach Goer
Production Companies and Distributors:
Paramount Pictures
Skydance Productions
UIP
A.A.