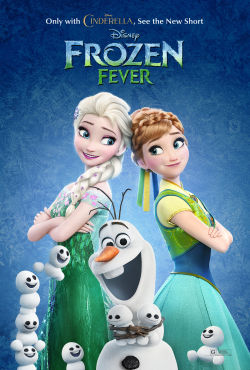 Genre:
Adventure
Animation
Musical
Release Date:
March 12, 2015
Duration:
8 minutes
Plot:
Soon it will be Anna's birthday and Elsa is preparing a surprise party. Kristoff, Sven and Olaf are helping Elsa… well ok, maybe Olaf does a few mistakes, but we love him anyway 😉
Elsa, who sings "cold never bothered me anyway", was not carefull and she caught… a cold. Every time she sneezes, little snowmen appear. Oops! What will they do about it?
Elsa is determined to make up for all the birthdays Anna had to celebrate by herself, and she guides her sister from one surprise to the next. Imagine this as a treasure hunt game, with ice decoration, that ends in an amazing birthday party for all the good people.
Our impressions and movie review:

The animation short film "Frozen Fever" was released in March 2015 with "Cinderella". You cannot make a Musical without songs, and in the 8 minutes of the new film there is the new song "Making Today a Perfect Day".
"Frozen Fever" production took 6 months according to Chris Buck. They used Hyperion, Disney's rendering software that was first used in "Big Hero 6". One of Hyperion's features is Render Instance, that designed and controlled the micro-bots of "Big Hero 6" and the little snow people of "Frozen Fever".
Many characters from the first movie make an appearance in "Frozen Fever", even Hans is where he deserves to be. Where? In the royal stables back in his home, where he shovels manure. After the sufferings he caused in "Frozen", even the stables are too good for Hans.
Watch "Cinderella" and enjoy "Frozen Fever" too 🙂
Frozen Fever – Trailer
http://www.youtube.com/watch?v=bQRLVxZHKPs
Movie Quote from Frozen Fever
Elsa: Surprise, surprise! This one is specially for.. achoo!
Anna: Wow. You've got me reeling but I'm still concerned for you. I think it's time that you go home and get some rest.
Elsa: We're not stopping cause the next one is the be… a.. a.. achoo!
Credits:
Writers:
Chris Buck, Jennifer Lee, Marc E. Smith
Director:
Chris Buck, Jennifer Lee
Cast:
Kristen Bell – Anna
Idina Menzel – Elsa
Josh Gad – Olaf
Jonathan Groff – Kristoff
Santino Fontana – Hans
Chris Williams – Oaken
Paul Briggs – Marshmallow
Production Companies and Distributors:
Walt Disney Animation Studios
Walt Disney Pictures
Feelgood Entertainment
A.A.