Fantastic Beasts and Where to Find Them – 2016
Genre:
Adventure
Fantasy
Release Date:
November 16, 2016
Duration:
133 minutes
Plot:
Gellert Grindelwald (Johnny Depp) is a very powerful and evil Wizard. He causes havoc all around Europe and suddenly, in 1926, he disappears! The international witchcraft community is afraid that Grindelwald is preparing a new blow, so powerful that a war with the Non-Majs (Muggles) will begin. With the memories of the WW I still fresh nobody wants that. Nobody apart from spiteful Grindelwald!
A British Wizard, Newt Scamander (Eddie Redmayne) has just arrived in USA. Although he had to leave Hogwarts – he was expelled because he accidentally hurt another student – he is very good at his job. And what is that? He is a Magizoologist! He travels around the globe and gathers Monsters, e…. Fantastic Beasts I meant. And it's good that Newt did not hear me because he really loves what he does, he really loves those misunderstood Fantastic Beasts. He believes that the most dangerous thing on Earth are humans – Wizards and Non-Majs. But this is a different story. Or not?
Newt Scamander only meant to stay in New York for a few hours…
When Newt came to New York he only had a suitcase with him. A magical suitcase bewitched with an extension charm. Newt has many Fantastic Beasts packed inside and, if he wants, he can get inside too. But there are two little problems. The one is that the locks sometimes open on their own. He should fix them. The other problem is much more important. Newt and Jacob Kowalski (Dan Fogler) have an identical leather suitcase and they accidentally switch them. Later this day, when Kowalski is at home, he opens the suitcase and… many Fantastic Beasts escape and roam freely in New York!
Our impressions and movie review:
If you think of the Harry Potter film series as one movie, then "Fantastic Beasts and Where to Find Them" is the perfect definition of a sequel. There are many elements of our familiar wizarding world, references to characters and of course plot twists and style differences that will thrill you. First of all we are on a different continent and another era. The plot takes place in New York of 1926, 65 years before Harry Potter set foot in Hogwarts. It is an era that the world is shocked from the Great War – this is how they called World War I and they did not intend to make a second. An era of Prohibition in USA, an era when recession and progress fight.
Author J.K. Rowling chose the ideal time and place for her new story. The movie "Fantastic Beasts and Where to Find Them" is her first screenplay. There are many ideas from her books but she also "borrows" and cleverly utilizes much more. The magical suitcase is in the style of Douglas Adams. And the different Beast habitats – desert or snowy landscapes, day or night – were like a wink from Yates to Cameron's "Avatar". We must also say that Yates is a good director and he gets good performances from the actors.
The production should spend more cash for extras. They know that this reboot will bring millions of dollars, Harry Potter was one of the highest-grossing franchises and film series. The Big Apple has so few citizens walking around, as if it is an isolated mountain village. On a disaster scene, that you would expect to see the whole police force, we see a roadblock with about 20 officers. The visual effects range from pretty impressive to very good. The only one we did not like was the swarm effect for the Obscurus, which looked like an updated version of Galvatron from "Transformers IV". Set Decoration was very good and the Costume Design almost perfect. And I say almost, because last week we had the chance to see "Hacksaw Ridge", a one of a kind movie that literally travels you to 1940 – and the small town pictured there had more extras-locals than the New York of the Fantastic Beasts.
Eddie Redmayne – Academy winner for "The Theory of Everything" – presents in a very interesting way the protagonist Newt Scamander. Right next to him stands Dan Fogler who is very good and gave us many moments of laughter. He is the first Muggle protagonist in a Harry Potter movie. Katherine Waterston gives a rather restrained performance, while Alison Sudol is really convincing.
"Fantastic Beasts and Where to Find Them" has the perfect mix of adventure and humour – it was emotional and imaginative. This is a movie for teens and adults who are still young at heart. We live in grim times, so… long live the fairy tales. Live it as long as you can!
The movie premieres on November 18th, 2016 and it will be a blockbuster!
Fantastic Beasts and Where to Find Them – Comic-Con Trailer (Greek subs)
Movie Quote from Fantastic Beasts and Where to Find Them
Mary Lou Barebone: Something is stalking our city! Reaping destruction and then disappearing without a trace. Witches live among us!
Movie Quote from Fantastic Beasts and Where to Find Them
Percival Graves: You're an interesting man, Mr. Scamander. Just like your suitcase, I think there's more to you than meets the eye. … I wonder… what makes Albus Dumbledore so fond of you, Mr. Scamander?
Newt Scamander: I have no idea.
Movie Quote from Fantastic Beasts and Where to Find Them
Gnarlack: So you're the guy with the case full of monsters, huh?
Newt Scamander: News travels fast.
Movie trivial from Fantastic Beasts and Where to Find Them
There are many different Fantastic Beasts in the movie: Niffler, Occamy, Demiguise, Bowtruckles, Thunderbird, Erumpent, Murtlap, Mooncalf, Swooping Evil, Billywig, Nundu, Raphorn, House-Elves, Goblins
Johnny Depp, who has very limited screen time in this movie, will be the villain in the sequel.
The sequel will be released on 2018 and the plot will take place in Paris.
Credits: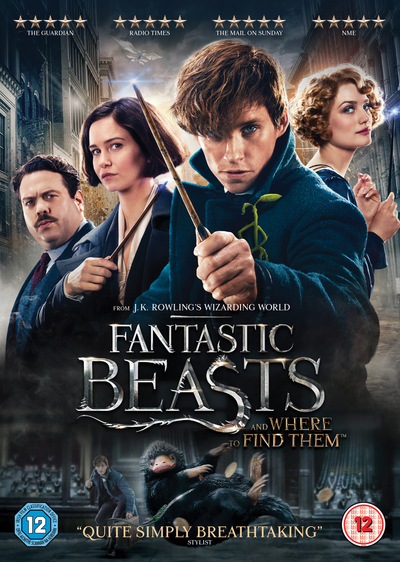 Writers:
J.K. Rowling
Director:
David Yates
Cast:
Eddie Redmayne – Newt Scamander
Johnny Depp – Gellert Grindelwald
Gemma Chan – Madame Ya Zou
Ezra Miller – Credence
Katherine Waterston – Porpentina Goldstein
Colin Farrell – Percival Graves
Zoë Kravitz – Lestrange
Ron Perlman – Gnarlack
Samantha Morton – Mary Lou
Jon Voight – Henry Shaw, Sr
Dan Fogler – Jacob Kowalski
Alison Sudol – Queenie Goldstein
Carmen Ejogo – Seraphina Picquery
Christine Marzano – Exterminator
Lucie Pohl – Secretary
Chloe de Burgh – Tenement Woman
Jenn Murray – Chastity
Ronan Raftery – Langdon Shaw
Jorge Leon Martinez – Spaniard Ship Passenger
Kamil Lemieszewski – Polish Noble Man / Jan Kowalski
Lobna Futers – Witch
Kevin Guthrie – Abernathy
Flor Ferraco – Bank Client
Karl Farrer – Banker
Sean Cronin – Criminal
Anthony J Sacco – Gala Guest
Lasco Atkins – Pedestrian
Sam Redford – Customs Official
Akin Gazi – Auror
Elizabeth Moynihan – Executioner #1
Kirsty Grace – Jazz Girl
Josh Cowdery – Senator Henry Shaw
Brian F. Mulvey – The Watchman (as BF Mulvey)
Nick Owenford – New York Gentleman
Jane Perry – Customer in Bakery
Todd Boyce – The Announcer
Bart Edwards – New York Chief of Police
Walles Hamonde – Auror
Jason Redshaw – Higher class Gentleman
Bernardo Santos – Smart New Yorker
Faith Wood-Blagrove – Modesty
Dino Fazzani – Factory Worker
Peter Breitmayer – Gilbert Bingley
Solomon Taiwo Justified – Wizard
Abi Adeyemi – International Royal Dignitar
Geeta Vij – Aura
Andreea Paduraru – Aura
Tim Bentinck – Witness
Abigayle Honeywill – Criminal
Adam Lazarus – Wizard
Christian Dixon – Momolou Wotorson
Edd Osmond – Creature Performer
Dan Trotter – Street Vendor
Lee Asquith-Coe – Officer 247
Paul Dewdney – New York Journalist
Cory Peterson – Banker
Tony Paul West – Doorman
Annarie Boor – New Yorker
Ashley Hudson – Young Gentleman
Gino Picciano – Gangster
Yves O'Hara – Gala Dinner Guest
Richard Douglas – Gentleman
Fanny Carbonnel – Mrs. Goldstein
James Rumell – Newsroom Reporter
Miroslav Zaruba – Bank Guard
Anick Wiget – Criminal on 'Wanted' Poster
Attila G. Kerekes – New York Citizen
Anne Wittman – Housewife
Adam Lezemore – Gala Guest
Olivia Quinn – Aunt of the Bride
Dennis O'Donnell – Circus Escapologist
Silvia Crastan – New Yorker
Richard Price – Gala Guest
Michael Gabbitas – Gala guest
Erick Hayden – Policeman
Paul Redfern – Gala Guest
Luke Hope – NYC Banker
Matthew Sim – Photographer
Claire Cooper-King – Gala Dinner Guest
Kornelia Horvath – South American Passenger on Newt's Boat
Paul A Munday – Journalist
Joe Malone – Young Wizard
Henry Douthwaite – Skender
Denis Khoroshko – Banker Smirnoff
Neil Broome – Gala Dinner Guest
Lee Bolton – Photographer
Andrei Satalov – Wizard
Andy Mihalache – Bank Customer
Vassiliki Tzanakou – Boat Passenger
Richard Hardisty – Auror
Cristian Lazar – New York Citizen
John Murray – Blind Pig Criminal
Daniel Smales – Tenement
Eddie Register – Passerby
Alphonso Austin – Boat Crew
Laura Bernardeschi – Italian Tenant in New York
Dave Simon – New York Socialite
Keith Lomas – New York Socialite
Guna Gultniece – Immigrant
Connor Short – Gala Guest
Lampros Kalfuntzos – Newt Boat Man
Andrew Parker – Gangster at bar
Patrick Carney Junior – Gala Dinner Guest
Gabriele Antonini – Newspaper boy
David Goodson – Porter (as Dave Goodson)
Alan Peett – Bank Begging Tramp
Alexsandria Rothschild – Gala Guest
Mitchell Thornton – Gala Doorman and Waiter
Elizabeth Briand – Gala guest
Christopher Marsh – New York Banker
David Charles-Cully – Gentleman
Pete Meads – Factory Worker
Alex Jaep – Pedestrian
Chloe Collingwood – Taxi Passenger
Joshua Diffley – Young Husband
Khristopher MacLeod – Higher Class Gentleman
Joseph Macnab – New York Cop
Robert-Anthony Artlett – Upperclass Wizard
Max Cazier – Young Man
Aileen Archer – Criminal
David J Biscoe – Journalist
Michael Barron – New Yorker
Adam Chamberlain – Store Worker
Nathan Benham – Bank Guard
Jennie Luke – Macusa Receptionist
Ian Jenkins – High Society Gentleman
Ryan Storey – Waiter
Craig Davies – New Yorker
Morgan Walters – Watchman
Marc Benanti – Journalist
Stacey Clegg – Gala Dinner Guest
Carmen Cowell – Tenement Woman
Dom Lister – Journalist
Cole Leman – Customs Officer
Marketa Flynn – New Yorker
Jack Uglow – New York Citizen
Simon Kerrison – High society gentleman / gala guest
Roy Beck – Gala Speechwriter
Camilla Talarowska – New York Citizen
Jake Samuels – Bank Guard
Paul Bergquist – Gala Dinner Guest (uncredited)
Greg Brummel – New York tenement (uncredited)
Douglas Byrne – Gala Guest (uncredited)
Tomasz Dabrowski – Factory Worker (uncredited)
Nick Donald – Bank customer (uncredited)
Stephanie Eccles – Gala Dinner Guest (uncredited)
Rudy Valentino Grant – New York street sweeper (uncredited)
Production Companies and Distributors:
Heyday Films
Warner Bros
Tanweer
Official Site
FantasticBeasts.com
PotterMore.com/explore-the-story/fantastic-beasts
A.A.