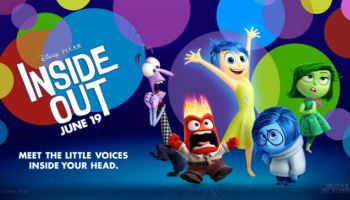 Genre:
Adventure
Animation
Comedy
Family Movie
Release Date:
June 17, 2015
Duration:
102 minutes
Plot:
Riley (Kaitlyn Dias) is a young girl who has grown up in the Midwest. Because of her father's job they have to move to San Francisco, so Riley will have to leave everything behind – her friends, her classmates, her school. Riley, like all people, have five basic emotions inside her mind: Joy, Sadness, Anger, Fear and Disgust. These emotions cooperate, but each person gives more power to one of them, with the life choices he makes. For example, in Riley's Dad Riley (Kyle MacLachlan) it is the Anger and in her Mom (Diane Lane) it is Sadness. Riley is too young and the things are not clear enough yet, but it seems that Joy has the upper hand in the Headquarters of her mind.
A lot of things change with the move to San Francisco. Riley begins with a possitive attitude, but the difficulties keep coming the one after the other. Sadness makes some interventions, but Joy tries to isolate her because she does not want to see Riley feeling sad. Can someone be happy all the time or maybe all the emotions have their place in our lives? An accident occurs during memory management and Joy and Sadness get lost, far away from HQ. Anger, Fear and Disgust are trying to cope with the problems on their own, during the following days, with little – if any – success. Joy and Sadness try to find their way back, through the roads of Riley's mind. It will be a long and tedious journey. But this will be a worthwhile journey, with many benefits for Riley and us, the moviegoers.
Our impressions and movie review:
Pete Docter ( "Toy Story", "Toy Story 2", "Monsters, Inc.", "Up", "WALL-E") and Ronaldo Del Carmen ( "Up", "Monsters University" ) are the directors and had the basic story for "Inside Out". Many philosophers and other scientists tried to give answers about Free Will, Personality and other Existential Issues. The modern psychological approach supports that all emotions – Anger, Fear, Joy, Sadness – have their place in our lives. "Inside Out" starts from that point and shows, with a very clever way, a point of view about what is important, what is trivial, how to handle your problems and how to find your balance. The funny moments and a dose of adventure blend well with the script and make the movie really enjoyable.
"Inside Out" was a big hit this summer. It is a movie for kids and parents, that you can see many times, and you will enjoy this movie for sure!
Inside Out – Trailer (english subs)
http://www.youtube.com/watch?v=nurwoe9KBgw&cc_load_policy=1
Credits:
Writers:
Pete Docter, Ronaldo Del Carmen, Meg LeFauve, Josh Cooley, Amy Poehler, Bill Hader
Directors:
Pete Docter, Ronaldo Del Carmen
Cast:
Amy Poehler – Joy (voice)
Phyllis Smith – Sadness (voice)
Richard Kind – Bing Bong (voice)
Bill Hader – Fear (voice)
Lewis Black – Anger (voice)
Mindy Kaling – Disgust (voice)
Kaitlyn Dias – Riley (voice)
Diane Lane – Mom (voice)
Kyle MacLachlan – Dad (voice)
Paula Poundstone – Forgetter Paula (voice)
Bobby Moynihan – Forgetter Bobby (voice)
Paula Pell – Dream Director / Mom's Anger (voice)
Dave Goelz – Subconscious Guard Frank (voice)
Frank Oz – Subconscious Guard Dave (voice)
Josh Cooley – Jangles (voice)
Flea – Mind Worker Cop Jake (voice)
John Ratzenberger – Fritz (voice)
Carlos Alazraqui – Helicopter Pilot (voice)
Peter Sagal – Clown's Joy (voice)
Rashida Jones – Cool Girl's Emotions (voice)
Lori Alan – Mother's Sadness (voice)
John Cygan – Additional Voices (voice)
Sherry Lynn – Mother's Joy (voice)
Laraine Newman – Mother's Fear (voice)
Paris Van Dyke – Meg (voice)
Jess Harnell – Additional Voices (voice)
Tony Maki – Additional Voices (voice)
Production Companies and Distributors:
Pixar Animation Studios
Walt Disney Pictures
Feelgood Entertainment
A.A.