Genre:
Horror Movies
Thriller
Mystery Movies
Release Date:
June 7, 2016
Duration:
134 minutes
Plot:
The investigators of paranormal phenomena Ed (Patrick Wilson) and Lorraine Warren (Vera Farmiga) return! Three years ago, in 1975, they faced a demon in Amityville, Long Island New York. This time they will have to travel to Enfield of England to help the Hodgson family.
Peggy Hodgson (Frances O'Connor) is a single mother with four children: Margaret (Lauren Esposito), Janet (Madison Wolfe), Johnny (Patrick McAuley) and Billy (Benjamin Haigh). Their father left them for another woman and the family has severe economical difficulties. The worst is yet to come!
Everything begins one night that Janet feels worried. Suddenly, she hears the voice of an old man saying "this is my house!". Margaret believes that her little sister is making a prank, till she hears the mysterious and eerie voice too. Various things change position in the house and, day by day, the poltergeist becomes more aggressive, trying to hurt those who live in the house.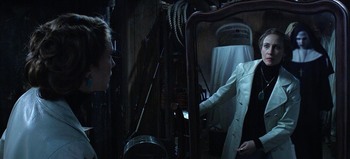 The local church invites Warrent to help in the investigation. Ed sees in his dreams a demon dressed like a nun, just like the one Lorraine saw in Amityville. On the other hand, paranormal investigators Maurice Grosse (Simon McBurney) and Anita Gregory (Franka Potente) record with a hidden camera Janet doing damages in the kitchen, and later the young girl claimed that a supernaturan entity did them. After that, Warren decide to leave. New clues will force them to return to Hodgsons' house and face a terrible demon, determined to kill them!
Our impressions and movie review:
Ed Warren and his wife Lorraine, who we first saw in "The Conjuring" (2013), are real people. The case of the haunted house in Enfield England had shaken the local community in the late 70s. The hidden camera video recorded by Maurice Grosse and Anita Gregory, combined with the fact the Janet Hodgson had publicly admitted that many parts of the story were fabrications of her imagination, did not prevent the screenwriters to present as true story the plot of the film. They definitely succeeded in writing a story with much suspense and lots of terror. And they had millions of reasons to do so. The first movie had a $20,000,000 budget and brought revenues of $318,000,000 😉
James Wan is again the director – he had worked with the two protagonists in "Conjuring" – and he did a really good job. Let's not forget that apart from Furious 7, Wan is known for writing and directing many successful horror movies, like Saw – 2004, Dead Silence – 2007, Death Sentence – 2007, Insidious – 2010 and Insidious: Chapter 2 – 2013.
"The Conjuring 2" premiered on June 7th, 2016 at the Los Angeles Film Festival. Watch this movie and get goose bumps or feel the chills down your spine from your fear, despite the high temperatures of this summer.
The Conjuring 2 – Trailer (Greek Subs)
https://www.youtube.com/watch?v=qQhbXQTvYds
Credits:
Writers:
Carey Hayes, Chad Hayes, James Wan, David Leslie Johnson
Director:
James Wan
Cast:
Patrick Wilson – Ed Warren
Vera Farmiga – Lorraine Warren
Madison Wolfe – Janet Hodgson
Frances O'Connor – Peggy Hodgson
Lauren Esposito – Margaret Hodgson
Benjamin Haigh – Billy Hodgson
Patrick McAuley – Johnny Hodgson
Simon McBurney – Maurice Grosse
Maria Doyle Kennedy – Peggy Nottingham
Simon Delaney – Vic Nottingham
Franka Potente – Anita Gregory
Bob Adrian – Bill Wilkins
Robin Atkin Downes – Demon Voice (voice)
Bonnie Aarons – Demon Nun
Javier Botet – Crooked Man
Steve Coulter – Father Gordon
Abhi Sinha – Harry Whitmark
Chris Royds – Graham Morris
Sterling Jerins – Judy Warren
Daniel Wolfe – Kent Allen
Annie Young – Constable Heeps
Elliot Joseph – Constable Peterson
Debora Weston – Talk Show Host
Cory English – Skeptic Kaplan
Joseph Bishara – Demon
Emily Tasker – Camilla
Kate Cook – Mrs. More
Carol Been – Lollipop Woman
Shannon Kook – Drew Thomas
Holly Hayes – Audience Member
Lance C. Fuller – Audience Member
Jennifer Collins – Louise Defeo
Thomas Harrison – Peter
Aaron Hay – Boom Operator
Edward Losch – Seance Participant
Christof Veillon – Maurice
Claire Ashton – Theatre Audience / Market Lady (uncredited)
Kishore Bhatt – Pedestrian (uncredited)
CarneyPat – Gentleman Smoker (uncredited)
Sarah Cortez – Dawn (uncredited)
Gioacchino Jim Cuffaro – Neighbour (uncredited)
Helen Dashwood – Theatre Audience / Street shopper (uncredited)
Michael DeBartolo – Ronald Sr. (uncredited)
Nancy DeMars – Woman Walking Dog (uncredited)
Diego Gomez – John Matthew (uncredited)
Joy Isa – Market Trader (uncredited)
Danny Jackson – Aaron (uncredited)
Jason Liles – Crooked Man shadow (uncredited)
Charlotte Lorenz – Helen (uncredited)
Teresa Mahoney – Carol Singer (uncredited)
Isabelle Marlowe – Mom (uncredited)
Alexa Najera – Allison Defeo (uncredited)
Glenn Povéy – Rocker – Musician (uncredited)
Mike Sengelow – News Reporter (uncredited)
Jamie Soricelli – Shadow Nun (uncredited)
Gone Thursday – Michael (uncredited)
John Trevillion – Schoolboy (uncredited)
Production Companies and Distributors:
Evergreen Media Group
Atomic Monster
Dune Entertainment (as RatPac-Dune Entertainment)
New Line Cinema
Safran Company, The
Soho VFX
Tanweer
Official Website:
theConjuring2.com
A.A.