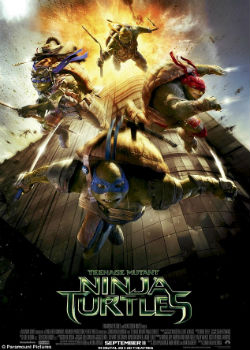 Genre:
Action Movie, Adventure, Comedy
Release Date:
August 3, 2014
Duration:
101 minutes
Plot:
April O'Neil (Megan Fox) is a young reporter who works for Channel 6 in New York City. April had dreams for her life and plans for a brilliant career in journalism, but finds herself being a life style newscaster, who shows part of her cleavage. But she doesn't give up! She has her attention on Foot Clan, the criminal organization that creates many problems in New York. She tries to gather more information for a reportage that will change her career forever. So, one night she goes to the dock, where the Foot Clan attempts to steal a load of chemicals. There, she is surprised seeing a gigantic vigilante kicking the butt of Foot Soldiers and stopping the robbery.
The next day she tries to present her story to her colleagues and to the executives of Channel 6, but, with the absence of evidence, she becomes the targets of irony and mocking. Foot Clan makes a new attack, this time on New York City Subway. There, April sees with her own eyes not one, but four vigilantes: the Teenage Mutant Ninja Turtles! She talks again with her supervisor (Whoopi Goldberg) but instead of convincing her, she gets fired. Having no other choice left, she decides to speak to the millionaire Eric Sacks, who was an old partner of her father, and ask for help. She doesn't know that Sacks cooperates in secret with Shredder, the leader of the Foot Clan, who wishes to kill the Ninja Turtles and make an attack with chemical weapons in New York City!
Our impressions and movie review:
Liebesman does a good job directing this movie, but unfortunately the scenario needed 2 or 3 more "passes" to be able to stand out. However there are some comic moments and scenes with intense action that you will really like. On the other hand, just like the Lego Movie and Michael Bay's Transformers, Teenage Mutant Ninja Turtles is a film full of indirect advertising of products, with Pizza Hut on top! And, of course, there are ads because there is the large audience of the animated series with the Ninja Turtles. Besides, Turtles as you can remember from the cartoons, really loved pizza!
The fans of Teenage Mutant Ninja Turtles are many and very fanatic! There was a news report that when the producers announced that they will change the "story" and present the Ninja Turtles as aliens, the pressure of the fans was so great that eventually the producers retracted and kept the original "story" with the Mutant Turtles.
The vantage point of the movie is Megan Fox. We must also mention Shredder's battle armor, a robotic exoskeleton which is rivaling the Transformers! Minae Noji went pretty well as lieutenant Karai of the Foot Clan and Will Arnett was very good as Vernon. As for the more famous actors? William Fichtner has given great performance in his life… but this was not one of them. Whoopi Goldberg on the other hand is nice as the supervisor of Megan Fox – although she fired her 😛
If you like adventures, see this movie and you will probably have good time. If you are longing for your childhood, then I am sure you will see and love this film 😀
Movie Quote from Teenage Mutant Ninja Turtles – 2014
-Oh yeah! Welcome to my crib girl!
-Where are we?
-We are at the Fortress of Solitude!
-Hogwards!
-At Xavier Academy!
-Next Generation!
-Are we in the sewer?
-No…
-Technically yes.
-Yes this is the sewer.
Movie Quote from Teenage Mutant Ninja Turtles – 2014
Leonardo: Donnie, what are the odds of surviving this?
Donatello: 0.00000003%!
Leonardo: I'll take it!
Teenage Mutant Ninja Turtles – Trailer (Greek subs)
https://www.youtube.com/watch?v=7-7Es0Dehj0
Credits:
Writers:
Josh Appelbaum
André Nemec
Evan Daugherty
Director:
Jonathan Liebesman
Cast:
Megan Fox – April O'Neil
Will Arnett – Vernon Fenwick
William Fichtner – Eric Sacks
Alan Ritchson – Raphael
Noel Fisher – Michelangelo
Pete Ploszek – Leonardo
Johnny Knoxville – Leonardo (φωνή)
Jeremy Howard – Donatello
Danny Woodburn – Splinter
Tony Shalhoub – Splinter (φωνή)
Tohoru Masamune – Shredder
Whoopi Goldberg – Bernadette Thompson
Minae Noji – Karai
Abby Elliott – Taylor
Madison Mason – σύμβουλος
Taran Killam – McNaughton
K. Todd Freeman – Dr. Baxter Stockman
Paul Fitzgerald – Dr. O'Neil
Malina Weissman – μικρή April O'Neil
Venida Evans – όμηρος στο μετρό
Mikal Vega – σωματοφύλακας του Sacks
Harley Pasternak – ως ο εαυτός του
Braeson Herold – ρεπόρτερ
Chris Wylde – ρεπόρτερ
Chance Kelly – κύριος Rivetti
Rick Chambers – παρουσιαστής ειδήσεων
Leyna Nguyen – παρουσιαστής ειδήσεων
Derek Mears – Νίντζα
Παραγωγή και Διανομή:
Paramount Pictures
Nickelodeon Movies
Platinum Dunes
UIP
A.A.