Genre:
Action Movie
Thriller
Release Date:
September 29, 2016
Duration:
107 minutes
Plot:
April 20th 2010, 5:30 in the morning. Mike Williams (Mark Wahlberg) wakes up to go to work. He will spend 21 days away from his wife Felicia (Kate Hudson) and his little daughter Sydney (Stella Allen). He is the chief electronics technician on Deepwater Horizon oil rig in the Gulf of Mexico.
Mike spends some romantic moments with his wife and later, they take their breakfast with their daughter. Sydney has prepared a school assignment. She will do a presentation about her dad's work.
Sydney Williams: My dad is Mike, he works in a drilling rig that pumps oil out from underneath the ocean.
Mike Williams: And we're the explorers.
Sydney Williams: Like Dora.
Mike Williams: Like Dora.
Sydney Williams: That oil is a monster, like the mean old dinosaurs all that oil used to be. So for three hundred million years these old dinosaurs have been getting tighter and tighter and tighter and…
Mike Williams: We've got to just use two "tighters".
[she uses a can of soda for her presentation]
Sydney Williams: Then dad and his friends make a hole in the roof, and these mean old dinosaurs can't believe it. Freedom! So they rush to the new whole. Then smack, they run into this stuff called mud.
Mike Williams: Right, get it in there.
[he hands Sydney a plastic bottle of honey, so that she can squeeze it into the Coca Cola can]
Sydney Williams: That they cram down this straw, pulling the monsters down, then build them a new roof.
Few seconds later, something goes wrong with the valve they used with the soda can, and Coca Cola pops out of the can like an explosion, making a big mess.
Deepwater Horizon oil rig is 35 minutes off coast with a helicopter. The staff pass through strict security checks before the flight. Today there will be BP executives on Deepwater Horizon. There have been many problems with the preparation of the drilling – the staff call it "well from hell" – and they are 43 days behind the schedule. The BP executives give a security award to Jimmy Harrell (Kurt Russell), the Offshore Installation Manager (OIM) of Deepwater Horizon. Their true role is to exercise pressure for the completion of the tests, so that they could begin pumping oil. During the second test everything goes wrong and results in one of the greatest man-made disasters.
Our impressions and movie review:
On April 20 2010, happened an ecological catastrophy. 11 people lost their lives. The oil spill contamination affected the health of nearby communities and the effect on marine flora and fauna cannot be easily calculated.
At first, BP took legal action against Transocean and Halliburton. After pressure by the American Justice System based on the evidence and the testimonies against the oil company, they agreed to plead guilty on November 2012. BP paid $19 billion in fines and more than $23 billion to compensate those affected. The low-ranking executives directly involved in the incident, in 2015 were acquitted by the courts for the seaman's manslaughter and involuntary manslaughter charges against them. Vidrine has pleaded guilty to negligently causing the massive oil spill. He was sentenced to 10 months of probation. Robert Kaluza was found not guilty. Some people claim that the low-ranking executives were used by BP as scapegoats to protect other high-ranking executives.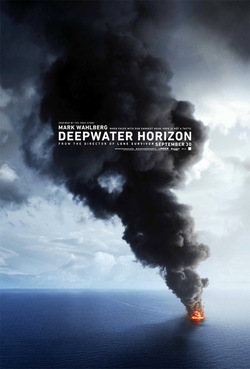 In the movie, the presence of Kaluza and Vidrine aboard Deepwater Horizon and their mistakes, are used to criticize BP's company policy. The drilling had a 43 days delay and the cost went everyday higher. BP wanted to reduce the cost and to begin the oil extraction process. If BP had spend $120.000 to perform a quality check of the cementation and check the structural integrity of the well, there would be no accident. The explosion at Deepwater Horizon proves for one more time, that the greed of corporations is in fact threatening the future of our planet.
The very powerfull screenplay written by Matthew Michael Carnahan and Matthew Sand, is based on the article Deepwater Horizon's Final Hours by David Barstow, David Rohde and Stephanie Saul that was published in New York Times on December 2010. Director Peter Berg ( "Hancock" – 2008, "Battleship" – 2012, "Lone Survivor" – 2013 ) does an excellent job and when you walk out of the theater you will be overwhelmed and moved.
In the "Deepwater Horizon" movie you can see the last 12 hours before the disastrous explosion at Deepwater Horizon oil rig and the effort made by working men and women to put the fire under control and help each other. This is exactly the main theme of the movie: the heroic deeds of everyday people against the uncontrollable forces of nature.
The film premiered on Toronto International Film Festival on September 13th 2016 and it will be released in IMAX theaters on September 30th 2016. Deepwater Horizon is a thrilling film that you must definitely watch!
Deepwater Horizon – Trailer (Greek subs)
https://www.youtube.com/watch?v=M-xz5DvI71Y
11 people lost their lives on Deepwater Horizon.
Jason C. Anderson, age 35
Aaron Dale Burkeen, age 37
Donald Clark, age 49
Stephen Ray Curtis, age 39
Roy Wyatt Kemp, age 27
Karl D. Kleppinger Jr, age 38
Gordon L. Jones, age 28
Keith Blair Manuel, age 56
Dewey A. Revette, age 48
Shane M. Roshto, age 22
Adam Weise, age 24
Movie Quote from Deepwater Horizon
Don Vidrine: We are 50 days late and the hole is not ready.
Mike Williams: It is 43 and not 50 days. I expected people greedy for money to know simple maths.
Movie Trivial from Deepwater Horizon
For the shootings the production constructed a 85%-scale oil rig. This is one of the biggest practical sets ever.
This is the first film that Kate Hudson works with her step-father Kurt Russell.
Credits:
Writers:
Matthew Michael Carnahan, Matthew Sand
Director:
Peter Berg
Cast:
Mark Wahlberg – Mike Williams
Kurt Russell – Jimmy Harrell
Douglas M. Griffin – Landry
James DuMont – Patrick O'Bryan
Joe Chrest – Sims
Gina Rodriguez – Andrea Fleytas
Brad Leland – Robert Kaluza
John Malkovich – Donald Vidrine
David Maldonado – Kuchta (as Dave Maldonado)
J.D. Evermore – Dewey A. Revette
Ethan Suplee – Jason Anderson
Jason Pine – Stephen Ray Curtis
Jason Kirkpatrick – Aaron Dale Burkeen
Robert Walker Branchaud – Doug Brown
Dylan O'Brien – Caleb Holloway
Jonathan Angel – Gordon Jones
Bill McMullen – Halliburton Rep
Jeremy Sande – Adam Weise
Kate Hudson – Felicia Williams
Stella Allen – Sydney Williams
Peter Berg – Mr. Skip
Juston Street – Anthony Gervasio
Anthony Centonze – Dan Barron / Roughneck #1 (as Tony Centonze)
Zachary Guerra – Coast Guard Commander
Chris Ashworth – Coast Guard Officer #1
Graham McGinnis – Coast Guard Officer #2
Robert Nash – Coast Guard Officer #3
Henri Esteve – Andrea's Housemate
Sean Carter – ROV Operator
Elizabeth Carey – Frenchman / Schlumberger #1
Mustafa Harris – Bankston Crewman / Medic
Joel Allen – Old Man Carl
Henry Frost – Shane M. Roshto
Terry Milam – Keith Blair Manuel
Garrett Kruithof – Karl Kleppinger Jr.
Michael Howell – Roy Wyatt Kemp (as Michael A. Howell)
Ronald Weaver – Donald Clark
Deneen Tyler – Paula Walker
Jim Klock – Scared Crew Member
Leighton Gonzales – ROV Operator #2
Michael O'Brien – ROV Supervisor
Garrett Hines – Wyman Wheeler
Rob Steinberg – BP Rep
Trace Adkins – Massive Man
Kurt Peterson – Rescue Swimmer
Cierra Price – Counter Agent #1
Kenneth Billings – Crew Member
Ilan Muallem – Andrea's Boyfriend (as Ilan Srulovicz)
Wesley Figaro – Coastguard Officer #4
Jennifer Tamminen – Coastguard Officer #5
Carliene O'Connor – Coastguard Officer #6
Craig Shellenberger – First Mate
Trent Zimmer – DP Officer
Ronnie Cupstid – Subsea Engineer
David William Donze – Still Photographer
Micah le Blanc – Incoming Subsea Engineer
Patrick Arabie – Chief Mechanic
Brandt Allen – Aircraft Commaner
Kelly Smith – Co-Pilot #1
Stephen Nicoll – Coast Guard Rescue Swimmer
Preston Brice – Roughneck #2
Randolph Perkins – Rig Worker #1
Cedric Gervais – Frenchman / Schlumberger #2
David Grutman – Frenchman / Schlumberger #3
Peter Trentacosta II – Life Boat Driver
Jenny Kubiak – Counter Agent #2
Steve Fisher – Transocean Employee
Tawnya Carr – Bristow Advisory
Meghan Gatto – Reporter #1
Tom Yura – Reporter #2
Sandra Santiago – Worried Mother
Scott Francis Campbell – BP Escort (as Scott Campbell)
Barry Fallon – BP Personnel
Mark Schotz – Cowboy
Anthony 'Ace' Thomas – Paula's Husband
Barker Carlock – Bankston Survivor #1
Tracy B. Mann – Bankston Survivor #2 (as Tracy Mann)
Richard Williams – Pilot
Derek Thorsrud – Co-Pilot #2
Nick Litchfield – Deepwater Rescue Swimmer
Robert Lovett – Deck Hand
Frédéric North – Helicopter Pilot (as Fred North)
Mayla Parker – Voice of Natalie (voice)
Darrell L. Shuler – Rig survivor
Chris Angerdina – Bankston Tugboat Crew (uncredited)
Michael D. Anglin – Roughneck (uncredited)
Sue-Lynn Ansari – Passengers (uncredited)
Robert Arceneaux – Rov tech (uncredited)
John L. Armijo – Roughneck (uncredited)
Nazeema Bartek – Heliport greeter (uncredited)
Tony Beard – Transocean Supervisor (uncredited)
Rusty Bourg – Lifeboat #1 (uncredited)
Justin Burkhamer – Rig Survivor (uncredited)
Jeff Caperton – Rough Neck – Survivor (uncredited)
Devin Lord Chachere – Rig Survivor (uncredited)
Timothy Cornelius – Lifeboat #1 (uncredited)
Stephen J. Cortez – Rig Survivor (uncredited)
Francis Dobrisky – Roughneck (uncredited)
Micheal K. Douglas – Roughneck (uncredited)
Bud Galloway – Lifeboat Evacuee (uncredited)
Parker Hankins – Survivor's Son (uncredited)
Pixie Hankins – Survivor's Daughter (uncredited)
Gary A. Hecker – Special Voices (uncredited)
Christopher Heskey – Ruffneck (uncredited)
Julia Holt – Airplane Passenger (uncredited)
Ronnie Hooks – Jimmy's wife (uncredited)
Adam Horwitz – Roughneck (uncredited)
Jeremy D. Jackson – Roughneck (uncredited)
Alexander Christopher Jones – Lifeboat Evacuee #2 (uncredited)
Allyson Leigh Jordan – Wife (uncredited)
Patrick Kearns – Rig Survivor (uncredited)
John C. Klein – Channel 5 Cameraman (uncredited)
Jenny Lacey – Flight Attendant (uncredited)
Amanda Macon – Survivor's Wife (uncredited)
Rob Mars – Rough Neck (uncredited)
Mike R. Moreau – Roughneck / Rig Survivor (uncredited)
Duane Moseley – Evacuee (uncredited)
Chuck Newsom – Heliport Crew (uncredited)
Ron M Patterson – Roughneck (uncredited)
Devin Posey – BP victim's child (uncredited)
Hannah Powell-Yost – Airline Passenger (uncredited)
James Rawlings – Bankston Survivor #3 (uncredited)
Sammy Romeo – Roughneck (uncredited)
Robert Segari – Bankston Tugboat Crew (uncredited)
Logan Douglas Smith – Roughneck (uncredited)
Sean Stevens – Electrician (uncredited)
Daryl Thibodaux – Photographer (uncredited)
Danny Vince – Rig survivor (uncredited)
Jacob Walker – Survivor (uncredited)
Samuel A. Woodworth – Rig Survivor (uncredited)
Jesse Yarborough – Roughneck (uncredited)
Production Companies and Distributors:
Summit Entertainment
Participant Media
Di Bonaventura Pictures
Closest to the Hole Productions (as Closest to the Hole)
Leverage Entertainment
Imagenation Abu Dhabi FZ
Odeon
Official Site:
DeepwaterHorizon.movie
A.A.