Genre:
Thriller
Release Date:
August 19, 2014
Duration:
102 minutes
Plot:
Ava, the wife of the rich Damien Lord, asks her old lover Dwight McCarthy to help and protect her. She uses her kisses, and… not only, to persuade him that her husband instructs her bodyguard, Manute, to physically abuse her. After some meetings with Manute, who beats him time and again, Dwight decides to invade Damien's villa and set Ava free. However, he knows that he cannot do it alone. So he convinces, with some small talk and even more free drinks, the gigantic Marv to help him. But Dwight does not know that Ava lied to him and used her beauty with only one purpose: to become a rich widow…
Somewhere else in Sin City, Johnny, a young gambler, has set his eyes on the corrupt Senator Roark. Roark rants about his abilities in poker and Johnny wants to beat him at his own game. But it is never a good idea to try a man with the dark past of Roark, and the even darker and spiteful character. Johnny is not the only one who has a problem with Senator Roark. Nancy the stripper wants to kill him to avenge the death of John Hartigan. However, many years have passed and still she cannot gather her courage to do it.
Our impressions and movie review:
Robocop 2, 300: Rise of an Empire and now Sin City: a Dame to Kill For… Frank Miller and sequel movies are not on good terms with, but the sequel to Sin City might be the exception to the rule. Robert Rodriguez is pretty good as a director in this movie, but the strong cards are the script and the casting.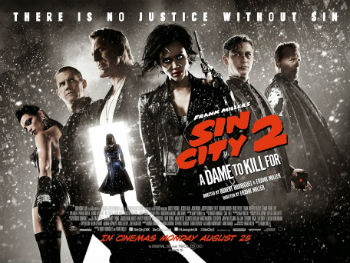 Mickey Rourke really enjoys his role and Josh Brolin gives a performance that we will remember for a long time. Bruce Willis has little screen time, but he is enjoyable as ever, and the totally nude Eva Green is a reason on her own to watch this movie. Good performances are also given by Joseph Gordon-Levitt, Rosario Dawson and Powers Boothe. I expected more from Jessica Alba, her part as written by Frank Miller had many pottentials that she left unexploited, but, what can we do, we cannot have it all…
Frank Miller's comics meet once again with film noir. If you liked the first Sin City movie or if you wish to see a violent criminal movie, don't miss Sin City: a Dame to Kill For!
Sin City: a Dame to Kill For – Trailer (Greek subs)
https://www.youtube.com/watch?v=19T15cpu5gM
Credits:
Writers:
Frank Miller
Director:
Frank Miller, Robert Rodriguez
Cast:
Mickey Rourke – Marv
Jessica Alba – Nancy
Josh Brolin – Dwight
Joseph Gordon-Levitt – Johnny
Rosario Dawson – Gail
Bruce Willis – Hartigan
Eva Green – Ava
Powers Boothe – Senator Roark
Dennis Haysbert – Manute
Ray Liotta – Joey
Christopher Meloni – Mort
Jeremy Piven – Bob
Christopher Lloyd – Kroenig
Jaime King – Goldie / Wendy
Juno Temple – Sally
Stacy Keach – Wallenquist
Marton Csokas – Damien Lord
Jude Ciccolella – Lt. Liebowitz
Jamie Chung – Miho
Julia Garner – Marcie
Lady Gaga – Bertha
Alexa PenaVega – Gilda
Patricia Vonne – Dallas
Bart Fletcher – Flint
Alejandro Rose-Garcia – Buzz
Samuel Davis – Frat Boy #3
Mike Davis – Frat Boy #4
Kimberly Cox – Lillian
Alcides Dias – Tony
Vincent Fuentes – Abdul
Billy Blair – Louie
Rob Franco – Luigi
Daylon Walton – Gordo
Eloise DeJoria – Joey's Wife
Bob Schreck – Mulgrew
Sylvia Froman – Landlady
Lawrence Varnado – Boogaard
Jimmy Gonzales – Jacoby
Tommy Townsend – Wino Old Timer
Robert Lott – Cowboy
Gregory Kelly – Godzilla
Patrick Sane – Gorgo
Greg Ingram – Mothra
Will Beinbrink – Lawyer
Dimitrius Pulido – Maitre D
John Wirt – Heavy
Emmy Robbin – Flamethower
Luis Albert Acevedo Jr. – Security Guard #1
Christian Bowman – The Man
Johnny Reno – Weevil
A.A.