Genre:
Action Movie
Adventure
Comedy
Release Date:
August 14, 2015
Duration:
116 minutes
Plot:
Napoleon Solo (Henry Cavill) is a CIA agent and he is – in 1963 – at East Berlin. His mission? To help Gaby Teller (Alicia Vikander) escape, to help her pass to West Berlin.
An international criminal organization has kidnapped her father and is forcing him to make a nuclear warhead. Solo will try, with Gabby's help, to get in contact with her uncle Rudi (Sylvester Groth) who seems to know many things. But they must first escape from East Berlin, and that will not be easy. Someone is after them. He is KGB agent Illya Kuryakin (Armie Hammer) who, like Solo, is specially trained. The two men will compete each other and Illya seems to outmatch Solo, but in the end Gaby and Napoleon Solo manage to get to West Berlin.
Later, the CIA specialist Sanders (Jared Harris) meets with Solo in a park to give him new instructions. As they discuss, in the public restroom, Illya shows up and when he sees Solo they start a fight. Sanders does not seem to care about it. After few minutes and many hits, Oleg (Misha Kuznetsov), a KGB director, comes and seperates them. The new mission for Napoleon Solo and Illya Kuryakin, is common for both of them and they must – despite their personal feelings – to cooperate in order to succeed.
Our impressions and movie review: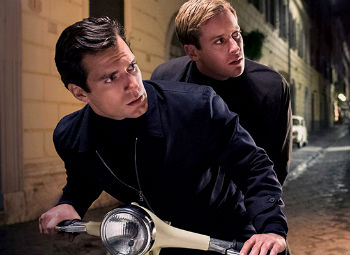 Napoleon Solo amd Illya Kuryakin are the two super-spies of the U.N.C.L.E. team that we 've first met in the '60s TV series. Can you imagine that before they become a team, they were rivals? This origins story have been written by Guy Ritchie and Lionel Wigram – with help from Jeff Kleeman and David C. Wilson – and we must admit that they did a pretty good job. Guy Ritchie is the director for this new movie, which has really – or should I say maddening – fast pace. Henry Cavill, Armie Hammer and Alicia Vikander are staring and they are very good. Hugh Grant has an interesting part, while I must say that I have not noticed David Beckham who has a small part.
"The Man from U.N.C.L.E." plot reminds a bit of Kingsman and MI: Rogue Nation, but it gives even better results. The film premiered on August 14th. See it and you will surely enjoy it!
The Man from U.N.C.L.E. – Trailer (Full HD, Greek subs)
https://www.youtube.com/watch?v=FBBaagiZO1g
Movie Trivial for The Man from U.N.C.L.E.
The codename U.N.C.L.E. is the acronym for "United Network Command for Law and Enforcement
The film is based on the TV series "The Man from U.N.C.L.E." that aired from 1964 to 1968.
Producer John Davis acquired the movie rights for the series in 1993.
Credits:
Writers:
Guy Ritchie, Lionel Wigram, Jeff Kleeman, David C. Wilson (as David Campbell Wilson), Sam Rolfe
Director:
Guy Ritchie
Cast:
Henry Cavill – Napoleon Solo
Armie Hammer – Illya Kuryakin
Alicia Vikander – Gaby Teller
Elizabeth Debicki – Victoria Vinciguerra
Luca Calvani – Alexander Vinciguerra
Sylvester Groth – θείος Rudi
Hugh Grant – Alexander Waverly
Jared Harris – Sanders
Christian Berkel – Udo
Misha Kuznetsov – Oleg
Guy Williams – Captain Smith
Marianna Di Martino – Desk Clerk
Julian Michael Deuster – Assistant
Andrea Cagliesi – Fishing Captain
Riccardo Calvanese – Man 2
Peter Stark – Guard (Checkpoint)
David Menkin – Jones
Pablo Scola – Harbourmaster
Cesare Taurasi – Mechanic
Riccardo Flammini – Man 1
Francesco De Vito – Night Manager
Luca Della Valle – Security Guard
Simona Caparrini – Contessa
David Beckham – Projectionist
Alessandro Ananasso – Italian Guard
Joana Metrass – Victoria's Assistant
Gabriel Farnese – Italian Playboy #1
Elbio Bonsaglio – Italian Playboy #2
Michael Peluso – Italian Playboy #3
Alan Turkington – Lead Policeman
Sergio Marini – Guard
Production Companies and Distributors:
Davis Entertainment
Warner Bros
Ritchie/Wigram Productions
Tanweer
A.A.