Genre:
Action Movie, Mystery, Science Fiction
Release Date:
September 18, 2014
Duration:
113 minutes
Plot:
Thomas wakes up in a elevator that goes up with noise. He does not remember anything about his life. He does not even remember his name. The elevator continues and, through the metal grinds it has instead of walls, Thomas can barely distinguish strange things in the darkness. And sounds… metallic sounds that terrify him. He feels nausea but finally arrives at the destination. The top opens and he sees a group of young people – boys in their teens just like himself – looking at him eagerly. "Look at the shank" one says and the others start making comments calling him a newbie. He dashes hoping to escape… but no one got ever alive out from the Glade. The boys are not what he should be afraid of… Those boys are just like him. Teenagers who only remember their names from their past life. And this… comes back to them many hours after their arrival with the elevator.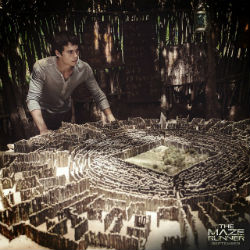 Glade is surrounded with walls. Four giant walls that nobody could climb. Walls and one door that is open only during daytime. Glade is in the centre of the Maze. Every day the Runners run through the Maze, trying to map it and find the exit. Runners are the Gladers who have the most strength and endurance and Minho is their leader. Once sun is about to set, the door close – to be accuare the walls join together and seal. Each night the Maze's layout changes and is filled with Grievers. Frightening aracnoid robots with a mechanical scorpion tail that kill anyone found in their way – anyone who makes the mistake staying in the Maze at night.
But after the appearance of Thomas, things begin to change, destroying the common – for the rest Gladers – everyday routine and security. Will Thomas manage to help the children of Glade to find the exit of the Maze and leave in one piece?
Our impressions and movie review: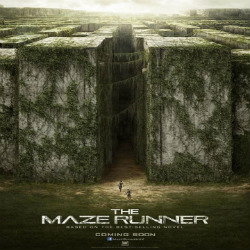 The Maze Runner is a movie adaptation of the best seller book "Maze Runner" by James Dashner. The scriptwriters gave their best to transfer the book to the big screen and Wes Ball, the film director, makes you feel that you are trapped in Glade and feel the anxieties, live the fears and deal with the risks and the ordeals like one of the protagonists. The children of Glade are a miniature of society. The situations, the tense and the fights bring to mind excellent books and movies such as "Lord of the Flies", "Hunger Games" and "Divergent". Maze Runner and James Dashner are setting a milestone and definetely this movie will be discussed time and again, because it stands out. And the movie sets? They are extremely impressive and… vivid! The casting was done very carefully. Each of the actors give an excellent performance and the whole team bonds flawlessly. Our favorite Thomas Brodie-Sangster as Newt, Aml Ameen as Albee and little Blake Cooper as Chuck will find a place in your heart.
Maze Runner is a movie for strong nerves, has incredible anxiety and suspense. It is a breathtaking adventure (like doing an ice bucket challenge) and it is worth every minute of your time and every cents of your money. See Maze Runner! You will feel strong emotions and you want to see the movie again and read (again) the book.
The Maze Runner – Trailer
http://www.youtube.com/watch?v=yhO1HvtW5T4
Credits:
Writers:
Noah Oppenheim, Grant Pierce Myers, T.S. Nowlin, James Dashner
Director:
Wes Ball
Cast: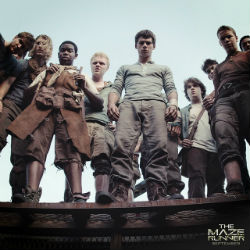 Dylan O'Brien – Thomas
Kaya Scodelario – Teresa
Thomas Brodie-Sangster – Newt
Will Poulter – Gally
Patricia Clarkson – Ava Paige
Ki Hong Lee – Minho
Blake Cooper – Chuck
Chris Sheffield – Ben
Aml Ameen – Alby
Jacob Latimore – Jeff
Don McManus – Masked Man
Cazi Greene – Glader (as Carl Greene)
Joe Adler – Zart
Dexter Darden – Fry Pan
Michael Bow – Mike
Jerry Clark – Glader
Alexander Flores – Winston
Randall D. Cunningham – Clint
Giovanni Silva – Lab Tech 7
Bryce Romero – Glader
Sheldon Maurer – Glader
Andrew Varenhorst – Patient Zero
Gustavo I. Ortiz – Rebel Soldier
Gary Hood – Glader
Charles Andrew Mummert – Adam
Darryl Harvey – Maze Control Room Supervisor / EMT
Austin Reed Alleman – Lab Tech Student
Nick Killebrew – Glader
Johnny Stockwell – Glader
Sawyer Pierce – Glader
Tyler Harrison – Glader
SanChavis Torns – Glader
Dylan Gaspard – Glader
Caroline Bonin – Lab Student
Nicholas Bursavich – Glader
Gentry Williams – Glader
Mark Preston Richardson Junior – Lab Tech Student
Production Companies and Distributors:
20th Century Fox
Gotham Group
Temple Hill Entertainment
Odeon
O.K.