Genre:
Adventure, Comedy, Western
Release Date:
October 21, 2009
Duration:
103 minutes
Plot:
John Luke witnesses his parents being murdered by the Gang of Cheaters.
You got lucky, John Luke. You dodged the Cheaters' Gang. No one ever dodges a Cheater. Believe me, you got lots of luck, John Luke! You cheated death! You're lucky! You're… You're… Lucky Luke!
The years have passed and now we all know Lucky Luke, the poor, lonesome cowboy who wanders in the West and enforces the law in his own way. But the West is big and the desperados are many. So, the President of the USA calls Lucky Luke to attend a meeting about Daisy Town. It is the city that Luke grew up, but now it is full of criminals. President decides to make a train station in this city, but first, he asks Lucky Luke to clear Daisy Town from outlaws. Morris Austin Cooper is present in the discussion. He is governor of Utah and Lucky Luke's godfather. Later, he catches Luke aside and tells him not to go to Daisy Town, because painful memories will be awaken there. But a promise is a promise and our poor and lonesome cowboy rides his white horse and starts. Yet, he could never imagine what dangers he will have to face there!
Our impressions and movie review: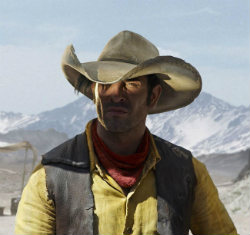 This movie is based on the comic book character Lucky Luke. The first Lucky Luke story was published in 1946 and, till today, 79 issues have been released. The first movie adaptation was filmed in 1991 with Terence Hill in the leading role, and again in 2004 with Til Schweiger. The 2009 film, with the French actor Jean Dujardin in the role of the poor, lonesome cowboy, was directed by James Huth. The plans seem pretty ambitious but unfortunately the movie did not sell many tickets in the cinemas. Jean Dujardin really put himself in our cowboy's boots with spurs, eh… I meant shoes. Jean and James Huth helped Sonja Shillito in the scenario, which stays faithful to the comic books spirit and has a lot of plot twists! The scenario is based of course on the Daisy Town comic book, but also has stuff from Billy the Kid, Pat Poker, Jesse James, Calamity Jane and other stories by Morris. As you probably remember something similar was done on Asterix and Obelix versus Cesar (1998) – they combined stories from 3 or 4 comic albums and they kickstarted the movie series with Gérard Depardieu as Obelix. Lucky Luke (2009) is a movie with the sense of humor you can find in the comics, and it is a movie worthy to discover and enjoy!
Lucky Luke – Trailer (Greek subs)
https://www.youtube.com/watch?v=ARt3Efb1ZBI
Credits:
Writers:
Sonja Shillito, James Huth, Jean Dujardin
Director:
James Huth
Cast:
Jean Dujardin – Lucky Luke
Michaël Youn – Billy The Kid
Sylvie Testud – Calamity Jane
Daniel Prévost – Pat Poker
Alexandra Lamy – Belle
Melvil Poupaud – Jesse James
Jean-François Balmer – Le gouverneur
André Oumansky – President
Gabriel Corrado – Luke's Father
Pompeyo Audivert – Undertaker
Atilio Pozzobon – Barman
Alberto Laiseca – Dick Digger
Mathias Sandor – Young Luke
Carolina Presno – Luke's Mother
Carlos Kaspar – Hank
Mirta Wons – Mrs. Flimsey
Jorge Noya – Mr. Flimsey
Claudio Weppler – Phil Defer
Horacio Marassi – Colonel Mc Straggle
Yann Sarfati – Cavalier McStraggle
Chloé Jouannet – Eleanor
Kalena Bojko – Actress
Daniel Campomenosi – Dr. Doxey
Alejandro Zanga – Tetenfer
Kazuomi Takagi – Ming Li Fu
Alejandro Wainstock – Young Guard
Luciano Cáceres – Henchman
Joaquín Berthold – Henchman
Marcelo Zamora – Henchman
Daniel Davala – Henchman
Martín Kohan – Henchman
Orlando Nicodemes Vera – Cheater
Mariana Suarez – Cheater / Desperado
Santiago Rios – Hatter Desperado
Diego Martinsen – Printer
Carlos Da Silva – Cooper – Maitre of Hostel
Óscar Kramer – Politician
Jorge Carlos Linari – Politician
Roman Chapolski – Politician
Marcio Mansilla – Stagecoach's boy
Sanckon Sane – Train Bailiff
Paul DeFisser – President's Butler
Kinda LeParc – President's Butler
Javier Castillo – Trop de Chance
Eugenia Zubiri – Saloon Girl
María Zubiri – Saloon Girl
Daniela Catz – Saloon Girl
Andrew Colter – Butler
Patrick Aduma – Calamity's Pianist
Zelie Jean Huth – Stagecoach's girl
Winston Huth – Drummer
Gregor Bonnell Shillito – Star's Carrier
Shannon Renaudeau Shillito – Young Mistress
Bruno Salomone – Jolly Jumper (voice)
A.A.