Genre:
French Cinema, Action Movie, Thriller
Release Date:
January 1st, 2015
Duration:
109 minutes
Plot:
Kim (Maggie Grace) has grown up, lives with her boyfriend, and has not told anyone that her pregnancy test is positive. Her father, former agent Bryan Mills (Liam Neeson) is happy that he has found a modus operandi in his relationship with his ex-wife and their daughter. Lenore (Famke Janssen) has problems in her marriage with Stuart St John (Dougray Scott), whose business are almost bankrupt and he owns many money to mobsters. When Bryan and Lenore meet, it seems that their old flame might ignite again, but Bryan urges her to clarify her future with Stuart first. One morning she texts him to buy some bagels and meet at his apartment. When Bryan returns from the bakery, he founds her dead in his bedroom. The next moment, armed police officers enter the house and try to arrest him. Bryan mumbles that he did not do it and his mind is working at its best. He realizes that while he is in prison, the true murderer will disappear. This is not a choice he can make. He pretends to surrender and instead he neutralizes the policemen and runs away. Investigator Franck Dotzler (Forest Whitaker) and the whole LAPD is against him. The mobsters, who have probably killed Lenore because of Stuart's debt, have their eyes on him too.
Our impressions and movie review: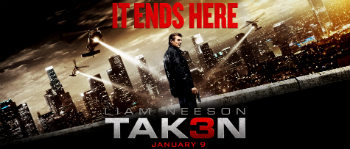 In Taken they kidnapped his daughter. In Taken 2 his ex-wife. The third film had to be something different, and Liam Neeson had clearly stated that he would not participate if there was an abduction again in the plot. So, in Taken 3 some unidentified murderer kills his ex-wife and tries to make it look like Bryan killed her. Luc Besson and Robert Mark Kamen try to repeat the great success with Liam Neeson as the protagonist, but things are far from perfection. Olivier Megaton in the director's chair did not excite us and in some action scenes we wondered whether the fists hit the bad guys or the head of the director. We expected more from – the good actor – Forest Whitaker too. On the other hand the scenario is quite good and has enough suspense and plot twists. Also the airplane scene in the finale is very good and Liam Neeson gives a good interpretation. Fortunately, this is the last film of the Taken series and we hope that Bryan Mills will get the chance to spent quietly the rest years with his daughter.
Movie quote from Taken 3 – 2015
–Something terrible has happened to your mom. I wanted you to hear it from me first.
–Dad, what's going on?
–Your mom is dead. Someone murdered her at my apartment. It looks like I did it. I don't know why, I don't know why, but I am gonna find out. Listen carefully, Kim. No matter what anyone says, don't trust anyone.
Movie quote from Taken 3 – 2015
At 21 he joins the Army. At 23, he joins the Special Forces. He is a trained sniper and an explosive expert. No service record, no discharge record, nothing. This guy right here, he knows how to disappear.
Movie quote from Taken 3 – 2015
Franck Dotzler: If you go down this road, the LAPD, the FBI, the CIA… they're all gonna come for you. They'll find you. And they'll stop you.
Bryan Mills: Good luck.
Taken 3 – Trailer (Greek subs)
http://www.youtube.com/watch?v=f3pLGwfgqwI
Credits:
Writers:
Luc Besson, Robert Mark Kamen
Director:
Olivier Megaton
Cast:
Liam Neeson – Bryan Mills
Famke Janssen – Lenore St. John
Forest Whitaker – Franck Dotzler
Maggie Grace – Kim Mills
Dougray Scott – Stuart St John
Sam Spruell – Oleg Malankov
Don Harvey – Garcia
Dylan Bruno – Smith
Leland Orser – Sam
David Warshofsky – Bernie (Harris)
Jon Gries – (Mark) Casey
Jonny Weston – Jimy
Andrew Borba – Clarence
Judi Beecher – Claire
Andrew Howard – Maxim
Cedric Cirotteau – Maxim partner #1
Catherine Oyer – NSA Woman
Jimmy Palumbo – Cop Brooks
Robert Pralgo – Cop Crime Scene #1
Tony Williams – Cop Crime Scene #2
Al Vicente – Crime Scene Detective
Alex Wraith – Cop Utility Room
Shelley Calene-Black – Cop Debriefing Room
Adam J. Smith – Technician Surveillance Van
Jimmy Gonzales – Cop Lenore House #1
David Clark – Cop Malankov Garage #1
Michael Shikany – Convenience Store Clerk
Robert Bryan Davis – Clerk Gas Station
Production Companies and Distributors:
Canal+
Ciné+
EuropaCorp
20th Century Fox
Odeon
A.A.