Genre:
Action
Thriller
Adventure
Release Date:
May 14, 2015
Duration:
120 minutes
Plot:
Max Rockatansky (Tom Hardy), known as Mad Max, is a road warrior. Once he was a cop. Once he had a family. Now, all is gone, after a nuclear world war. Mad Max is on his own and he believe that's the only way he can survive in a world without hope, without law, without mercy. Remorse is haunting his mind, for those who vanished without his help.
Things can always become worse. Max is imprisoned by the War Boys, who will use him as a "bloodbag". He is "O-Negative High Octane / Universal Donor". A man with his power and his blood type is the best candidate to transfuse blood to injured soldiers. Tied up, with a muzzle on his face, he is waiting in a cage till they need him. And he will not wait for long…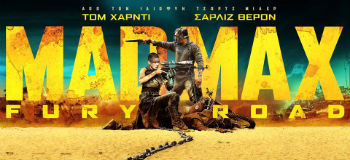 The War Boys is the army of Immortan Joe (Hugh Keays-Byrne). The Citadel is his base, a fortified place with water and crops. It could be an oasis in the middle of the desert. However Joe wants to be worshiped as a god and gives water to his people very sparingly. His vassals are People Eater (John Howard), head of the Gas Town, Bullet Farm Imperator (Greg van Borssum), head of the city that makes weapons and ammo, and Imperator Furiosa (Charlize Theron).
Joe has two children. Rictus Erectus (Nathan Jones), a giant with a toddler's mind, and Corpus Colossus (Quentin Kenihan), who has a toddler's body. Neither of them could succeed Joe. So he has chosen the five most beautiful and healthy girls for wives, and he is waiting for his successor to be born.
Furiosa (Charlize Theron) set free the Five Wives, the harem of Immortan Joe. They left the Citadel and they hope to escape Wasteland and reach the Green Place. Nobody would let this deed go unpunished, and certainly not Immortan Joe who believes that the Five Wives are his property. He notifies his allies in Gas Town and Bullet Farm and they are chasing Furiosa all together. Mad Max has his role to play in this, but he must escape first…
Our impressions and movie review:

The film "Mad Max: Fury Road" is an amazing adventure with many action scenes and a strong thriller flavor. Director and screenwriter George Miller manages to keep the anxiety at high levels and the pace of the film is excellent. He takes us into the world of Mad Max, that he had created almost 40 years ago, and he gives us the feeling that we are part of the chase. Because the whole film is an endless chase that leaves you breathless for two hours. And when it's over, you wish it was two hours more!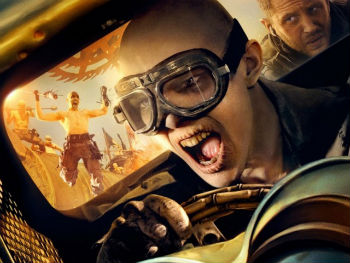 Tom Hardy is quite good in the leading role, but he is covered by the shadow of Mel Gibson. Charlize Theron is very good as Furiosa – the last time we 've seen such a good action movie actress was with Sigourney Weaver in Alien. There were rumors that the sequel to "Fury Road" will be called "Mad Max: Furiosa" and after seeing Theron I tend to believe those rumors. Late May 2015, Miller said that the sequel is already written and the title is "Mad Max: The Wasteland". Whatever the title is, I can't wait till the next "Mad Max" movie. From the rest cast, Nicholas Hoult stands out as Nux and Zoë Kravitz as Toast, one the Five Wives.
"Mad Max: Fury Road" owes part of its success to writers Brendan McCarthy and Nick Lathouris and to the music. Junkie XL (Tom Holkenborg) composed original orchestral pieces for the movie, with strong presence of percussion. On the movie we can also hear "Messa Da Requiem – Dies Irae" by Giuseppe Verdi, "Elegy for Rosa" and "Refugee's theme Symphonic Variation No 1" by Eleni Karaindrou and "Teardrop" by Massive Attack.
The film "Mad Max: Fury Road" is worth seeing and you will enjoy it in 3D. This is one of the best 3D movies – without having one unnecessary scene with meaningless spins of the camera. "Fury Road" wins a place in the Mad Max film series, because this film is faithful to the old spirit. At the same time, the action, the suspense and the excellent work of the director George Miller, make this a movie that everyone will enjoy, no matter if they are fans or not. The film premiered on 7 May 2015 at TCL Chinese Theatre, Los Angeles. Go to a theater and enjoy this film!
Mad Max: Fury Road – Trailer (Full HD, Greek subs)
http://www.youtube.com/watch?v=DLgRxfosYAc
Movie Trivial for Mad Max: Fury Road – 2015
The film production lasted more than 10 years.
George Miller made a preview at SXSW film festival. At the end of the preview, a man shouted "how the hell did you make this?" This mas was the director Robert Rodriguez.
Junkie XL composed the music for the soundtrack
Music for Mad Max 1 & 2 was composed by Brian May (not the guitarist of the Queen), and for και Mad Max 3 by Maurice Jarre.
All the stunts were real, and not made with CGI
Visual effects were used to make Furiosa appear without a left hand and to hide the stunt rigging. They have also "enhanced" the colour of the desert and the fires.
Charlize Theron shaved her head for her role as Furiosa, so she had to wear a wig for her part in A Million Ways to Die in the West.
Michael Biehn, Jeremy Renner, Liam Fountain (Mad Max Renegade), even Mel Gibson were rumored to have the protagonistic role.
Mel Gibson crushed the premiere in Los Angeles and supported the new movie Mad Max: Fury Road.
Tom Hardy was born at 1977, a month before the shootings begun for the original Mad Max staring Mel Gibson.
The Wives of Immortan Joe are: Splendid (Rosie Huntington-Whiteley), Capable (Riley Keough), Toast (Zoë Kravitz), The Dag (Abbey Lee), and Fragile (Courtney Eaton)
Many scenes were filmed with helicopters and drones, while the cars were running at 60 miles per hour.
The movie would be filmed at Broken Hill of Australia, were Mad Max 2 was shot, but the rains made that impossible.
Production designer Colin Gibson chose Namimbia for the shootings, because there are many different types of desert (sand dune, gibber plain, salt lake and rocky riverbed) and there were two seaside towns nearby.
Additional shooting took place in Australia.
Colin Gibson and concept artist Peter Pound have made 150 "hot-rod" cars for the movie
About the half cars were destroying during the filming of the movie
In the movie Mad Max: Fury Road we can see the following "hot-rod" cars:

Pursuit Special Interceptor: based on a 1974 Ford XB Falcon Coupe.
War Rig: 6-wheels Tatra semi with the back half of a 1940 Chevrolet Fleetmaster sedan. On top, there is a Track truck cabin on the front and the cabin of a Volkswagen Beetle on the back.
Gigahorse: two in one 1959 Cadillac Coupe de Ville.
Doof Wagon: sonic carmageddon with a modded V8 engine.
Big Foot: 1940 Fargo pickup truck.
Plymouth Rock: 1937 Plymouth sedan with a porcupine style.
Peacemaker (Valiant Tank): 1971 Chrysler Valiant Charger with tank tread (caterpillar track).
Nux Car: 1932 Ford V8 (Model 18) with sunroof
Buggy #9: 1973 C3 Corvette on a truck chassis
People Eater Mercedes limo: a Mercedes stretch limo
FDK: Volkswagen Beetle with added flamethrower
Mack R Model
Claw Cars: a combination of International Utes with a Ford F250 tow truck
Ploughboy: an EH wagon on an off-road chassis

In the movie Mad Max: Fury Road we can see bikes from the companies Gas Gas, Yamaha, BMW και Royal Einfelds.
Vertigo Comics will publish four graphic novels with more information about the characters Nux, Immortan Joe, Furiosa and Mad Max.
"Mad Max: Fury Road" soundtrack is released on limited edition vinyl record by Mondo
Movie quote Mad Max: Fury Road – 2015
Max Rockatansky: My name is Max. My world is fire. And blood.
Movie quote Mad Max: Fury Road – 2015
Nux: Oh, what a day! What a lovely day!
Movie quote Mad Max: Fury Road – 2015
Nux: I live, I die. I LIVE AGAIN!
Movie quote Mad Max: Fury Road – 2015
Fragile: There's no going back!
Movie quote Mad Max: Fury Road – 2015
Miss Giddy: We are not things. We are not things!
Movie quote Mad Max: Fury Road
"Where must we go…
we who wander this Wasteland,
in search of our better selves?"
The First History Man
Credits:
Writers:
George Miller, Brendan McCarthy, Nick Lathouris
Director:
George Miller
Cast:
Tom Hardy – Max Rockatansky
Charlize Theron – Imperator Furiosa
Nicholas Hoult – Nux
Rosie Huntington-Whiteley – Splendid
Zoë Kravitz – Toast
Riley Keough – Capable
Hugh Keays-Byrne – Immortan Joe
Nathan Jones – Rictus Erectus
Quentin Kenihan – Corpus Colossus
Megan Gale – Valkyrie
Abbey Lee – The Dag
Courtney Eaton – Fragile
Josh Helman – Slit
Debra Ades – Desperate Women
Richard Norton – Imperator
Angus Sampson – Organic Mechanic
John Howard – People Eater
Coco Jack Gillies – Hope
Greg van Borssum – Bulletfarm Imperator
Richard Carter – Wretched
Gillian Jones – Coma-Doof Warrior
Jennifer Hagan – Miss Giddy
Vanessa Summerfield – Wretched
Melita Jurisic – War Boy
Macyn Van Borssum – War Pup
Toby Ayers – Wayward Child
Gareth Hamilton-Foster – The Wretched
Production Companies and Distributors:
Kennedy Miller Productions
Village Roadshow Pictures
Tanweer
A.A.