Genre:
Drama, Comedy
Release Date:
August 27th, 2014
Duration:
119 minutes
Plot:
Riggan Thomas (Michael Keaton) is a Hollywood actor who became famous as the super-hero Birdman. Recently, he denied to participate in Birdman 4, because he wants to do a work of quality. So he tries, with the help of this friend and producer Jake (Zach Galifianakis) to direct a Broadway play based on "What We Talk About When We Talk About Love" by author Raymond Carver. Besides him stands his daughter, Sam (Emma Stone), who just got out of rehab and works as Riggan's production assistant.
The day of the avant premiere is coming closer, and a lighting his the protagonist (Jeremy Shamos) on the head. Because of this accident, they must find a last-minute replacement. Thankfully, Lesley (Naomi Watts) knows personally Mike Shiner (Edward Norton), a Broadway actor famous for his strong performances on stage. Although he is a good actor, the peculiarities of his character bring him into conflict with the rest cast and Riggan personally. During one of the preview performances, in front of a packed theater, a drunk Mike breaks the scene and brawls with Riggan. Will they be able to gain the public and the critics on their premiere? Or a bad critic's review in a major newspaper will send the play and Riggan Thomas into oblivion?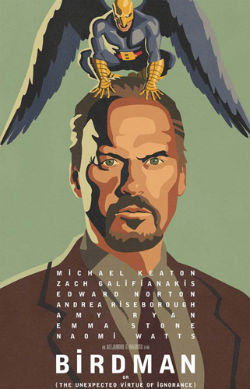 Riggan has the strong belief that this theatrical play is his chance to make something important. And this is ultimately the problem. It is not Mike Shiner's behavior. It is not the acclaimed critic who intends to "bury" Riggan. It is not his daughter with her suicidal trend. The only thing to blame is his ego and the gravity he gives on it. His inner conflict is personified in the Birdman character. In the beginning of the movie Birdman is a voice that only the protagonist can hear and later Birdman appears in person next to Riggan with his winged hero custom.
Go back to Hollywood and make another Birdman movie. Everyone would love it and you'd make a fortune
He wants, more than anything else, to succeed in his effort to prove that he is not another Hollywood washed up actor. But that's not the point. Will he manage to love himself or his perfectionism and selfishness will destroy him? Because in the end, the does not need the wings of Birdman to fly, but to love himself and those around him.
Our impressions and movie review:
The Birdman film, takes the opportunity the production and the staging of this theatrical play, to show us step by step the character and the internal conflicts the protagonist experiences, without didacticism, without everything being handed to you on a plate. Michael Keaton said that this film was the greatest challenge of his career. From our side we need to say that this is one the best performances he has ever given.
The screenplay is building the presentation of the main character without superseding the rest movie characters.
All the main heroes give their struggle – Sam with drugs, Mike with his problematic sex life, Leslee with her nonexistent self-esteem, Rigan with his ego and his past – to become better people.
Emma Stone is excellent, she really lives her role and gives a performance with the core of her being. She definitely deserves the Best Supporting Actress Academy Award she is nominated for. Our Zach Galifianakis is more serious than ever and Edward Norton proves once more what a great actor he is.
Director (and writer) Alejandro González Iñárritu wanted to make the movie feel like a continuous take from the start to the finale. The first one who tried that experimental method was Alfred Hitchcock with the film "Rope" (1948). In this effort Iñárritu made, he got much help from the great film editors Douglas Crise and Stephen Mirrione. The actors as a whole did a great work, as they had to endure and perform flawlessly in every scene, that were longer than in most films and were shot non-stop. The most important this is that Alejandro González Iñárritu succeeds in making all these very good actors to give their best performance ever!
Birdman: or (The Unexpected Virtue of Ignorance) – Trailer (Greek subs)
http://www.youtube.com/watch?v=Eh_ZRdtSNWw
Movie quote from Birdman: or (The Unexpected Virtue of Ignorance)
Riggan: Listen to me. I'm trying to do something important.
Sam: This is not important.
Riggan: It's important to me! Alright? Maybe not to you, or your cynical friends whose only ambition is to go viral. But to me… To me… this is – God. This is my career, this is my chance to do some work that actually means something.
Sam: Means something to who? You had a career before the third comic book movie, before people began to forget who was inside the bird costume. You're doing a play based on a book that was written 60 years ago, for a thousand rich old white people whose only real concern is gonna be where they go to have their cake and coffee when it's over. And let's face it, Dad, it's not for the sake of art. It's because you want to feel relevant again. Well, there's a whole world out there where people fight to be relevant every day. And you act like it doesn't even exist! Things are happening in a place that you willfully ignore, a place that has already forgotten you. I mean, who are you? You hate bloggers. You make fun of Twitter. You don't even have a Facebook page. You're the one who doesn't exist. You're doing this because you're scared to death, like the rest of us, that you don't matter. And you know what? You're right. You don't. It's not important. You're not important. Get used to it.
Credits:
Writers:
Alejandro González Iñárritu, Nicolás Giacobone, Alexander Dinelaris, Armando Bo
Director:
Alejandro González Iñárritu
Cast:
Michael Keaton – Riggan
Edward Norton – Mike
Emma Stone – Sam
Zach Galifianakis – Jake
Naomi Watts – Lesley
Andrea Riseborough – Laura
Kenny Chin – Korean Grocer
Jamahl Garrison-Lowe – Daniel (Stagehand)
Jeremy Shamos – Ralph
Katherine O'Sullivan – Costume Assistant
Damian Young – Gabriel
Keenan Shimizu – Han
Akira Ito – Translator
Natalie Gold – Clara
Merritt Wever – Annie
Michael Siberry – Larry
Clark Middleton – Sydney
Amy Ryan – Sylvia
William Youmans – Bartender (Tommy)
Lindsay Duncan – Tabitha
Paula Pell – Lady in Bar
David Fierro – Man in Bar
Hudson Flynn – Kid in Bar (Billy)
Warren Kelly – Dresser
Joel Marsh Garland – Stagehand
Brent Bateman – Broadway Tourist
Donna Lynne Champlin – Broadway Lady
Valentino Musumeci – Broadway Kid
Taylor Schwencke – Broadway Kid (as Taylor D. Schwencke)
Craig muMs Grant – Broadway Man on Street (as Craig Mums Grant)
Kyle Knauf – Annoying Times Square Guy
Dave Neal – Annoying Times Square Guy
Kelly Southerland – Annoying Times Square Guy
Roberta Colindrez – Broadway Woman on Street
Catherine Peppers – Cashier
Frank Ridley – Mr. Roth
Janis Corsair – Female Usher
Rakesh Shah – Liquor Store Owner (as Rakesh G. Shah)
Bill Camp – Crazy Man
Malachi Weir – Guy in Window
Jackie Hoffman – Lady on Balcony (Mary)
Stephen Adly Guirgis – Good Neighbor
Glenn Wein – Young Male Usher
Ebrahim Jaffer – Cab Driver
Nicolas Rain Noe – Intermission Man
Susan Blackwell – Intermission Woman
Anna Hardwick – Blonde Reporter
Dusan Dukic – Newscaster
Helena-Alexis Seymour – Newscaster
Ian Finlay – Newscaster
Production Companies and Distributors:
New Regency Pictures (as New Regency)
M Prods (as M Productions)
Le Grisbi Productions
TSG Entertainment
Worldview Entertainment
Odeon
A.A.