Genre:
Action Movies
Adventure
Thriller
Spy Movies
Release Date:
November 20, 2015
Duration:
148 minutes
Plot:
M (Judi Dench) had left a message for James Bond (Daniel Craig), in case she dies. She asks him to kill Marco Sciarra (Alessandro Cremona) and go to his funeral. Indeed, Bond arrives at Mexico City during the Day of the Dead parade. He locates and chases Sciarra, who tries to leave with a helicopter. Bond follows him, and after a fight, he kills Sciarra and the pilot. Agent 007 noticed Sciarra's ring and he kept it to find more about it. It is a silver ring with an octopus engraved. He could not have imagined that this is the logo of Spectre, an international criminal enterprise, that controls corporations, governments and secret agencies around the globe.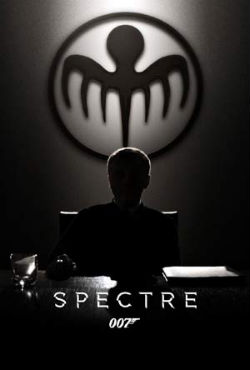 When Bond returns to London, he talks with new M (Ralph Fiennes), and claims that he was on Mexico for vacations. Our favorite spy learns that 00 Sector will shutdown and he is suspended. Q (Ben Whishaw) injects Bond with a transmitter that monitors his vital signs and allows his location to be detected anywhere in the world. Bond asks Q to help him disappear. He steals an Aston Martin DB10 that was prepared for 009 and goes to Rome. There, on Sciarra's funeral service, he locates his widow (Monica Bellucci). The same night he saves her life, after an assassination attempt by Spectre, and after seducing her, he learns some intel about the organization her husband worked for.
The new evidence lead him to Austria, where Mr White (Jesper Christensen) is hiding. He was a "partner" with Sciarra in Quantum, a "subsidiary" of Spectre. Ariadne's thread continues to Dr Madeline Swann (Léa Seydoux), Mr White's daughter. The surprises come one after another, till Q informs Bond that he found inside the ring with the octopus, some maps in digital form, that show a crater in the middle of the desert. The Spectre headquarters!
Our impressions and movie review:
Spectre is the first Bond movie starring Daniel Craig that I have seen. Having seen the rest, I believed all those years that the worst Bond was George Lazenby in the movie On Her Majesty's Secret Service. Well, I was so wrong. Craig's acting can be compared to a mummy of a Pharaoh (though these have power and a grandeur) and his expressiveness to a newscaster with bottox who just had a Novocaine shot by the dentist. I cannot ever understand how he was chosen for the role, and I wonder if they lost a bet or something.
What can you expect from a James Bond 007 movie? Pretty women, impressive villains, smart gadgets, chase scenes, explosions and killings. The Spectre screenplay has everything, mixed in the worst possible way. Apart for the characters that are killed in the movie, the four screen writers killed the story. Two boring hours that pass really slowly. Naomie Harris, Monica Bellucci and Léa Seydoux are really charming and make a good effort, as good as the screenplay lets them. Dave Bautista is a really impressive villain as Mr. Hinx, Jesper Christensen is very good, but Christoph Waltz cannot convince anyone as Ernst Stavro Blofeld. An Aston Martin DB10 appears in a mediocre scene, chased by a Jaguar C-X75. The spy gadgets are almost missing from this movie and the explosions, instead of being amusingly unbelievable, are just flavorless.
I have read many rave reviews for Spectre, but I guess they are affected by too much advertising. If you are a Bond fan, I do not recommend this movie, cause I was really irritated. If you like action movies and adventure, watch anything else.
Spectre – Trailer (Greek subs)
https://www.youtube.com/watch?v=kwa3mMdTXuA
Credits:
Writers:
John Logan, Neal Purvis, Robert Wade, Jez Butterworth
Director:
Sam Mendes
Cast:
Daniel Craig – James Bond
Christoph Waltz – Blofeld
Léa Seydoux – Madeleine Swann
Ralph Fiennes – M
Monica Bellucci – Lucia Sciarra
Ben Whishaw – Q
Naomie Harris – Eve Moneypenny
Dave Bautista – Mr. Hinx
Andrew Scott – C
Rory Kinnear – Tanner
Jesper Christensen – Mr. White
Alessandro Cremona – Marco Sciarra
Stephanie Sigman – Estrella
Tenoch Huerta – Mexican Man in Lift
Adriana Paz – Mexican Woman in Lift
Domenico Fortunato – Gallo
Marco Zingaro – Gallo's Accomplice #1
Stefano Elfi DiClaudia – Gallo's Accomplice #2
Ian Bonar – Q's Assistant
Tam Williams – Moneypenny's Boyfriend
Richard Banham – Oberhauser's London Helicopter Pilot
Pip Carter – SC019 Police Commander
Simon Lenagan – SC019 Police Officer
Alessandro Bressanello – Priest
Marc Zinga – Moreau
Brigitte Millar – Vogel
Adel Bencherif – Abrika
Gediminas Adomaitis – Oberhauser's Right Hand Man
Peppe Lanzetta – Lorenzo
Francesco Arca – Francesco
Matteo Taranto – Marco
Emilio Aniba – Palazzo Security
Benito Sagredo – Guerra
Dai Tabuchi – Businessman #1
George Lasha – Businessman #2
Sargon Yelda – Businessman #3
Andy Cheung – Businessman #4
Erick Hayden – Marshall
Oleg Mirochnikov – Valerian
Antonio Salines – Fiat Driver
Miloud Mourad Benamara – Street Sweeper
Gido Schimanski – Chairman
Nigel Barber – Head of Nations #1
Patrice Naiambana – Head of Nations #2
Stephane Cornicard – Head of Nations #3
Gary Fannin – Head of Nations #4
Sadao Ueda – Head of Nations #5
Philip Law – Head of Nations #6
Wai Wong – Head of Nations #6
Joseph Balderrama – Head of Nations #7
Eiji Mihara – Aide #1
Junichi Kajioka – Aide #2
Victor Schefé – Clinic Barman
Harald Windisch – Clinic Security Guard #1
Tristan Matthiae – Clinic Security Guard #2
Detlef Bothe – Cable Car Heavy #1
Bodo Friesecke – Cable Car Heavy #2
Wilhelm Iben – Syringe Heavy
Noemi Krausz – Snowboarder #1
Noah Saavedra – Snowboarder #2
Francis Attakpah – Snowboarder #3
Michael Glantschnig – Snowboarder #4
Marlon Boess – Snowboarder #5
Marie Fee Wohlmuth – Snowboarder #6
Lili Epply – Snowboarder #7
Konstantin Gerlach – Snowboarder #8
Lara Parmiani – L'Americain Manager
Umit Ulgen – Train Guard
Amra Mallassi – Train Waiter
Ziad Abaza – Train Barman
Walid Mumuni – Oberhauser's Chauffeur
Derek Horsham – Oberhauser Guard #1
Nari Blair-Mangat – Oberhauser Guard #2
Michael White – Oberhauser's Butler
Adam McGrady – Oberhauser's Waiter
Nader Dernaika – Oberhauser's Analyst
Pezhmaan Alinia – Oberhauser's Chief Analyst
Rest of cast listed alphabetically:
Nad Abdoolakhan – Businessman Passerby (uncredited)
Lasco Atkins – Businessman (uncredited)
Omar Ayala – Federal 1 Mex. (uncredited)
David Olawale Ayinde – South African (uncredited)
Mohan Banerji – London Businessman (uncredited)
Steve Barnett – Russian Bodyguard (uncredited)
Paul Blackwell – Car Driver (uncredited)
Matthew Brandon – Computer Analyst (uncredited)
Dante Briggins – Clinic Patron (uncredited)
Jill Buchanan – London Business Woman (uncredited)
Oliver Cantú Lozano – Skeleton Dancer (uncredited)
Mahmud Chowdhury – Lair Staff Data Analyst (uncredited)
Eric Coco – Bodyguard (uncredited)
Christopher DeGress – Skeleton (uncredited)
Alan Del Castillo – Groom (uncredited)
Judi Dench – M (uncredited)
Filip Dordievski – Ukrainian Hitman (uncredited)
Daniel Eghan – Businessman with Umbrella (uncredited)
Leila Elbahy – Business Woman Passerby (uncredited)
Karl Farrer – Businessman (uncredited)
Neve Gachev – Clinic Patron (uncredited)
Tim Hammersley – Spectre Analyst (uncredited)
Yumiko Hanasaka – Whitehall Commuter (uncredited)
Sam Hanover – Festival Spectator (uncredited)
Bunmi Hazzan – Oberhauser Guard (uncredited)
Romulus Hotea – Israeli Boss (uncredited)
David Howkins – Spectre Boss (uncredited)
Solomon Taiwo Justified – Lair Staff (uncredited)
Gjevat Kelmendi – Spanish Boss (uncredited)
Attila G. Kerekes – Q Branch Technician (uncredited)
Kaveh Khatiri – Computer Technician (uncredited)
Denis Khoroshko – Palazzo Russian Boss (uncredited)
Darryl Lane – Bodyguard (uncredited)
Jorge Leon Martinez – SCO19 Firearms Command Police (uncredited)
Rogers Leona – Businesswoman (uncredited)
Tyrone Love – Oberhauser Employee (uncredited)
Shaun Lucas – Businessman (uncredited)
Johnny Lynch – Security Guard (uncredited)
Sid Man – Boss – Palazzo Meeting (uncredited)
Joanne Manchester – Business Woman (uncredited)
Christopher Marsh – Spectre Analyst (uncredited)
Nicholas Marshall – Lair Staff (uncredited)
Alex Martin – Guard #1 (uncredited)
Martyn Mayger – London Passerby (uncredited)
Pete Meads – Motorist (uncredited)
Matija Matovic Mondi – Pilot David (uncredited)
James L. Muller – Lair Staff Analyst (uncredited)
Taylor Murphy – Hitman (uncredited)
Kumud Pant – Lair Staff (uncredited)
Mac Pietowski – Russian Bodyguard (uncredited)
Mark Preston – Spectre Agent (uncredited)
Mike Ray – Businessman (uncredited)
Vuksan Rovcanin – Russian Boss (uncredited)
Linus Scheithauer – Oberhauser Staff (uncredited)
Conny Sharp – Corpse Bride (uncredited)
Daran Somers – Commuter (uncredited)
Karol Steele – Londoner (uncredited)
Daniel Stisen – Russian Bodyguard (uncredited)
Romeo Visca – Bodyguard (uncredited)
Tony Paul West – Spectre Mob Boss (uncredited)
Paul Weston – Franz Oberhauser's Chauffeur (uncredited)
Daniel Westwood – Police Marksman (uncredited)
Michael G. Wilson – Man talking to C After Meeting (uncredited)
Miroslav Zaruba – Palazzo Bodyguard (uncredited)
Ruolan Zhang – Clinic VIP Guest (uncredited)
Dominic Zwemmer – Ukrainian Boss (uncredited)
Production Companies and Distributors:
B24
Columbia Pictures
Danjaq
Eon Productions
Metro-Goldwyn-Mayer (MGM) (as Metro-Goldwyn-Mayer Studios Inc.)
Feelgood Entertainment
A.A.