Genre:
Action Movie
Thriller
Release Date:
June 11, 2015
Duration:
96 minutes
Plot:
Kate Abbott (Milla Jovovich) has been just assigned to the US Embasy in London. Most of her friends died in the 9/11 terrorist attack. This led her to work for the government and she has already stopped a terrorist attack, by analyzing the data she had quickly and correctly. Sam Parker (Dylan McDermott), head of security personnel, works with her and he really admires her talent.
One day, while she checks Dr. Emil Balan (Roger Rees) documents for the USA Visa Waiver Program, something smells fishy to her. Bill Talbot (Robert Forster) intervenes and critisizes her for delaying a citizen that long. Kate decides to look into it, but she does not ask for the required security approvals from her superiors. Inspector Paul Anderson (James D Arcy) comes to the Embasy and formaly protests for Kate Abbott's improper behaviour. Parker defends her, but Ambassador Maureen Crane (Angela Bassett) critisizes her stand and asks her to be more careful from now on.
But who is this Dr Balan? His real intentions are unknown to Inspector Anderson or Ambassador Crane. And they would definitely not support him, if they knew that he is a member of a terrorist cell who will attack New York on New Year's Eve. Abbott's investigation jeopardizes their plans.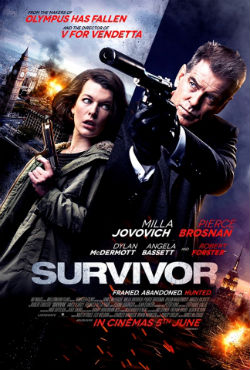 So, they call a notorious hitman, Nash (Pierce Brosnan) aka Watchmaker, to assasinate her. He uses remotely detonated explosives, when Kate is with her colleagues at a restaurand. The blast kills them all, apart from Kate who coicidentaly went out for a while. Inspector Anderson is leading the investigations and with the few clues he finds he assumes that Kate is behind the attack! British Police and the hitman are after her. Will Kate manage to survive and stop the terrorists?
Our impressions and movie review:
The poor screenplay and the meaningless dialogues by Philip Shelby are, at their best, like a TV Movie. James McTeigue directs withour nerve and without making the actors give their best. Yet, photography is good, with beautiful frames and we must note that McTeigue used to be Director of Photography for many films. The best movie scene is when Pierce Brosnan uses a cable to catch Milla Jovovich who is running down the stairs. When you see this scene you will know it 😉
Jovovich was non believable as a world class spy, but Brosnan seemed to overcome the director and gave a good performance. Frances de la Tour stands out, despite her small role, and Dylan McDermott was good too.
If you are a fan of spy movie, then you will see this, no matter what I say, right?
Survivor – Trailer (Full HD, Greek subs)
https://www.youtube.com/watch?v=GDUXWjsEHDg
Credits:
Writers:
Philip Shelby
Director:
James McTeigue
Cast:
Pierce Brosnan – Nash the Watchmaker
Milla Jovovich – Kate Abbott
Frances de la Tour – Sally
Dylan McDermott – Sam Parker
Paddy Wallace – Johnny Talbot
Parker Sawyers – Ray
Bashar Rahal – Militiaman #2
Royce Pierreson – Range Finder
Ben Starr – Sniper
Sean Teale – Alvin Murdock
Rege-Jean Page – Robert Purvell
Jing Lusi – Joyce Su
Antonia Thomas – Naomi Rosenbaum
Robert Forster – Bill Talbot
Jerry-Jane Pears – Nymphet (as Jerry Jane Pears)
Roger Rees – Emil Balan
Benno Fürmann – Pavlou (as Benno Furmann)
Alisa Atanasova – Simone
Genevieve O Reilly – Lisa
Andy Ajiz – Sri Lankan Scientist
Sabine Crossen – New Zealand Scientist
Zak Shukor – Cambodian Scientist
Jean Baptiste Fillon – Belgian Scientist (as Jean-Baptiste Fillion)
Malcolm Sinclair – Perry
Alex Beckett – Howie
James D Arcy – Paul Anderson
Angela Bassett – Maureen Crane
Dimo Alexiev – Waiter (as Dimo Aleksiev)
Katarzyna Wolejnio – Saleswoman
James Howard – CTC Agent #1
Sonya Cassidy – Helen
Sam Clemmett – Teen With Phone
Steven Robertson – Trevor
Faye Barker – News Reporter In The Park
Peter Chong – Old Chinese Couple (as Peter)
Hazel Chong – Old Chinese Couple
Aaron Ly – Cantonese Businessman
Chloe Hesar – Theater Cashier
Terry Randall – Newsreader #1
Marna Rowe – Newsreader #2
Corey Johnson – Eric Loomis
William Tapley – Marine Commander
Christa Connor – Immigration Office
Samantha Coughlan – Ticket Agent #1
Susannah Allman – Ticket Agent #2
Alexis Peterman – Flight Attendant
Kayko Andrieux – Flight Attendant #2
Lucy Newman-Williams – Supervisor (as Lucy Newman Williams)
Andrew De La Rocha – Immigration Office
Gregory Dix – Port Authority Cop
Naveed Khan – Gypsy Cabbie
Suanne Braun – US Commentator
Leemore Marrett Jr. – Times Square Cop
Doug Cockle – Burly Worker #1
David Menkin – Traffic Cop
Ian Porter – Concierge #2
Robin Byers – NYPD Cop #1
Production Companies and Distributors:
Nu Image Films
Millennium Films
Winkler Films
Survivor Productions
A.A.