Genre:
Action Movie
Sci Fi
Thriller
Release Date:
September 10, 2015
Duration:
131 minutes
Plot:
Thomas (Dylan O Brien), and the rest Gladers who escaped from the Maze, are located in some secure facilities – that according to Jansen (Aiden Gilen) – have been built to keep them safe. The world has turned into a vast and inhospitable desert, the Scorch. A devastating virus has turned people into zombies, the Cranks. WKCD (World In Catastrophe: Killzone Experiment Department) has a certain agenda, that is kept secret from Thomas and the Gladers.
Thomas is not someone who will stay idle and do what they told him to. Soon, he overhears conversations that raise more suspicions. Aris Jones (Jacob Lofland) – who was tested in another Maze – helps him to find evidence to convince Newt (Thomas Brodie-Sangster) and the rest that something is seriously wrong. The secret labs, where experiments are being made to young Maze Runners, is the final straw. Thomas, Newt, Minho (Ki Hong Lee), Teresa (Kaya Scodelario), Frypan (Dexter Darden) and Winston (Alexander Flores) decide to escape.
They arrive at an erstwhile big city. In the morning light the city looks worse than bombed. WKCD choppers are patrolling the skies to find them. Their life was threatened in the Maze, but they had food and some sort of safety. There is no hope in Scorch. Yet, they prefer the journey to the unknown, from becoming the lab rats of Jansen and Ava Paige (Patricia Clarkson). Along the way they will be attacked by Cranks and they will meet the opponents of WKCD. Which side will they choose in the end?
Our impressions and movie review:
We went to see the movie "Maze Runner: Scorch Trials", believing this was based on the book "The Scorch Trials", but the screenplay tells a completely different story. Apparently, the producers took the easy road, and they made a movie that reminds of Divergent.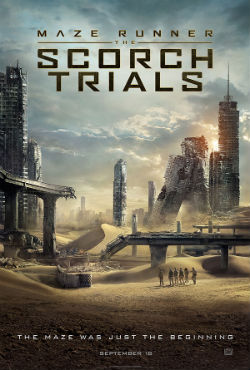 James Dashner, a very talented author, had many elements of thriller and mystery that are missing from this movie. But, if we ignore this fact, and keep in mind that they worked closely with Dashner for the changes, T.S. Nowlin wrote a pretty good screenplay and Wes Ball directed the movie keeping a very good balance between good performances, action scenes and special effects.
Young actor Dylan O Brien has the lead role and he gives a good performance. Aiden Gilen impressed us as Jansen and his opponents, Giancarlo Esposito and Rosa Salazar, steal the show. Thomas Brodie-Sangster and Lili Taylor are excellent, and so is Ki Hong Lee and of course Kaya Scodelario as Teresa. We must emphasize that Production Designer Daniel T. Dorrance and Art Directors Andrew Max Cahn and Billy W. Ray did an amazing job, giving us unbelievably realistic images from a future, where the climate change has taken place and even big cities became desertified.
The UK premiere of "Maze Runner: Scorch Trials" was on September 10th and the movie will be released in USA theaters on September 18th. "Scorch Trials" will surely become a blockbuster!
Maze Runner: Scorch Trials – Trailer (Greek subs)
https://www.youtube.com/watch?v=o6WTGGNjI-w
Movie Quote from Maze Runner: Scorch Trials
Janson: The Maze is one thing. You can't survive one day on the Scorch. If the weather doesn't kill you, the Cranks will.
Movie Quote from Maze Runner: Scorch Trials
Tomas: Guys, you don't have to come with me, but I know we can make it.
Movie Quote from Maze Runner: Scorch Trials
Newt: A lot of our friends died for us to get this far. So we can't give up.
Credits:
Writers:
T.S. Nowlin, James Dashner
Director:
Wes Ball
Cast:
Dylan O Brien – Thomas (as Dylan O'Brien)
Ki Hong Lee – Minho
Kaya Scodelario – Teresa
Thomas Brodie-Sangster – Newt
Dexter Darden – Frypan
Alexander Flores – Winston
Jacob Lofland – Aris Jones
Rosa Salazar – Brenda
Giancarlo Esposito – Jorge
Patricia Clarkson – Ava Paige
Aidan Gillen – Janson
Terry Dale Parks – Carl (Masked Man)
Kathryn Smith-McGlynn – Dr. Crawford
Lili Taylor – Mary
Barry Pepper – Vince
J. Nathan Simmons – Ash Mob Evacuee
Matthew T. Metzler – Barkley
Alan Tudyk – Blondie
Jenny Gabrielle – Ponytail
David House – Soldier
Lora Martinez-Cunningham – Thomas' Mother
Luke Gallegos – Young Thomas
Shawn Prince – David
Jeremy Becerra – Riley
Matthew Page – Harold (Soldier)
Alex Knight – Aide
Marc Comstock – Med Tech
Brandon K. Hampton – Surveillance Room Attendant
John Trejo – M3 Soldier
Tatanka Means – Joe
Katherine McNamara – Sonya
Ryan Jason Cook – Nurse
James Burnett – Rebel Sentry
Morse Bicknell – Doctor
Ben Pronsky – Additional Voices (voice)
Production Companies and Distributors:
Gotham Group
TSG Entertainment
Temple Hill Entertainment
Odeon
A.A.