Genre:
Biopics, Drama, Action, War
Release Date:
November 12, 2014
Duration:
132 minutes
Plot:
Chris Kyle (Bradley Cooper) is a Texan who joined US Navy to help his countrymen in the war in Iraq. He joined the special forces and became a SEAL sniper. He has amazing aim and neutralizes many enemies before they threaten US troops. Rumors begin to spread and he get the nickname "Legend". War dominates his mind but this is not the only thing in his life. Back home his wife Taya (Sienna Miller) is anxious for his safety. With so many thousands miles separating them, Taya gives birth and raises their children on her own. Most of the time their only contact is by phone. When Chris Kyle returns to US, he decides after a while that he is needed again in the first line of the front. "What haunts me are all the guys that I couldn't save". But could he be saved?
Our impressions and movie review:

"American Sniper" is a movie adaptation of the book-autobiography Chris Kyle wrote with Scott McEwen and Jim DeFelice. The official records state that he has killed 150 people and he is the number one sniper in US Army history. He was deployed four times in Iraq, but, as many more American soldiers, when he returned home the wounds of war were still open in his soul. And when Chris Kyle finally decided to stay in US and help soldiers with post-traumatic stress, a mentally unstable young Marine kills him.
"American Sniper" is a film that sparks debate in US and beyond. Some viewers and critics characterize this as a patriotic movie, some consider it to be blatant American propaganda and others believe this is an anti-war film with deeper messages and meanings. Maybe this will sound strange, but I tend to believe that Clint Eastwood and Jason Hall did a very good job, and they did not want to make a narrow-minded film. Many moviegoers find in some aspects of the film what they love or what they hate and unfortunately they don't think more about it.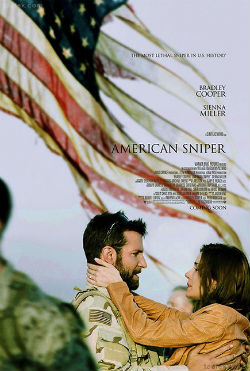 Jason Hall carries the weight of the film as a screenwriter. The macho elements of the protagonists are taken from the book. Many events presented in the movie are through the eyes of Chris Kyle. This does not make them true or false. "American Sniper" is his autobiography and presents his life and his views, it is not a history study that presents all sides and views objectively. Iraqis, who are presented as wild savages in the book, are seen as Al Quada insurgents in the film or – in a few cases – as "shadows" that fail to bring balance and give objectivity. It is scary that someone could suggest, after viewing this film, that everything was well done, this is not true. On the other hand, Jason Hall did more than a movie adaptation. He gives us, with bright and vivid colors, the perspective of his wife – a point of view not available in the book with Kyle's personal accomplishments. Taya, as another faithful Penelope, is waiting for her husband to return from war and she is struggling to raise her children properly. And when he returns home, she is trying to help him adjust in society in a healthy way.
Bradley Cooper not only does an amazing job presenting Chris Kyle, but to do it he gained 20 pounds of muscle mass with diet and exercise program. Sinna Miller gives a great performance as Taya Kyle, and Clint Eastwood directs with his special talent and puts his signature in the movie.
Beyond any political views and historical inaccuracies, "American Sniper" is a great production. The subject of the film is not whether Americans save or destroy the world with their interventionist military policy, though the film is clearly a trigger for such a debate. The theme of the film "American Sniper" is the life of Chris Kyle, his psychology both as a soldier in the battlefield and as a husband and citizen back home when he returns. With their pretty good work, Jason Hall and Clint Eastwood succeed in shedding light in many aspects of the impact of the war in the soul and in the character of a soldier.
Quote from the movie American Sniper
Marc Lee: You got some kind of saviour complex?
Chris Kyle: No. I just want to get the bad guys, but if I can't see them I can't shoot them.
Quote from the movie American Sniper
Taya Renae Kyle: I need you… to be human again. I need you here.
Quote from the movie American Sniper
Navy Doctor: Do you ever think that… you might have seen things or… done some things over there that you wish you hadn't?
Chris Kyle: Oh, that's not me. No.
Navy Doctor: What's not you?
Chris Kyle: I was just protecting my guys, they were trying to kill… our soldiers and I… I'm willing to meet my Creator and answer for every shot that I took.
Chris Kyle: The thing that… haunts me are all the guys that I couldn't save.
Chris Kyle: Now I'm willing and able to… be there but I'm not, I'm here I quit.
Navy Doctor: You can walk down any homeless hospital. Looks like plenty soldiers need saving.
American Sniper – Trailer (Greek subs)
http://www.youtube.com/watch?v=PJ5R_u_29p0
Credits:
Writer:
Jason Hall
Director:
Clint Eastwood
Cast:
Bradley Cooper – Chris Kyle
Sienna Miller – Taya
Kyle Gallner – Goat-Winston
Cole Konis – Young Chris Kyle
Ben Reed – Wayne Kyle
Elise Robertson – Debby Kyle
Luke Sunshine – Young Jeff Kyle
Troy Vincent – Pastor
Brandon Salgado Telis – Bully
Keir O'Donnell – Jeff Kyle
Marnette Patterson – Sarah
Jason Hall – Cowboy
Billy Miller – Navy Recruiter
Leonard Roberts – Instructor Rolle
Jason Walsh – Instructor #2
Reynaldo Gallegos – Tony
Kevin Lacz – Dauber
Jake McDorman – Biggles
Cory Hardrict – 'D' / Dandridge
Eric Ladin – 'Squirrel' / Case
James Ryen – PO Karnan
Luke Grimes – Marc Lee
Jonathan Kowalsky – 1st Marine #2
Shane Habberstad – 1st Marine #1
Sammy Sheik – Mustafa
Kevin Ryan – Marine Viper #4
Evan Gamble – JAG Officer #1
Benjamin Mathes – JAG Officer #2
Tim Griffin – Colonel Gronski
Luis Jose Lopez – Sanchez
Brian Hallisay – Capt. Gillespie
Erik Aude – Thompson
Jad Mhidi Senhaji – Omar
Navid Negahban – Sheikh Al-Obodi
Fehd Benchemsi – Terp #1
Eric Close – DIA Agent Snead
Zack Duhame – Contractor
Mido Hamada – The Butcher
Kathe Mazur – Dr. Hallerman
Sam Jaeger – Navy Seal Lt. Martin
Chance Kelly – Lt. Col Jones
Ryan Sadaghiani – Son
Ayman Samman – Father
Assaf Cohen – Terp #2
Fahim Fazli – Messianic Tribal Leader
Salah Salea – Angry Neighbor
Hector Bucio – PFC Alvarez
Aidan McGraw – Young Colton
Jonathan Groff – Young VetMads
Melissa Hayden – Receptionist
Ferguson Reid – Navy Doctor
Mark Thomason – Chaplain
Pamela Denise Weaver – Marc Lee's Mom
Amie Farrell – Marc Lee's Wife
Quay Terry – Firing Party NCO
James D. Dever – Funeral Detail OIC
Tami Goveia – Navy Nurse
Leon Charles Farmer – Marine Gate Guard #1
Paul Meixner – Marine Gate Guard #2
Victoria Reina Sigloch – Marine Gate Guard #3
Joel Lambert – Delta Sniper
Owain Yeoman – Ranger One
Tony Nevada – Recon Sniper
Brett Edwards – Recon Gunner
Nick Salter – Navy Dispatch Officer
Ricky Ryba – Cobra Pilot
Greg Duke – MRAP Gunner
Max Charles – Colton
Jet Jurgensmeyer – Colton's Friend
Madeleine McGraw – McKenna
Elizabeth Schmidt – Boy's Mom
Robert Clotworthy – VA Doctor
Bryan Anderson – Wynn's Friend
Jacob Schick – Wynn
Wade White – Veteran #1
Anthony Jennings – Veteran #2
Vincent Selhorst-Jones – Veteran at truck
Production Companies and Distributors
Warner Bros
Village Roadshow Pictures
Mad Chance Productions
22 & Indiana Pictures
Malpaso Productions
Tanweer
A.A.