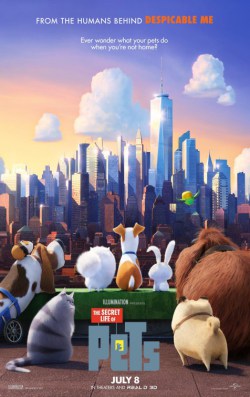 Genre:
Animation
Comedy
Family Movie
Release Date:
June 24, 2016
Duration:
90 minutes
Plot:
"Ever wonder what your pets do when you're not home?"
Max (Louis C.K.) – a Jack Russell Terrier mix – is a very loyal dog. He lives to make his owner happy. Max stays with Katie (Ellie Kemper) in an apartment in Manhattan and he makes friends with many pets. One of them is Gidget (Jenny Slate), a white Pomeranian who has a crush on Max. The rest of the company are the obese kitten Chloe (Lake Bell), Mel (Bobby Moynihan) a Pug dog, Buddy (Hannibal Buress) a sausage dog (Dachshund) and Sweet Pea a cute budgie parrot.
One day Katie returns home with Duke (Eric Stonestreet), an over-sized mutt rescued from Animal Control. Max, obviously, loses the earth beneath his feat… er… paws. He realizes that he is not the center of the universe, and this is something that he does not want to accept. Duke on the other hand, is careless and wants everything for himself, including Max's food.
Max tries to tell Katie that Duke cannot be a part of their life, but she just hears him barking. Whenever he goes out, Max tells his friends that he will get rid of Duke. And at some point, Duke decides to do exactly that! He grabs Max from the leash and drags him into some dark alleys. There, they are attacked by a stray cats gang, led by Ozone (Steve Coogan). The two dogs manage to escape but they fall into the hands of the Animal Control.
Duke feels regrets for his actions and Max… well, Max throws all the blame on Duke – as if he has never treated him awful. Suddenly the van braked. There is a cute white rabbit in the middle of the street. Cute? Let's wait to see what happens. This white rabbit is Snowball (Kevin Hart), an extremely aggressive abandoned pet. He does not suffer from insanity, he enjoys every minute of it! Snowball has assembled a team of abandoned pets, the Flushed Pets. His plan? To destroy the world!
Snowball helps Max and Duke to escape. Now they will have to go through the initiation ceremony to join his team. But, during the initiation, everyone sees that Max and Duke are domesticated! The two dogs manage to run away. Snowball decides to leave his world domination plans for later. Now he must exterminate Duke and Max! The last thing Snowball could ever imagine is that he will have to deal with the enamored Gidget and the rest of the gang 🙂
Our impressions and movie review:

Chris Renaud, known from "Despicable Me" 1 & 2 and "Minions" directs with Yarrow Cheney to give us an entertaining animation movie for this summer. The cute story is written by Ken Daurio, Brian Lynch and Cinco Paul who in the past (together or on their own) wrote the script for "Puss in Boots" – 2011, Despicable Me 1 & 2, Minions, Horton, Hop and more. The music for the movie is composed by Alexandre Desplat – apart from the System of a Down song that Leonard the poodle headbangs to.
The voice acting is really good. The jokes in the movie are mostly for little children, yet there are some scenes that the adults will enjoy as well. The story is not 100% original, but the characters, the pets who star in the movie will win you! And, in the beginning credits you will see the Minions performing a cameo!
The movie premiered on June 24th, 2016 and you should go and see "The Secret Life of Pets" with your kids 🙂
The Secret Life of Pets – 2016 Trailer (greek subs)
https://www.facebook.com/bateskiloialeste/videos/1018082458279574/
Credits:
Writers:
Ken Daurio, Brian Lynch, Cinco Paul
Director:
Chris Renaud, Yarrow Cheney
Cast:
Louis C.K. – Max (voice), a Jack Russell Terrier mix
Ellie Kemper – Katie (voice)
Eric Stonestreet – Duke (voice), a massive mutt
Jenny Slate – Gidget (voice), a white Pomeranian, 50% fluff, 110% tough
Kevin Hart – Snowball (voice), a white rabbit, leader of the Flushed Pets
Albert Brooks – Tiberius (voice), hawk
Lake Bell – Chloe (voice), Tabby cat
Tara Strong – Additional Voices (voice)
Jim Cummings – Additional Voices (voice)
Steve Coogan – Ozone (voice), Sphynx cat
Dana Carvey – (voice), Pops, an old basset hound with wheels for the paralysed back legs
Hannibal Buress – Buddy (voice), a sarcastic Dachshund
Bobby Moynihan – Mel (voice), a lady killer, dopey Pug
Lori Alan – Additional Voices (voice)
Laraine Newman – Chloe's Owner / Additional Voices (voice)
Carlos Alazraqui – Additional Voices (voice)
John Kassir – Leonard's Owner (voice)
Brian T. Delaney – Additional Voices (voice)
Bill Farmer – Additional Voices (voice)
Bob Bergen – Additional Voices (voice)
Mona Marshall – Additional Voices (voice)
John Cygan – Additional Voices (voice)
Michael Beattie – Tattoo (voice)
Sasha Lester – Girl
Jan Rabson – Additional Voices (voice)
Production Companies and Distributors:
Illumination Entertainment
Universal Pictures
UIP
Official Website:
TheSecretLifeOfPets.com
A.A.