Genre:
Action Movie, Thriller, Horror Movies
Release Date:
July 17th, 2014
Duration:
103 minutes
Plot:
Evening.
March 21st, 2023. USA.
The seventh Purge (since 2017) is about to begin. The annual twelve-hour long period, when no crime is punished, not even murder – with a class 4 weapon or lower. Police, fire departments and hospitals are closed. All who don't want to kill, hide in their locked homes and hope to stay alive.
In the deadly streets there are many people and so are our five main characters. The four of them are out by a twist of fate. The fifth wants to avenge the death of his son. Will this odd group be able to meet the challenges of the scariest night of the year? Is there any safe place or even friends' houses can become deadly traps?
Our impressions and movie review: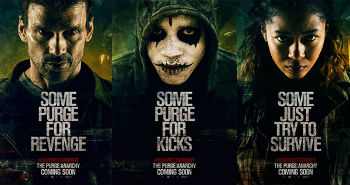 "The Purge" and "The Purge: Anarchy" films are built around an original idea. I believe the scenario of the second film is much more skillfully crafted than the first. Both films are wonderfully transferred to the screen and I believe "The Purge: Anarchy" will gift you 103 minutes of good entertainment and elevated adrenaline levels. As for the question, what would I have done? The question remains, and with this sequel we have more "thoughts" about it, thanks to the talented writer and director James DeMonaco. See this movie, and if you have not seen the first do so, to start your trip to "The Purge"!
The Purge: Anarchy – Trailer
https://www.youtube.com/watch?v=XzFCDqKE4yA
Credits:
Writer:
James DeMonaco
Director:
James DeMonaco
Cast:
Frank Grillo – Sergeant
Carmen Ejogo – Eva Sanchez
Zach Gilford – Shane
Kiele Sanchez – Liz
Zoë Soul – Cali
Justina Machado – Tanya
John Beasley – Papa Rico
Jack Conley – Big Daddy
Noel Gugliemi – Diego
Castulo Guerra – Barney
Michael K. Williams – Carmelo
Edwin Hodge – The Stranger
Keith Stanfield – Young Goul Face
Roberta Valderrama – Lorraine
Niko Nicotera – Roddy
Bel Hernandez – Katherine
Lily Knight – Mrs. Crawley
Jasper Cole – Homeless Man
Brandon Keener – Warren Grass
Amy Price-Francis – Mrs. Grass
Vick Sabitjian – Mr. Sabian
Matt Lasky – Bloody Faced Man
Wiley B. Oscar – Oscar
Nicholas Gonzalez – Carlos
Chad Morgan – Janice
Judith McConnell – Old Elegant Woman
Adrian Sparks – Suited Gent
Rick Chambers – TV Newscaster #1
Amy Paffrath – TV Newscaster #2
Dale Dye – New Founding Father
Carla Jimenez – Deranged Woman
Brad Drake – Posh Father
Rowan Alexander – Posh Mother
Roger Schueller – Posh Grandfather
Michael Thurman – Posh Son
Branton Box – Bouncer
Brennan Feonix – Paramedic