Genre:
Horror Movies
Thriller
Drama
Release Date:
May 8, 2015
Duration:
95 minutes
Plot:
The epidemic of an unknown, till today, disease has turned a large proportion of the population into zombie. People who get sick, in a few days become zombies, and the only thing that their mind can understand is the need to feed on human flesh. If someone survives an attack from the zombies but gets bitten, he contacts the disease too.
Maggie (Abigail Breslin) has left her home. Wade (Arnold Schwarzenegger), her father, is searching for her the last weeks. He finaly finds her in the local hospital. A zombie has bitten her hand. Dr. Vern (Jodie Moore), Wade's old friend, lets her leave, so she can say goodbye to her brothers and Caroline (Joely Richardson), Wade's second wife. Caroline however cannot seem to cope with Maggie's situation.
The authorities put in quarantine anyone who is sick. Wade wants to spend with his daughter her last moments, even if the risk is high.
Our impressions and movie review: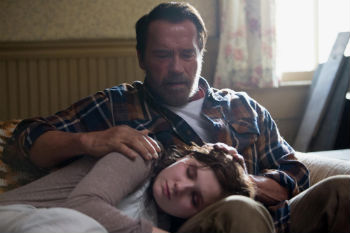 Abigail Breslin gave an impressing performance in the lead role, but Arnie surprised us positively. This is probably the first movie where he playes a tender father, nothing to do with the tough guys we have been accustomed with. John Scott 3 wrote the scenario and Maggie is the first movie Henry Hobson directs. Lukas Ettlin ( "Lincoln Lawyer", "Battle Los Angeles", "The Texas Chainsaw Massacre: The Beginning" ) is behind the beautiful cinematography.
The movie "Maggie" had a limited theatrical release in USA and is also available as video on demand. This is an indie movie with budget just about $4,500,000. It is worthy to see this out of curiosity for the earnest effort by Arnold Schwarzenegger and for the original approach to the zombie theme.
Maggie – Trailer
http://www.youtube.com/watch?v=ZBTlUCsqW7k
Credits:
Writer:
John Scott 3
Director:
Henry Hobson
Cast:
Abigail Breslin – Maggie Vogel
Arnold Schwarzenegger – Wade Vogel
Joely Richardson – Caroline
Laura Cayouette – Linda
Denise Williamson – Barbara
Raeden Greer – Allie
J.D. Evermore – Holt
Aiden Flowers – Bobby
Taylor Murphy – Candace (as Taylor Ashley Murphy)
Dana Gourrier – Woman In Scrubs
Amy Brassette – Lauretta
Christine Tonry – Sarah
Bryce Romero – Trent
Wayne Pére – George Garmen
Rachel Whitman Groves – Bonnie
Douglas M. Griffin – Ray
John L. Armijo – Doctor
Ashley Nicole Hudson – Frightened Woman
Carsen Flowers – Molly
Jodie Moore – Dr. Vern Kaplan
Jessy Hughes – Holly
Brett Baker – Hazmat Soldier
Tim Bell – Clerk
Mattie Liptak – Mason
P.J. Marshall – Ken
Colin Walker – Specialist Williams
Duane Cothren – S.W.A.T officer
David A Cole – Doctor
Liann Pattison – Nurse
Haylie Creppel – Julia
Annalyse Myers – Young Maggie
Ken Massey – National Guardsman
Ryan Hebert – Bio hazard soldier
Maddison Sonnier – Lauretta's daughter
Production Companies and Distributors:
Lionsgate
Grindstone Entertainment Group
Gold Star Films
Lotus Entertainment
Silver Reel
Gold Star Films
Matt Baer Films
Sly Predator
A.A.