Genre:
Adventure
Sci Fi
Release Date:
June 24, 2015
Duration:
141 minutes
Plot:
Man is finally on Mars. When a very fierce storm hits the Ares III team, astronaut Mark Watney (Matt Damon) is lost and everyone presumes he is dead. Melissa Lewis (Jessica Chastain), head of the mission, facing the danger of losing more lives and without any evidence that Mark might have survived, orders to evacuate.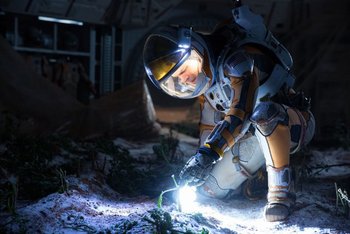 Few hours later, Mark regains his conscience and understands what has happened. The communication gear is destroyed, but even if he could send a message to Earth, 3 to 4 years would be needed for his rescue. His supplies are enough for 31 days. He can depend only on his own power. He wants to stay alive and to succeed, he plans to cultivate food on Mars. This might be impossible, or improbable, but this is the only option he has and Mark will do anything to stay alive.
Back on Earth, Mindy Park (Mackenzie Davis) is studying Mars satellite pictures and, much to her surprise, she realises that Mark Watney is alive. She talks about it with Vincent Kapoor (Chiwetel Ejiofor) and they inform Teddy Sanders (Jeff Daniels). NASA's chief decide to keep this a secret and explore their options to rescue the "Martian", even though they are 225.000.000 km away. Mark, collected MESUR Pathfinder, and he used the solar panels and the old electronics to be able to contact Earth. Will they manage to rescue him?
Our impressions and movie review:
The movie "The Martian" is based on the best seller book by Andy Weir and Drew Goddard wrote a very good screenplay. The great Ridley Scott is directing and we believe that "The Martian" is way better – both scenario and direction – than "Prometheus", and there is no reason to compare it with "Exodus: Gods and Kings". Many people said that "The Martian" is a crossover between "Castaway" and "Apollo 13", but while they have some things in common, the result is really different. Matt Damon is not Tom Hanks, but he is really good at the main role. Jessica Chastain and Kate Mara are lovely, Michael Peña, Sebastian Stan, Aksel Hennie, Chiwetel Ejiofor and Jeff Daniels are excellent.
"The Martian" is a movie about hope and the fight for survival. This is a thrilling adventure with some funny elements. The movie premiere was on September 30th 2015 and you must see it!
Movie Trivial for The Martian 2015
Andy Weir gave his book "The Martian" for free on his website. Later he made an amazon kindle edition for 99 cents. An agent talked to him and the book was published from Crown Publishing Group and it quickly became a best seller.
The Martian – Trailer (Greek subs)
https://www.youtube.com/watch?v=ybkMT8XuFSY
Credits:
Writers:
Drew Goddard
Director:
Ridley Scott
Cast:
Matt Damon – Mark Watney
Jessica Chastain – Melissa Lewis
Kristen Wiig – Annie Montrose
Jeff Daniels – Teddy Sanders
Michael Peña – Rick Martinez
Sean Bean – Mitch Henderson
Kate Mara – Beth Johanssen
Sebastian Stan – Chris Beck
Aksel Hennie – Alex Vogel
Chiwetel Ejiofor – Vincent Kapoor
Mackenzie Davis – Mindy Park
Donald Glover – Rich Purnell
Nick Mohammed – Tim Grimes
Chen Shu – Zhu Tao
Eddy Ko – Guo Ming
Enzo Cilenti – Mike Watkins
Jonathan Aris – Brendan Hatch
Gruffudd Glyn – Jack
Naomi Scott – Ryoko
Geoffrey Thomas – U.S. President
Yang Haiwen – Chinese Flight Director
Narantsogt Tsogtsaikhan – Wen Jiang
Brian Caspe – Timer Controller
Matt Devere – Satcon
Mike Kelly – Launcher Interface
Szonja Oroszlán – Launch Control
Greg De Cuir – Capcom
Mark O'Neal – Guidance
Peter Linka – Telemetry
Declan Hannigan – Comms
Peter Schueller – NASA Break Room Worker
Waleska Latorre – Vincent's Secretary
Frederik Pleitgen – CNN Reporter
Nikolett Barabas – Reporter 1
Karen Gagnon – Reporter 2
Lili Bordán – Reporter 3
Charlie Gardner – Robert Lewis
Nóra Lili Hörich – Vogel's Wife
Kamilla Fátyol – Marissa Martinez
Yang Liu – Chinese Translator
Xue Xuxing – Ming's Secretary
Richard Rifkin – JPL Store Man
Nicholas Wittman – JPL Clean Room Worker 1
Balázs Medveczky – JPL White Room Worker 2
Ben O'Brien – JPL Pathfinder Team Member 1
Scott Alexander Young – JPL Pathfinder Team Member 2
Benedict Wong – Bruce Ng
James Fred Harkins Jr. – Pathfinder developer (uncredited)
Sam Spruell – NASA psychologist (uncredited)
Production Companies and Distributors:
Genre Films
International Traders
Mid Atlantic Films
Scott Free Productions
Twentieth Century Fox Film Corporation
A.A.