Genre:
Action Movie
Adventure
Sci Fi
Release Date:
June 10, 2015
Duration:
124 minutes
Plot:
It's been 22 years since the dramatic shutting down of Jurassic Park. Many things have changed since then. Masrani Corporation have rebuilt the Park and gave it a new name: Jurassic World. At last the public has the chance to see real Dinosaurs from a close distance, after paying the tickets of course. But, when the initial enthusiasm is over, the number of visitors declines. This is a major problem for a for-profit corporation. The Geneticians will give the solution with a hybrid Dinosaur: Indominus Rex.
When Indominus Rex will make her public appearance (yes, she is a female), two young visitors arrive at the island of the Dinosaurs. Gray Mitchell (Ty Simpkins) and his brother Zach (Nick Robinson) will see – after a very long time – their aunt Claire (Bryce Dallas Howard). Claire is a workaholic and she entrusts Zara (Katie McGrath), her personal assistant, to give her nephews a tour to the Park. Meanwhile, Simon Masrani (Irrfan Khan), owner of Masrani Corporation, asks Claire to have Owen Grady (Chris Pratt) inspect the security of the Indominus Rex's enclosure. Owen slovenly character is the exactly opposite of the strict Claire. Yet, he is very good at his work. When they find out the Indominus Rex – the most powerful and intelligent Dinosaur in Jurassic World – has killed two guards and escaped, they know that no-one is safe anymore!
Our impressions and movie review: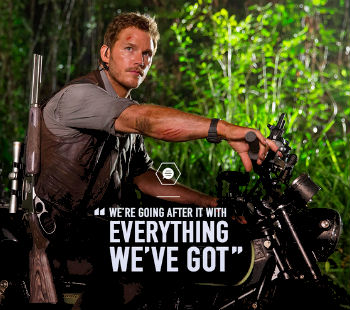 Bryce Dallas Howard gives a rather not good performance and Chris Pratt is so good and so believable that made me think him as the next Indiana Jones. Omar Sy has taken very seriously his first Hollywood movie, and Judy Greer is really good too. Vincent D Onofrio, the villain of our story, is a really good actor and it's a shame that they gave him this lousy written character. As you may have guessed, the screenplay and the shallow characters is the weakest link. It is not a bad screenplay, but it is far from being perfect. I still cannot understand how they chose the director. The Dinosaurs on the other hand, are so violent and so many that will leave you breathless.
Jurassic World is a monster movie, without the finesse and the food for thought that the original Jurassic Park gave us. Jurassic World is a good blockbuster with monsters (ok Dinosaurs), that you can enjoy this summer!
Click here to see the battle between T Rex and Indominus Rex!
Jurassic World – Trailer (Full HD, Greek subs)
http://www.youtube.com/watch?v=A9iI92DQ2xY
Trivial Jurassic World – 2015
Indominus Rex is a new hybrid Dinosaur with a protagonistic role in the Jurassic World. According to the screenplay, Indominus Rex was made in the Gene Lab with DNA from the following species:

Tyrannosaurus Rex
Velociraptor
Carnotaurus
Giganotosaurus
Majungasaurus
Rugops
Cuttlefish
Tree Dart Frog
Movie quote from Jurassic World – 2015
Owen: What happened to the sibling?
Claire: She ate it.
Movie quote from Jurassic World – 2015
Claire: Corporate felt genetic modification would up the 'wow' factor.
Owen: They're dinosaurs. 'Wow' enough.
Movie quote from Jurassic World – 2015
Henry Wu: She was designed to be bigger than a T-Rex.
Movie quote from Jurassic World – 2015
Masrani: So the paddock is quite safe then…
Claire: Yes. We have the best structural engineers in the world.
Masrani: Yeah, so did Hammond…
Movie quote from Jurassic World – 2015
Claire: Think it'll scare the kids?
Masrani: This will give the parents nightmares.
Movie quote from Jurassic World – 2015
Masrani: The key to a happy life is to accept you are never actually in control.
Movie quote from Jurassic World – 2015
Owen: These animals are thinking: "I gotta eat." "I gotta hunt." "I gotta…". You gotta be able to relate to at least one of those things.
Movie quote from Jurassic World – 2015
Claire: We have learned more in the past year from genetics, than a century of digging up bones! A whole new frontier has opened up! We have our first genetically modified hybrid!
Owen: You just went and made a new dinosaur? Probably not a good idea…
Movie quote from Jurassic World – 2015
Owen: Evacuate the island!
Movie quote from Jurassic World – 2015
[Claire asks Owen to help her find her nephews]
Claire: You can track them by smell or footprints?
Owen: I was with the Navy! Not the Navajo!
Movie quote from Jurassic World – 2015
Henry Wu: Nothing in Jurassic World is natural, we have always filled gaps in the genome with the DNA of other animals. And if the genetic code was pure, many of them would look quite different. But you didn't ask for reality, you asked for more teeth.
Movie quote from Jurassic World – 2015
Masrani: You created a monster!
Henry Wu: Monster is a relative term. To a canary, a cat is a monster. We're just used to being the cat.
Credits:
Writers:
Rick Jaffa, Amanda Silver, Colin Trevorrow, Derek Connolly
Director:
Colin Trevorrow
Cast:
Chris Pratt – Owen Grady
Bryce Dallas Howard – Claire Dearing
Vincent D Onofrio – Vic Hoskins
Judy Greer – Karen Mitchell
Andy Buckley – Scott Mitchell
Ty Simpkins – Gray Mitchell
Nick Robinson – Zach Mitchell
Irrfan Khan – Simon Masrani
Omar Sy – Barry
Jake Johnson – Lowery Cruthers
BD Wong – Dr. Henry Wu
Lauren Lapkus – Vivian
Brian Tee – Katashi Hamada
Katie McGrath – Zara Young
Eric Edelstein – Paddock Supervisor
Courtney James Clark – Mosasaurus Announcer
Colby Boothman-Shepard – Young Raptor Handler
Jimmy Fallon – Jimmy Fallon
Jimmy Buffett – Jimmy Buffett
James DuMont – Hal Osterly
Matthew Burke – Jim Drucker
Anna Talakkottur – Erica Brand
Matty Cardarople – Gyrosphere Operator
Michael Papajohn – InGen Contractor
William Gary Smith – Park Ranger
Kelly Washington – Zach's Girlfriend
Isaac Keys – Control Room Security Guard
Patrick Crowley – Flight Instructor
Chad Randall – InGen Soldier
Gary Weeks – Father of Three
Bill Ogilvie – Spanish Parkgoer
Allan Tam – Chinese Parkgoer
Yvonne Angulo – Gabriella (as Yvonne Welch)
Chloe Perrin – Italian Girl
Timothy Eulich – ACU Trooper
Kevin Foster – ACU Gunner
Bonnie Wild – Park Announcer
Brad Bird – Monorail Announcer
Colin Trevorrow – Mr. DNA
Production Companies and Distributors:
Amblin Entertainment
China Film Co.
Legendary Pictures
Universal Pictures
UIP
A.A.