Genre:
Action
Adventure
Science Fiction
Release Date:
April 13, 2015
Duration:
141 minutes
Plot:
Avengers are attacking a Hydra base, a fortified castle in Sokovia. They intend to achieve a powerful blow to the terrorist organization and they hope to find Loki's scepter. Iron Man (Robert Downey Jr.), Captain America (Chris Evans), Thor (Chris Hemsworth), Hulk (Mark Ruffalo), Black Widow (Scarlett Johansson) and Hawkeye (Jeremy Renner) are on a melee fight with countless Hydra soldiers and… they win! You didn't expect anything different. On the side of the defenders are a man who can run too fast, Quicksilver (Aaron Taylor-Johnson), who creates a problem mainly to Hawkeye.
The castle is protected by a force field, but the Avengers destroy it and soon, they penetrate the castle. In a room the scepter of Loki is guarded. As they try to get there, our favorite comic book heroes are attacked by Scarlet Witch (Elizabeth Olsen), who uses her hex powers to awaken their worst nightmares in their minds. Finally, Iron Man get the scepter in his hand and the twins Scarlet Witch and Quicksilver, who watch him staying hidden, seem to be satisfied. What could that mean?
Back in New York, dr Banner (Mark Ruffalo) and Tony Stark (Robert Downey Jr.) are working in a very ambitious and difficult project. Stark found, in the Infinity Stone of Loki's scepter, an Artificial Intelligence program. After many hours of work and code hacking, they name the new program Ultron. Ultron – a program far more advanced than J.A.R.V.I.S. – will replace J.A.R.V.I.S. in the automatic control of Iron Legion, a global security system. And if this is not scary enough, wait to see what will come next.
In the mean time, Avengers are having a party with many heroes and friends, to celebrate their victory at Sokovia. Among the guests is an old man (Stan Lee) who really wants to taste the ale that the god of Thunder is drinking. This was a really bad idea… they had to carry him out! Back in the labs, Ultron gains self-consciousness. He exchanges information with J.A.R.V.I.S. and decides that there is only one solution for world peace: the destruction of humanity. He starts his insane plan with exterminating J.A.R.V.I.S. and he takes control of the Iron Legion.
The time has passed, the guests are gone, and the Avengers are having fun with a different game: they try to lift the Mjolnir. Black Widow did not even want to try, and finally only Captain America made it move a little. Thor comments that they could not lift his hammer because they are unworthy. While the whole team of the Avengers bursts to laughter, a robot from the Iron Legion enters the room.
Tony Stark: It's biometrics, right? Like a security code? "Whoever is carrying Thor's fingerprints" is, I think, the literal translation.
Thor: Yes, well that's a very, very interesting theory. I have a simpler one: You are not worthy.
Ultron: Worthy? How could you be worthy? You're all killers.
…
You want to protect the world, but you don't want it to change.
…
There's only one path to peace… your extinction.
Our impressions and movie review: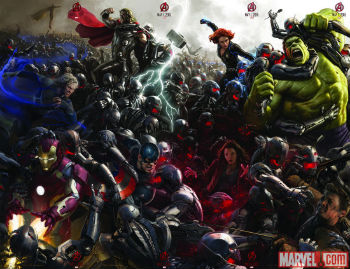 Josh Weddon is directing "Avengers: Age of Ultron" and he also wrote the scenario. In the long-awaited sequel to Avengers 2012. Too many superheroes together, against a very powerful villain. Ultron!
The "good old boy" James Spader as Ultron steals the show – there is no other actor who could have done better in the role of the paranoid android who wants to destroy the Avengers and eliminate all humans. All actors are doing a good job, but they don't have much screen time, except maybe for Jeremy Renner in the role of Hawkeye.
The battle scene between Hulk and Iron Man – who uses the special for the occasion Hulkbuster armor – is flawless. The movie is full of fights, disasters, visual effects, "lethal" quotes and everything one expected of a blockbuster. Avengers 2 are expected to sell out, since it has already brought evenue to cover the 250.000.000$ it costed to produce it. And keep in mind that this is before the USA premiere. On the other hand, it leaves a feeling that something is missing. Like eating snacks or chips, but still being hungry because you did not eat a proper dish. The comparison with the recent X-Men: Days of Future Past is inevitable and Avengers 2 lose for a few points. Nevertheless, this is a very nice action movie, with interesting elements that cleverly build the story for the upcoming movies Captain America: Civil War and Avengers: Infinity War.
Avengers: Age of Ultron – Trailer (Full HD, Greek subs)
https://www.youtube.com/watch?v=0pfqyEpzvIw
Trivial the movie Avengers: Age of Ultron – 2015:
Scenes of the movie were filmed in South Africa, England, Italy and Korea
19 different companies worked for the production of the visual effects
The production cost of the film reached $250,000,000
The revenues exceeded $220 million before the US premiere
No special effects were used for the voice of Ultron. This is the normal voice of James Spader
Ultron sings "I've Got No Strings", from the movie Pinocchio – 1940. This is a parallelism between Pinocchio, a puppet that became a real child, and Ultron, a robot that gained self-consciousness
Chris Evans (Captain America), Stellan Skarsgård (Dr. Selvig) and Aaron Taylor-Johnson (Quicksilver) have their birthday on June 13
Scarlett Johansson (Black Widow) and Mark Ruffalo (Bruce Banner) have their birthday in November 22
Saoirse Ronan, Lindsay Lohan and Sasha Pieterse were a candidate for the role of Scarlet Witch
In comics, Scarlet Witch and Quicksilver are the children of Magneto, mutant by birth. Because the rights of X-Men and Magneto belong to Fox, in the Avengers movie they are presented as orphans who gained superpowers after experiments with the scepter of Loki. Of course there is no reference to Magneto
While the film was shot, to keep it a secret, they refered to the movie as "After Party".
Ulysses Klaw, an accomplice of Ultron, will be the villain in the film Black Panther – 2018

Movie Quote Avengers: Age of Ultron

Ultron: Now I'm free. There are no strings on me!

Movie Quote Avengers: Age of Ultron

Ultron: I was designed to save the world. People would look to the sky, and see hope… I'll take that from them first! … There's only one path to peace… your extinction.

Movie Quote Avengers: Age of Ultron

Black Widow: Am I always picking up after you boys?

Movie Quote Avengers: Age of Ultron

Nick Fury: Here we all are, with nothing but our wit and our will to save the world! So stand and fight!

Movie Quote Avengers: Age of Ultron

Ultron: Don't compare me with Stark! He's a sickness!
Tony Stark: Aww, junior, you're going to break your old man's heart…

Movie Quote Avengers: Age of Ultron

Thor: IS THAT THE BEST YOU CAN DO?
[with a gesture, Ultron summons multitude of drones]
Ultron: THIS is the best I can do. This is what I've been waiting for. All of you against all of me!
Captain America: You had to ask?

Credits:

Writers:
Joss Whedon

Director:
Joss Whedon

Cast:
Robert Downey Jr. – Tony Stark / Iron Man
Chris Hemsworth – Thor
Scarlett Johansson – Natasha Romanoff / Black Widow
Chris Evans – Steve Rogers / Captain America
Mark Ruffalo – Bruce Banner / The Hulk
Jeremy Renner – Clint Barton / Hawkeye
Linda Cardellini – Laura Barton
Hayley Atwell – Peggy Carter
Elizabeth Olsen – Wanda Maximoff / Scarlet Witch
Aaron Taylor-Johnson – Pietro Maximoff / Quicksilver
James Spader – Ultron (voice)
Cobie Smulders – Maria Hill
Tom Hiddleston – Loki
Idris Elba – Heimdall
Samuel L. Jackson – Nick Fury
Paul Bettany – Jarvis / The Vision
Stellan Skarsgård – Erik Selvig
Andy Serkis – Ulysses Klaw
Lou Ferrigno – Hulk (voice)
Anthony Mackie – Sam Wilson / Falcon
Don Cheadle – Colonel James Rhodes / War Machine
Julie Delpy – Baron Wolfgang von Strucker
Claudia Kim – Dr. Helen Cho
Dominique Provost-Chalkley – Zrinka
Mariola Jaworska – Sokovian
Nick W. Nicholson – Dr. Taryl Jenkins
Daniel Westwood – Asgardian God
Dilyana Bouklieva – Sokovian Citizen
Judit Novotnik – Sokovian
Dante Briggins – Party Guest
Aurora Fearnley – Marine
Nondumiso Tembe – Woman in Car
Mark Haldor – Asgardian
Isaac Andrews – Costel
Lukas DiSparrow – Sok
Bari Suzuki – Shield Agent
Guy Potter – British Officer
Julia Krynke – Convertible Driver
Hannah Flynn – Dancer
Leila Wong – Korean Scientist
Bentley Kalu – Klaue's Mercenary
Jason Her – TV News Anchor (voice)
Minhee Yeo – Cho's Assistant
Monty Mclaren-Clark – Tub Family Child
Michael Chapman – Lab Tech Scientist
Tim Powell – DEA Director
Tino Chinyoka – Somalian Ship Commander
Emeson Nwolie – Businessman
Joseph M. Abbott – Party Guest
Bartosz Wandrykow – Sokovian Policeman
Sophie Gooding – Club Dancer
Ibrahim Fagge – Somalian Ship Commander
Tatiana Zarubova – Sokovian
Eric Morcos – The Agent
Denis Khoroshko – Sokovian driver Pavlov
Georgie-May Tearle – Student
Laura Bernardeschi – Sokovian citizen
Francesca Bennett – Sokovian driver
R.P. Edwards – College Student (as Rafael Pereira-Edwards)
Charlotte Snowball – Sokovian
Anthony Henry – Charlie Nash
Guna Gultniece – Student
Kai Kyriacou – Child 1
Mohamed Mozii Ibrahim – Somali Ship Commander
Pavlina Andreevska – Sokovian
Hassan Ahmed – Somali Shipworker
Sigmund Oakeshott – USO Military Policeman
Edina Loskay – Sokovian
Irina Klimovich – Sokovian Students
Ingvild Deila – Young Techie
Kornelia Horvath – Sokovian
Attila G. Kerekes – Sokovian Citizen

Production Companies and Distributors:
Marvel Studios
Walt Disney
Feelgood Entertainment

A.A.