Genre:
Animation
Comedy
Family Movie
Release Date:
September 21, 2015
Duration:
89 minutes
Plot:
Mavis (Selena Gomez) and Johnny (Andy Samberg) are getting married! The wedding reception takes place in Hotel Transylvania and, for the first time in history, mortals are allowed in the hotel. The owner and father in law is Dracula (Adam Sandler), but do not forget that Johnny is a mortal. The wedding is wonderful, with a few comical… surprises from the monsters, and everyone is having a great time.
After a few years, Mavis tells her father that she is pregnant. Dracula is very happy about it and he cannot wait to be a grandfather to a vampire, but Mavis reminds him that the baby might become a mortal like his father, and not a monster. When Dennis (Asher Blinkoff) is born, nobody knows what he will be when he grows up, but everybody is so happy that they don't care for anything else.
There are many guests invited to the birthday party, when Dennis becomes one year old. Johnny's parents, Mike (Nick Offerman) and Linda (Megan Mullally), Frankenstein (Kevin James), Eunice (Fran Drescher), Wayne (Steve Buscemi), Wanda (Molly Shannon), Griffin (David Spade) and Murray (Keegan-Michael Key). Dracula still believes that his grandson will be like him, but there is no evidence to support this.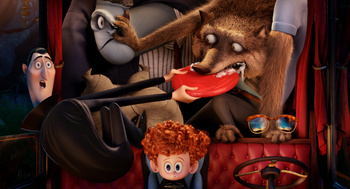 The years go by, little Dennis is not a baby anymore, but he is still a human. Will his fangs grow before he becomes 5 or he will human forever? As if that were not enough, Mavis tells her father that she is considering to move somewhere else. Dracula has a conversation in private with Johnny, who tells him that he likes being in Hotel Transylvania. Dracula convinces him to go with Mavis on a short vacation to his parents, and leave Dennis with him. In a week Dennis will be 5 years old and Dracula has a plan. His grandson must become a vampire, so this will be an educational week, with the monsters showing their abilities to Dennis.
But Dracula missed a detail. A very important detail. Vlad (Mel Brooks), his father will visit them. Mavis invited him for the birthday party, and Vlad wants to see how the Hotel Transylvania and his son are doing. And he will not like it at all! Vlad is old school, he does not like humans and… well… you will see the rest for yourselves!
Our impressions and movie review:
"Hotel Transylvania 2" is based on the succesful recipy of the first movie. Robert Smigel wrote an interesting screenplay and the director is Genndy Tartakovsky, an animation veteran. Many famous actors, from movies and TV series, have small parts in this movie, including Mel Brooks as Vlad.
"Hotel Transylvania 2" premiered on September 21st. This is a good animation film, that will give lots of laughs to kids and parents alike 🙂
Hotel Transylvania 2 – Trailer
https://www.youtube.com/watch?v=Zb04diozp1Q
Movie Trivial for Hotel Transylvania 2
Rob Riggle is the movie villain. The name of his character is an hommage to the actor Bela Lugosi (Count Dracula – 1931).
Kurinsky: "The rules of monster world are verticality – things being really tall. Lighting-wise, the monster world is saturated color. For the human world, I wanted to do a contrast. If the rules of the monster world are tall and vertical, with bright saturated colors, what's the opposite of that? It's horizontal and flat, drab. It's evenly lit. By lighting it evenly, it washes out the color even more. Florescent light just to make things feel really bland. That is our human world."
Vlad lives in a cave, because the movie creators wanted to show how much isolated Vlas has become.
Credits:
Writers:
Robert Smigel, Adam Sandler
Director:
Genndy Tartakovsky
Cast:
Adam Sandler – Dracula (voice)
Andy Samberg – Jonathan (voice)
Selena Gomez – Mavis (voice)
Kevin James – Frankenstein (voice)
Steve Buscemi – Wayne (voice)
David Spade – Griffin (voice)
Keegan-Michael Key – Murray (voice)
Asher Blinkoff – Dennis (voice)
Fran Drescher – Eunice (voice)
Molly Shannon – Wanda (voice)
Megan Mullally – Grandma Linda (voice)
Nick Offerman – Grandpa Mike (voice)
Dana Carvey – Dana (voice)
Rob Riggle – Bela (voice)
Mel Brooks – Vlad (voice)
Jonny Solomon – Blobby (voice)
Chris Kattan – Kakie (voice)
Sadie Sandler – Winnie (voice)
Sunny Sandler – Baby Dennis / Vampire Kid (voice)
Jon Lovitz – Phantom of the Opera (voice)
Robert Smigel – Marty / Harry Three-Eye / Navigator (voice)
Rose Abdoo – Ticket Agent (voice)
Luenell – Shrunken Heads (voice)
Jared Sandler – Tourist Driver (voice)
Melissa Sturm – Jogger #1 / Tourist Passenger / Caren (voice)
Jennifer Lyter – Jogger #2 (voice)
Paul Brittain – Pandragora (voice)
Nick Swardson – Kelsey (voice)
Chris Parnell – Fly (voice)
Doug Dale – Kal (voice)
Ethan Smigel – Troy (voice)
Roey Smigel – Yoga Monster Kid (voice)
Allen Covert – Candle Cake Monster (voice)
Patrick Harpin – Additional Voices (voice)
Carter Hastings – Additional Voices (voice)
Mia Sinclair Jenness – Additional Voices (voice)
Andre Robinson – Additional Voices (voice)
Jaeden Bettencourt – Wally / Vampire Kid (voice)
Jonathan Loughran – Cop (voice)
Production Companies and Distributors:
Columbia Pictures
LStar Capital
Sony Pictures Animation
Sony Pictures Digital
Sony Pictures Imageworks (SPI)
A.A.