Genre:
Comedy
Release Date:
September 21, 2015
Duration:
121 minutes
Plot:
Ben Whittaker (Robert De Niro) is a 70-years-old pensioner and widower. Despite his age he is full of ideas and energy, and that makes boring his new everyday life. When he learns that "About the Fit" offers jobs to people who is at least 65, he won't let the chance pass.
"About the Fit" is a site about fashion and eCommerce. Ben, who had no interest at all about internet and new technologies, records a video about himself and uploads it to YouTube – this was one of the requirements in the classified ad. Few days later he gets interviewed, they tell him that the video and his answers are very good, and he gets hired!
Jules Ostin (Anne Hathaway) started "About the Fit" in the kitchen of her appartment. A year and a half passed and now she has more then 200 employees. One cannot call her a workaholic, but she spends much time with her job and she tries to keep everyone satisfied: employees, customers, family, investors. But she has lost her balance and the pressure she is under is overwhelming. The working enviroment is almost perfect, but the quick tempo of Today can have serious consequences. Ben goes to work believing he has a lot to learn. Eventually, Ben is the one who teaches the rest. And the most important lesson is to lift their eyes from the cell phones and the laptops, reach out and help each other as co-workers and as humans.
Our impressions and movie review:
Director and screen writer Nancy Meyers usually makes romantic movies with comic elements and a deeper message. We all remember "What Women Want", "Something's Gotta Give", "Father of the Bride", "I Love Trouble" and "It's Complicated". The fundamental difference is that "The Intern" lacks the romantic part. The relationship between the two main characters is not romantic, but a friendship between two colleagues at work. In parallel, we see many more relationships – work, family, friendship, romance, marriage and infidelity – some of them are being tested.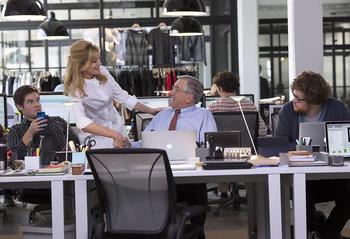 Robert De Niro dominates the screen and his serious acting makes the movie stand out. The presence of Anne Hathaway brings in mind "The Devil Wears Prada" which, despite the finale, had a more realistic working environment. Her character is more likeable and Hathaway proves once again that she is really talented. Rene Russo makes a small pass, but the introductory scene of her part is really funny. We see many young actors – Anders Holm, Adam DeVine, Andrew Rannells, Zack Pearlman, Nat Wolff – who stand worthily in their roles.
"The Intern" premiered on September 21st 2015, and the film is distributed by Warner Bros. This is a movie about relationships, never boring at all, with many funny scenes and clever dialogues. You should not miss this one!
Movie Quote from The Intern
[Ben Whittaker on his video for the job]
-Retirement is an ongoing, relentless effort in creativity. You can try yoga, like to cook, bought some plants, took classes in Mandarin. Believe me, I've tried everything. I just know there's a hole in my life and I need to fill it… soon.
Movie Quote from The Intern
Ben Whittaker: Hi, Jules, I'm Ben, your new intern.
Jules Ostin: I'm glad you also see the humor in this.
Ben Whittaker: It would be hard not to.
[they talk and when Ben is about to leave the office]
Ben Whittaker: Want the door open or closed?
Jules Ostin: Doesn't matter.
[he is about to close the door]
Jules Ostin: Open actually… You'll get used to me.
Ben Whittaker: I look forward to it.
The Intern – Trailer (Greek subs)
https://www.youtube.com/watch?v=rrdZXewPOOk
Credits:
Writers:
Nancy Meyers
Director:
Nancy Meyers
Cast:
Robert De Niro – Ben Whittaker
Anne Hathaway – Jules Ostin
Rene Russo – Fiona
Anders Holm – Matt
JoJo Kushner – Paige
Andrew Rannells – Cameron
Adam DeVine – Jason
Zack Pearlman – Davis
Jason Orley – Lewis
Christina Scherer – Becky
Nat Wolff – Justin
Linda Lavin – Patty
Celia Weston – Doris
Steve Vinovich – Miles
C.J. Wilson – Mike
Mary Kay Place – Jules's Mom
Erin Mackey – Jane
Christina Brucato – Emily
Wallis Currie-Wood – ATF Interviewer #1
Molly Bernard – ATF Interviewer #2
Paulina Singer – ATF Receptionist
Annie Funke – ATF Creative Team Member #1
Christine Evangelista – ATF Creative Team Member #2
Julee Cerda – ATF Creative Team Member #3
Peter Vack – ATF Creative Team Member #4
Nikki Granatell – ATF Creative Team Member #5
Liza Binkley – ATF Creative Team Member #6
Eshan Bay – ATF Tech Team Member #1
Caitlin Kinnunen – ATF Tech Team Member #2
Tristan Griffin – ATF Tech Team Member #3
Sydney Morton – Customer Service Rep #1
Brandon Tyler Harris – Customer Service Rep #2
Elena Shaddow – Customer Service Rep #3
Liz Holtan – Customer Service Rep #4
Claire Saunders – Mailroom Intern
G. Keith Alexander – Senior Intern
Susan Feldman – Couple in Elevator
Mark Sikes – Couple in Elevator
Drena De Niro – Hotel Manager
Max von Essen – Businessman at Starbucks #1
George Merrick – Businessman at Starbucks #2
Casey Benjamin – Mom at School
Ruby Motz – Child at School
Emma Angstadt – Maddie
Eliud Kauffman – Warehouse Foreman
Jenny Fellner – Barista
Sean Kleier – Bartender
Elliot Villar – Escalade Driver
Tiffany Chen – Tai Chi Instructor
Leasen Beth Almquist – Tia Chi Student
Djassi DaCosta Johnson – Tai Chi Student
Nikki James – Tai Chi Student
Leah O'Donnell – Tai Chi Student
Parker Madison – ATF Client #1 (as Parker Màdison)
Maria Di Angelis – Shopper (uncredited)
Stefanie Barry – Bad Driver (uncredited)
Gregory M. Brown – Upscale Hotel Guest (uncredited)
Production Companies and Distributors:
Waverly Films
Tanweer
A.A.