Genre:
Action Movie
Adventure
Sci Fi
Fantasy
Release Date:
December 21, 2015
Duration:
135 minutes
Plot:
Luke Skywalker (Mark Hamill) has disappeared for many years. While he was away, the defeated followers of the Empire and the Dark Side of the Force have created the First Order, a militaristic regime that will rule the Galaxy. To achieve that, the First Order will have to kill the Last Jedi. Of course, they will have to find him first.
On the other hand, the Republic is trying to stand on her feet and supports the Resistance. The old Rebels, with General Leia Organa (Carrie Fisher) on the lead, are struggling with bravery for peace and justice. Leia is determined to find Luke and she hopes she will convince him to aid her. There is someone who may have found Luke Skywalker's traces and Leia sends Poe Dameron (Oscar Isaac), the best pilot of the Resistance, to find more information.
Poe arrives at the planet Jakku. He meets with the elder Lor San Tekka (Max von Sydow), who gives him the map. The First Order, who watches closely the Resistance actions, attacks and destroys everything in the area. Poe hides the map in the BB-8 android that he has as co-pilot. BB-8 manages to escape the attack safe and sound, but Poe is captured by the Stormtroopers.
Kylo Ren (Adam Driver), a high ranking officer of the First Order who walks in the steps of Darth Vader and dreams to surpass him, will take care of the prisoner personally. Kylo Ren uses the Force to torture Poe, and, despite the brave fight the pilots gives, he learns about the map that the BB-8 unit has.
In the meantime, the little android with the great secret, is wandering in the deserts of Jakku. At some point the robot meets Rey (Daisy Ridley), a scavenger who just found the most valuable thing ever.
-Where do you come from?
[he answers with tones and beeps just like R2D2]
-Classified? Really? Me too.
A Storm Trooper, FN-2187 (John Boyega), feels disgusted with Kylo Ren actions, and he decides to desert and help Poe Dameron escape. The fact that Poe is a pilot, makes everything easier. They steal a TIE fighter, but their escape is made known quickly and every Storm Trooper is after them.
General Hux: He escaped and he had help. One of our own. We are checking the registers now to identify which stormtrooper it was.
Kylo Ren: The one from the village. FN-2187.
…
General Hux: No prior signs of nonconformity?
Captain Phasma: This was his first offence.
Their spaceship is shot down. When Finn (that's the nick Poe gave him) comes back to his senses, he sees no sign of Poe and believe that his new friend did not survive the crash. When he meets Rey and BB-8, he decides to claim that he is part of the Resistance and he wants to continue Poe's mission. Finn and Rey will protect the android from the First Order and they will try to get the map for Luke Skywalker to the Resistance!
Our impressions and movie review:
J.J. Abrams manages once more to surpass himself, both as a director and as a producers for the new Star Wars film. "The Force Awakens" is surely better than the "Clone Wars" trilogy and deserves to stand side by side with the original trilogy. The script, written by Lawrence Kasdan, Michael Arndt and J.J. Abrams, is very good, with elements that reminds us of "Star Wars: A New Hope" and "The Empire Strikes Back". BB-8 is the "new" R2D2, Kylo Ren is the "successor" of Darth Vader (they share the same ambitions, but they differ too much as characters), and there are characters who will "take" the position of the Emperor and – more or less – Luke. Best of all, J.J. Abrams manages to stay true to the Star Wars spirit and sets good foundations for the new trilogy.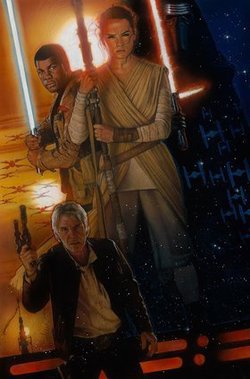 The young protagonist, Daisy Ridley is a surely a very promising actress, yet the weight that fell on her shoulders was particularly heavy. Adam Driver was very interesting as Kylo Ren, but the unavoidable comparisons with Darth Vader made part of the audience to find him insufficient. John Boyega is very good and Oscar Isaac is amazing. Amazing also are the actors of the original trilogy. Harrison Ford (Han Solo), Carrie Fisher (Leia), Mark Hamill (Luke Skywalker), Anthony Daniels (C3PO), Kenny Baker (R2D2) and Peter Mayhew (Chewbacca) put their touch to the new film, without overshadowing the younger actors. Many great actors have small parts or make cameos in the film, like Max von Sydow, Simon Pegg, Thomas Brodie-Sangster, Gwendoline Christie and Daniel Craig.
"Star Wars: The Force Awakens" premiered on December 14th, 2015. This is a very good movie, that the Star Wars fans will enjoy, and so will those who want to see a good adventure film, with lots of humor and many action scenes. May the Force be with You!
Star Wars: Episode 7 – The Force Awakens – Trailer (Greek subs)
http://www.youtube.com/watch?v=qBmIAVzEScI
Movie Quote from Star Wars Episode 7: The Force Awakens
Kylo Ren: There's been an awakening. Have you felt it?
Movie Quote from Star Wars Episode 7: The Force Awakens
[looking at Darth Vader's skull]
Kylo Ren: Forgive me. I feel it again… the call from light. Supreme Leader senses it. Show me again, the power of the darkness, and I'll let nothing stand in our way. Show me, grandfather, and I will finish what you started.
Movie Quote from Star Wars Episode 7: The Force Awakens
Rey: There are stories about what happened.
Han Solo: It's true. All of it. The Dark Side, the Jedi. They're real.
Movie Quote from Star Wars Episode 7: The Force Awakens
Maz Kanata: I have lived long enough to see the same eyes in different people. I see your eyes… I know your eyes!
Movie Quote from Star Wars Episode 7: The Force Awakens
Maz Kanata: I am no Jedi, but I know the Force. It moves through and surrounds every living thing. Close your eyes. Feel it. The light. It's always been there. It will guide you.
Trivial from Star Wars Episode 7: The Force Awakens
Episode 7 does not have a post credits scene.
The producers prefered to do external shootings and use miniatures instead of CGI, so that Episode 7 would fit aesthetically with Episodes 4, 5 and 6.
Harrison Ford said in an interview that he would not want to participate in the upcoming sequels of Star Wars.
The composer Michael Giacchino has worked with J.J. Abrams in all his previous films. In "Force Awakens" Giacchino makes a cameo as a Storm Trooper. He said in an interview that he is very happy that in the new Star Wars Episode he will be able to hear John Williams' music and not his own pieces.
Maz Kanata has many banners, including a Mythosaur Skull used as a symbol by Boba Fett, the Black Sun Tattoo Ziro Hutt had and the pirate emblem of Hondo Ohnaka.
Credits:
Writers:
Lawrence Kasdan, J.J. Abrams, Michael Arndt
Director:
J.J. Abrams
Cast:
Harrison Ford – Han Solo
Mark Hamill – Luke Skywalker
Carrie Fisher – Princess Leia
Adam Driver – Kylo Ren
Daisy Ridley – Rey
John Boyega – Finn
Oscar Isaac – Poe Dameron
Lupita Nyong o – Maz Kanata (Lupita Nyong'o)
Andy Serkis – Supreme Leader Snoke
Domhnall Gleeson – General Hux
Anthony Daniels – C-3PO
Max von Sydow – Lor San Tekka
Peter Mayhew – Chewbacca
Gwendoline Christie – Captain Phasma
Joonas Suotamo – Chewbacca Double
Pip Andersen – Lead Stormtrooper
Simon Pegg – Unkar Plutt
Kiran Shah – Teedo
Sasha Frost – Jakku Villager
Pip Torrens – Colonel Kaplan
Andrew Jack – Major Ematt
Rocky Marshall – Colonel Datoo
Greg Grunberg – Snap Wexley
Emun Elliott – Brance
Brian Vernel – Bala-Tik
Yayan Ruhian – Tasu Leech
Sebastian Armesto – Lieutenant Mitaka
Maisie Richardson-Sellers – Korr Sella
Warwick Davis – Wollivan
Cailey Fleming – Young Rey
Mark Stanley – Knight of Ren
Ken Leung – Admiral Statura
Iko Uwais – Razoo Quin-Fee
Anna Brewster – Bazine Netal
Harriet Walter – Dr. Kalonia
Tim Rose – Admiral Ackbar
Erik Bauersfeld – Admiral Ackbar
Mike Quinn – Nien Nunb
Kipsang Rotich – Nien Nunb
Michael Giacchino – FN-3181
Nigel Godrich – FN-9330
Judah Friedlander – Bar Patron
Victor McGuire – Bar Patron
Miltos Yerolemou – Bar Patron
Francesca Longrigg – Bar Patron
D.C. Barns – Bar Patron (as D.C. Barnes)
Matt Johnson – Bar Patron
Billie Lourd – Lieutenant Connix
Leanne Best – Min Sakul
Crystal Clarke – Ensign Goode
Jeffery Kissoon – Rear Admiral Guich
Claudia Sermbezis – Lema Eelyak
Gerald W. Abrams – Captain Cypress (as Gerry Abrams)
Jim McGrath – Vice Admiral Resdox
Philicia Saunders – Tabala Zo
Morgan Dameron – Commodore Meta
Jessica Henwick – Jess Testor
Tosin Cole – Lieutenant Bastian
James McArdle – Niv Lek
Stefan Grube – Yolo Ziff
Dixie Arnold – Resistance Soldier
Hannah John-Kamen – First Order Officer
Tom Edden – First Order Officer
Kate Fleetwood – First Order Officer
Richard Riddell – First Order Officer
Jefferson Hall – First Order Officer
Thomas Brodie-Sangster – First Order Officer
Jack Laskey – First Order Officer
Brian Herring – BB-8 Performed By
Dave Chapman – BB-8 Performed By
Bill Hader – BB-8 Voice Consultants
Ben Schwartz – BB-8 Voice Consultants
Kenny Baker – R2-D2 Consultant
Arti Shah – Maz Motion Capture Double
Mike Massa – Han Solo Double
Freema Agyeman – New Republican (uncredited)
Dante Briggins – Stormtrooper (uncredited)
Jamie Ben Chambers – Heavy Gunner Stormtrooper (uncredited)
Alan Chimes – Stormtrooper (uncredited)
Daniel Craig – Stormtrooper (uncredited)
Rimmel Daniel – Stormtrooper (uncredited)
Nick Donald – Imperial Gunner (uncredited)
Chris Geden – Imperial Officer (uncredited)
Marina Hayter – Bar Worker (uncredited)
Phil Hodges – X-Wing Pilot (uncredited)
Leigh Holland – Stormtrooper (uncredited)
Kevin Hudson – Rebel Alliance (uncredited)
Phoenix James – Stormtrooper (uncredited)
Aaron Kennedy – Cloaked Messenger (uncredited)
Andrei Lenart – Resistance Soldier (uncredited)
Jorge Leon Martinez – Jedi (uncredited)
Johnny Lynch – Stormtrooper (uncredited)
Billy James Machin – Stormtrooper (uncredited)
Raymond Mamrak – Stormtrooper (uncredited)
Benjayx Murphy – Officer of the Rebel Alliance (uncredited)
Jason Nicholls-Carrer – Stormtrooper (uncredited)
Mark Preston – Stormtrooper (uncredited)
Lane Smith Jr. – Stormtrooper (uncredited)
Clem So – Resistance Fighter (uncredited)
Karol Steele – Jakku Village Elder (uncredited)
Frank Stone – Rebel General (uncredited)
Ashley Ward – Bar Patron (uncredited)
Ewan McGregor – Obi-Wan Kenobi (uncredited)
Production Companies and Distributors:
Lucasfilm (as Lucasfilm Ltd.)
Bad Robot
Truenorth Productions
Feelgood Entertainment
A.A.