Duration
about 50 minutes per episode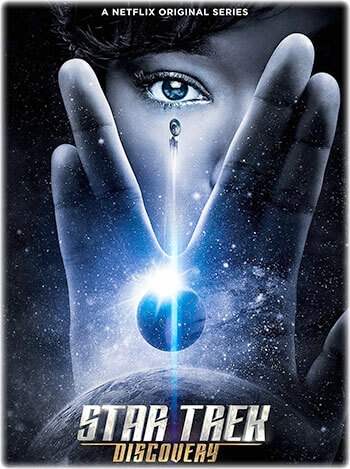 Plot
Star Trek: Discovery – Season 1 2017
We are 10 years before USS Enterprise – with Kirk and Spock – starts its bold journey where noone has ever gone before.
The United Federation of Planets is currently in a very difficult time. The 24 factions of the Klingon seem to have found a way to communicate and work together against the Federation.
The spearhead of this ongoing interplanetary war is the USS Discovery. A spaceship, the only one in the Federation that can move at faster then lightning speed in space! The secret of its speed is an experimental system. Imagine a spaceship that can move from one end of the known universe to the other, as fast as the crew of its crew can beam from a planet to a spaceship in orbit!!!
Of course, Klingon wants this technology at all costs, but it won't be that easy! Follow the story on the screen and … beam me up Scotty!
Star Trek: Discovery – Season 2 2019
The war between the Federation and Klingon has ended with the best possible outcome for all sides. But the Star Trek Discovery team doesn't have any time to rest.
Spock (Ethan Peck) sees visions of a Red Angel and believes he has lost his mind. Seven mysterious red signals appear simultaneously in different parts of the universe. Spock had predicted their positions with absolute accuracy. What is the secret that will cause a rift in the United Planetary Federation?
The USS Discovery rushes to the red signals, within and outside of the jurisdiction of the Federation. Thet try to help those who can and is faced, once again, with unprecedented situations.
Star Trek: Discovery – Season 3 2020
To prevent the Control from killing every intelligent lifeform, Discovery travels 950 years into the future. The Federation does not exist anymore. Those who still remember, talk about the Federation as if it was just a fairy tale, a myth. Will the Discovery crew stay true to Starfleet's values? They are in a world that looks like these beliefs never existed. And finally, will they ever find a way to return back to their own time?
Our impressions and tv show review
The TV show "Star Trek: Discovery" is, in my humble opinion, the best TV / movie presentation of what we call Star Trek. Even in comparison with the classic Original Series of the sixties; and I know some will call me sacrilegious! 😉
Excellent plot, very good performances and the photography and the sound engineering are simply perfect!
Trekkies go for it… Discovery has arrived! 🙂
Star Trek: Discovery – Season 1 2017 Trailer (no subs)
https://youtu.be/oWnYtyNKPsA
Cast
Directors
Olatunde Osunsanmi
Jonathan Frakes
Douglas Aarniokoski
Hanelle M. Culpepper
David Barrett
Lee Rose
Akiva Goldsman
T.J. Scott
Maja Vrvilo
Christopher J. Byrne
Adam Kane
John Scott
David Semel
David Solomon
Marta Cunningham
Alex Kurtzman
Jon Dudkowski
Writers
Gene Roddenberry
Kirsten Beyer
Sean Cochran
Bo Yeon Kim
Erika Lippoldt
Gretchen J. Berg
Aaron Harberts
Kemp Powers
Alan B. McElroy
Ted Sullivan
Michelle Paradise
Akiva Goldsman
Jenny Lumet
Jesse Alexander
Aron Eli Coleite
Jordon Nardino
Lisa Randolph
Anthony Maranville
Brandon Schultz
Chris Silvestri
Andrew Colville
Vaun Wilmott
Joe Menosky
Craig Sweeny
Jay Beattie
Dan Dworkin
Anne Cofell Saunders
Kenneth Lin
Kalinda Vazquez
Staring
Sonequa Martin-Green – Michael Burnham
Doug Jones – Saru
Anthony Rapp – Paul Stamets
Mary Wiseman – Sylvia Tilly
Emily Coutts – Keyla Detmer
Shazad Latif – Ash Tyler
Oyin Oladejo – Lt. Joann Owosekun
Patrick Kwok-Choon – Lt. Gen Rhys
Julianne Grossman – Discovery Computer
Ronnie Rowe – Lt. R.A. Bryce
Wilson Cruz – Dr. Hugh Culber
Sara Mitich – Airiam
Michelle Yeoh – Philippa Georgiou
Jason Isaacs – Captain Gabriel Lorca
Anson Mount – Captain Christopher Pike
Mary Chieffo – L'Rell
Jayne Brook – Admiral Cornwell
Hannah Cheesman – Lt. Cmdr. Airiam
Rachael Ancheril – Cmdr. Nhan
James Frain – Sarek
Ethan Peck – Spock
Mia Kirshner – Amanda Grayson
Alan Van Sprang – Leland
David Benjamin Tomlinson – Linus
Kenneth Mitchell – Kol
Nicole Dickinson – Klingon
Raven Dauda – Dr. Tracy Pollard
Arista Arhin – Young Michael Burnham
Tasia Valenza – Shenzhou Computer
Tig Notaro – Jett Reno
Ali Momen – Kamran Gant
Bahia Watson – May
Conrad Coates – Admiral Terral
Michael Ayres – Transporter Officer
Riley Gilchrist – Admiral Shukar
Chris Violette – Britch Weeton
Romaine Waite – Troy Januzzi
Damon Runyan – Ujilli
Harry Judge – Admiral Gorch
Rekha Sharma – Commander Landry
Sam Vartholomeos – Danby Connor
Rebecca Romijn – Number One
Sonja Sohn – Dr. Gabrielle Burnham
Christopher Russell – Milton Richter
Clare McConnell – Dennas
Liam Hughes – Young Spock
Rainn Wilson – Harry Mudd
Chris Obi – T'Kuvma
Jeremy Crittenden – Lord Eling
Yadira Guevara-Prip – Me Hani Ika Hali Ka Po
Devon MacDonald – Engineering Officer
Terry Serpico – Brett Anderson
Dwain Murphy – Captain Maddox
Anthony Grant – Er' Toom
Alisen Down – Starfleet Psychiatrist
Tyler Evan Webb – Klingon Guard
Hannah Spear – Siranna
Tara Nicodemo – Admiral Patar
Samora Smallwood – Lt. Amin
Hanneke Talbot – Lt. Mann
Chai Valladares – Lt. Nicola
Kyana Teresa – Doctor
Sheila McCarthy – Mother
Andrew Moodie – Jacob
Katherine Barrell – Stella Grimes
Javier Botet – Ba'ul
Peter MacNeill – Baron Grimes
Melissa George – Vina
Grace Lynn Kung – Psycho
Sam Asante – Senior Guard
Milton Barnes – Deck Crew #
Michael Boisvert – Kovil
Maulik Pancholy – Dr. Anton Nambue
Clint Howard – Creepy Orion
Kenric Green – Mike Burnham
Dennis Andres – Engineer Rance
Jason Deline – Medical Officer
Billy MacLellan – Barlow
Dee Pelletier – Talosian #2
Hamza Fouad – Deck Crew #2
Conrad Pla – Stone
Matthew Binkley – Shavo
Rob Brownstein – The Keeper
Jordana Blake – Betarian Girl
Luke Humphrey – V'Latak
Justin Howell – Rejac
Simon Northwood – Shuttle Pilot
Marie Ward – Junior Guard
Noah Davis – Lieutenant (2053)
Tyler Hynes – Stephen
Mark Pellington – Ba'ul V.O.
Saad Siddiqui – Straal
Sean Connolly Affleck – Lt. Connolly
Kiara Groulx – Rose
Elias Toufexis – Cold
Claire Qute – Teen May Hologram
Bonnie Morgan – Crepuscula
Thamela Mpumlwana – Young T'Kuvma
Kirk Salesman – Shuttle Klingon 2
Melanie Nicholls-King – Admiral Drake
Xavier Sotelo – Captain Diego Vela
Izaak Smith – Jogger #2
Jonathan Whittaker – Vulcan Director
Morgan Kohan – Weapons Trader
Jason Anthony – Control Computer
Ian James Corlett – Section 31 Computer
Pay Chen – Starfleet Psychiatrist
Crystal Leger – Klingon Player #2
Byron Abalos – Trainee #1
Olivia Croft – Trainee #2
Zarrin Darnell-Martin – Nurse
Jon De Leon – Section 31 Engineer
Glenn Hetrick – K'Vort
Thom Marriott – Council Member
Bree Wasylenko – Shava
David Ajala – Cleveland Booker
George Alevizos – Crewmember
Adam Winlove-Smith – Sentinel Klingon
Production and Distribution Companies
CBS Television Studios
Living Dead Guy Productions
Master Key Production
Roddenberry Entertainment
Secret Hideout