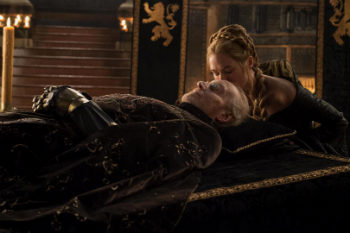 Genre:
Adventure
Fantasy
Episode Title: The Wars to Come
Season: 5th
Episode: 1
Duration:
55 minutes
Episode Plot with small Spoilers:
Tywin is not among the living anymore and everything is getting ready for his funeral ceremony. Cersei goes to the temple where the corpse of her father is kept, and she has an interesting conversation with Jaime – her brother and lover – over the lifeless body of their genitor.
Tyrion and Varys finally arrive at the free city of Pentos. Based there, at the east of the narrow sea, they will continue their machinations and play their own role in the ongoing "Game of Thrones".
Further east, Daenerys continues her own path, which is strewn with little roses and many thorns. She tries to do what her heart and mind command, and her ultimate goal is the conquest of Westeros.
Moving northwest, and more specifically to the Wall, we meet John Snow who trains his young companions, trying to improve the fighting skill of the Night Guard. In the same place we can find Melisandre and Stannis Baratheon, who have their own plans for the Wall and the people north of it.
Petyr and Sansa are making their plans too, while they are responsible for the "protection" and the "prosperity" of Robin Arryn, and at the same time Brienne and Podrick roam in the downtown of Westeros, searching to find what they will do in the near future.
[amazon game of thrones season 5]
Game of Thrones: The Wars to Come – S05E01 – Trailer
http://www.youtube.com/watch?v=Rwp9ekxlD9M
Credits:
Creators:
David Benioff, D.B. Weiss
Writers:
David Benioff, D.B. Weiss
Director:
Michael Slovis
Cast:
Peter Dinklage – Tyrion Lannister
Nikolaj Coster-Waldau – Jaime Lannister
Lena Headey – Cersei Lannister
Emilia Clarke – Daenerys Targaryen
Kit Harington – Jon Snow
Aidan Gillen – Petyr 'Littlefinger' Baelish
Charles Dance – Tywin Lannister
Natalie Dormer – Margaery Tyrell
Stephen Dillane – Stannis Baratheon
Liam Cunningham – Davos Seaworth
Carice van Houten – Melisandre
John Bradley – Samwell Tarly
Sophie Turner – Sansa Stark
Kristofer Hivju – Tormund Giantsbane
Hannah Murray – Gilly
Conleth Hill – Lord Varys
Gwendoline Christie – Brienne of Tarth
Michiel Huisman – Daario Naharis
Nathalie Emmanuel – Missandei
Dean-Charles Chapman – Tommen Baratheon
Ciarán Hinds – Mance Rayder
Owen Teale – Alliser Thorne
Ian McElhinney – Barristan Selmy
Julian Glover – Grand Maester Pycelle
Tara Fitzgerald – Selyse Baratheon
Roger Ashton-Griffiths – Mace Tyrell
Jacob Anderson – Grey Worm
Finn Jones – Loras Tyrell
Daniel Portman – Podrick Payne
Jodhi May – Maggy
Dominic Carter – Janos Slynt
Joel Fry – Hizdahr zo Loraq
Ben Crompton – Eddison Tollett
Eugene Simon – Lancel Lannister
Will Tudor – Olyvar
Rupert Vansittart – Yohn Royce
Ian Beattie – Meryn Trant
Ian Gelder – Kevan Lannister
Brenock O'Connor – Olly
Kerry Ingram – Shireen Baratheon
Paul Bentley – High Septon
Reece Noi – Mossador
Michael Condron – Bowen Marsh
Lino Facioli – Robin Arryn
Nell Williams – Young Cersei
Isabella Steinbarth – Melara Hetherspoon
Marcos James – White Rat
Allan Gildea – Prostitute
Stephen Brown
Joe Hewetson