Genre:
Christmas Movies
Comedy
Release Date:
November 13, 2015
Duration:
106 minutes
Plot:
Christmas is coming and the Cooper family are doing the needed preparations. Once every year, all of them gather around the christmas table.
Bucky (Alan Arkin) is the head of the family. The best part of his everyday life is when he goes to the local restaurant, to have dinner and talk about movies and other things with Ruby (Amanda Seyfried), his young friend and waitress. Bucky has two daughters, Charlotte (Diane Keaton) and Emma (Marisa Tomei).
Emma (Marisa Tomei) would love to have children, but she is not even married. She tries to find a gift suitable for her sister, before going to her home. But, she seems troubled and not in the mood of taking a good gift. Maybe something ugly? She decides to steal a pin but the shop security sees her and calls the police. Officer Williams (Anthony Mackie) handcuffs her and put her in the patrol car to drive her to the police station. A bad place to spend your Christmas Eve.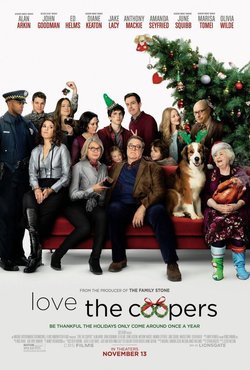 Charlotte (Diane Keaton), after 40 years of marriage, is about to get a divorce. She had promised Sam (John Goodman) that they will go to Africa, but she kept postponing the trip. Now Sam has no more patience. She asked him to separate after Christmas and not to tell anything to their children, Hank (Ed Helms) and Eleanor (Olivia Wilde).
Hank (Ed Helms) and his wife (Alex Borstein) are divorced and their relationship is tensed. They have three kids, the fourth generation of Coopers. The teen Charlie (Timothée Chalamet), is in love with Lauren (Molly Gordon) but is afraid to let her know. Young Bo Joshua (Maxwell Simkins) goes to Primary School, he is decisive and always finds solutions for the problems he encounters. Madison (Blake Baumgartner) is a 5-years old fairy, who believes it is very funny to say bad words and make adults feel awkward.
Eleanor (Olivia Wilde) does not like family gatherings. She feels that her parents, especially Charlotte, look at her critical or condescendingly. Maybe that is just her feeling, because she has an affair with a married man, but she has not shared her secret with anyone. Now she is on the airport. She is not a passenger waiting for a flight delayed from the bad weather. She just want to spend some time (actually 5-6 hours), before going to her parents house for Christmas. There she meets Joe (Jake Lacy), who is in the US Army. They seem to have totally different personalities, but some how they… match! She suggests that he joins her family at the Christmas table – no plane will fly and he can eat a family meal for Christmas. Joe hates lies but he really likes Eleanor, so he agrees to help her.
Aunt Fishy (June Squibb) and Rags (Steve Martin), the family dog and movie narrator, make the Christmas table complete! Relatives and friends sit all together. The fake perfection won't last long. Secrets will be revealed, the tension will lead to bickering that have nothing to do with the Christmas spirit. Until…
Our impressions and movie review:
The movie "Love the Coopers" is not exactly a comedy, but it is a very good Christmas movie. Jessie Nelson is very good at directing and Steven Rogers wrote an excellent screenplay. The story is rich with emotions and deeper meanings, and anyone who sees "Love the Coopers" will identify himself with some movie character or some part of the story. All the actors, young and older, give find performances, under Nelson's guidance. It seems to me that "Love Actually" has found a friend for Christmas!
"Love the Coopers" will be released in US theaters on November 13th. There are 1000 reasons to watch this movie, and when you do, you will surely enjoy it!
Love the Coopers – Trailer (Greek subs)
https://www.youtube.com/watch?v=VSgixICNw0c
Credits:
Writers:
Steven Rogers
Director:
Jessie Nelson
Cast:
Steve Martin – Rags the Dog
Diane Keaton – Charlotte
John Goodman – Sam
Ed Helms – Hank
Alex Borstein – Angie
Timothée Chalamet – Charlie
Maxwell Simkins – Bo
Blake Baumgartner – Madison
Amanda Seyfried – Ruby
Alan Arkin – Bucky
Dan Amboyer – Handsome Young Man at Diner
Marisa Tomei – Emma
Scott Garan – Department Store Security Guard
Dorothy Silver – Mrs. Pinkins
Olivia Wilde – Eleanor
Channing Sebetich – Young Boy
Mike Pusateri – Airport Bar Patron
Jake Lacy – Joe
June Squibb – Aunt Fishy
Larry McKay – Bob
Kanani Rose Rogers – Caroler / Angry Soprano
Anthony Mackie – Officer Williams
Molly Gordon – Lauren Hesselberg
Sylvia Kauders – Sara
Krista Marie Yu – Lily the Florist
Lev Pakman – Schnozzle Whitehead
M.R. Wilson – Young Sam
Elisabeth Evans – Young Charlotte (20s)
Keenan Jolliff – Brady
Sean McGee – Young Bucky
Rory Wilson – Young Emma
Quinn McColgan – Young Charlotte (12-14 years)
Kristin Slaysman – Effie Newport
Jon Tenney – Dr. Morrissey
Ralph Browning – Bucky's Orderly
Marc Moore – Orderly
Cady Huffman – Gift Shop Clerk
Johnny Luoma – Hospital Caroler #1
Ryan Borgo – Hospital Caroler #2
Justin Lonesome – Hospital Caroler #3
Samuel Mancini – Hospital Caroler #4
Jack Y. Nadeau – Hospital Caroler #5
Patrick Steven Bovo – Hospital Caroler #6
James Hall – Hospital Caroler #7
Rest of cast listed alphabetically:
Olivia Pence – Child on Santa's lap
Tony Amen – Shopper (uncredited)
Todd Bobenrieth – Santa (uncredited)
Jennifer Boch-Wawrzyniak – Best Buy Customer (uncredited)
Troy Bogdan – Airline Employee / Train Commuter (uncredited)
Norman Cardaro – Christmas Shopper In Mall (uncredited)
Deborah Charity – Salon Stylist (uncredited)
Lloyd Crago – Airport Employee (uncredited)
Jamie Eddy – Extra (uncredited)
Robin Elrod – Caroler (uncredited)
Mark Falvo – Hospital Visitor (uncredited)
Matthew Freas – Snow Tuber (uncredited)
David Friday – Caroler (uncredited)
Patty Fromm – Shopper (uncredited)
Kristie Galloway – Airport Passenger (uncredited)
Richard Guesman – Christmas Tree Vendor (uncredited)
Sophie Guest – Young Ruby (uncredited)
Denny Hazen – Restaurant Patron (uncredited)
Jesse Iwanonkiw – Shopper (uncredited)
John W. Iwanonkiw – Mall security / shopper (uncredited)
Chris Jameson – Airport Passenger (uncredited)
Jennifer Jelsema – Perfume Lady (uncredited)
William Kania – Orderly (uncredited)
Bettina Kenney – Billy Dawn (uncredited)
Pete Landis – Waiter / Santa (uncredited)
Farelisse Lassor – Young Charlotte-Age 8 (uncredited)
Leonard Lies Jr. – Christmas Shopper (uncredited)
Scott Lockhart – Dr. John Kubizne (uncredited)
Nicholas Luna – Fiancé (uncredited)
Tiffany Sander McKenzie – Train Station Commuter (uncredited)
F. Robert McMurray – Shopper (uncredited)
Ed Mihalacki – Airport Bar Patron (uncredited)
Kelly L. Moran – Angry Airlines Passenger (uncredited)
Phil Nardozzi – Driver / Shopper (uncredited)
Frankie Palombi – Wheelchair Attendant (uncredited)
Michael Paradise – Handsome Friend (uncredited)
Edward Pfeifer – Santa (uncredited)
Eric Rasmussen – Train Passenger (uncredited)
Monisha B. Schwartz – Teenage Girlfriend / Airport Passenger (uncredited)
Jeff Seich – Orderly (uncredited)
Jeff Smith – Hospital Visitor (uncredited)
Jordan Streussnig – Flight Attendant (uncredited)
Michelle Veintimilla – Kendra (uncredited)
Mike Walker – Shopper / Frank (uncredited)
Evelyn Wawrzyniak – Kid in Santa Line (uncredited)
Laura Welsh – Restaurant Patron (uncredited)
James Werley – Driver (uncredited)
Dallas White – Airline Passenger (uncredited)
Phillip Zack – Young Hank (uncredited)
Production Companies and Distributors:
CBS Films
Groundswell Productions
Imagine Entertainment
Odeon
Official Site
lovethecoopers.com
A.A.