Genre:
Family Movie
Adventure
Fantasy
Release Date:
October 18, 2015
Duration:
111 minutes
Plot:
Peter (Levi Miller) is a 12-year-old boy who lives, with his friend Nibs (Lewis MacDougall) and many other boys, in an orphanage in London. The head of the institution is Mother Barnabas (Kathy Burke), who does not love kids at all and her sole purpose in life is to make them unhappy. To make things worse, we are in the World War II and the Germans are bombing Britain. Peter and Nibs, who see their rations to become smaller everyday, have suspicions that Mother Barnabas keeps for herself food and candies that were meant to be for the orphans. One night, when the air raid sirens are heard, the two young friends decide to search her office, instead of going to the basement with everyone else. There, they find a crypt full of food, golden coins and something much more important. The orphanage archives. In Peter's file they find a letter from his mother, written amidst tears when she left on the orphanage doorstep.
I love you, my Peter. You are extraordinary, more than you can imagine. I promise that you will see me in this world or another.
Unfortunately, Mother Barnabas caught them and punished them, but Peter and Nibs are not intimidated. You see, they have to solve one more mystery. The Lost Boys. They have noticed that on some mornings, usually after a night with air raids, some boys are missing and nobody knows where they have gone. They decide to stay awake one night, in order to discover how the boys disappear. The minutes and the hours are passing and nothing at all happens. Finaly, the two boys, really tired, decide to go to bed. Suddenly, in the silence, pirates holding ropes come from the ceiling, grab some sleeping boys, and leave again upwards. The two friends, were in deep sleep, and did not understood anything. But, one night, they will learn the whole truth. They woke up from the loud voices and the bedlam, abd they see the pirated grabing many boys. One of them is Peter. The pirates take the boys aboard a flying pirate ship, under the orders of Blackbeard! Blackbeard (Hugh Jackman) pays Mother Barnabas in gold coins and he takes the Lost Boys to Neverland, where they work as slaves in his mines. Will Peter be able to free himself and reunite with Nibs, as he promised when the pirates kidnapped him?
Our impressions and movie review: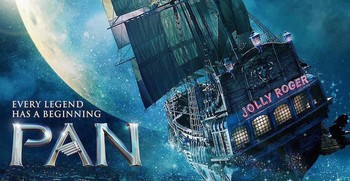 Peter Pan is the main character of the acclaimed children book written by J. M. Barrie in 1911 and made world famous by Walt Disney animated movie Peter Pan (1953). In 1991 Peter Pan was an adult Robin Williams in Hook by Spielberg. Well, the time is right for a prequel written by Jason Fuchs and directed by Joe Wright. It is the story of Peter Pan before he becomes the famous hero. A story with a twist, that you have never heard before. Because sometimes friends start as enemies… and enemies as friends.
"Pan" is an adventure movie, full of agony and fun, that is more suitable for elder children than kids of the first classes of primary school. The costumes and the sets are original and beautiful, and the colours are vivid and fabulous. The main message of the movie is to remember and not to give up your goals, and to try till you succeed.
Pan – Trailer (Greek subs)
https://www.youtube.com/watch?v=w9YubSk7ZK8
Credits:
Writers:
Jason Fuchs
Director:
Joe Wright
Cast:
Hugh Jackman – Blackbeard
Levi Miller – Peter
Garrett Hedlund – Hook
Rooney Mara – Tiger Lily
Adeel Akhtar – Sam Smiegel
Nonso Anozie – Bishop
Amanda Seyfried – Mary
Kathy Burke – Mother Barnabas
Lewis MacDougall – Nibs
Cara Delevingne – Mermaids
Tae-joo Na – Kwahu
Jack Charles – Chief
Bronson Webb – Steps
Mike Shepherd – Fernley Trebilcock
Brian Bovell – Long John Standing
Kurt Egyiawan – Murray
Jimmy Vee – Lofty
Paul Hunter – Daisy
Spencer Wilding – Growler
Dean Nolan – Peanut
Giacomo Mancini – Michelangelo
Neil Bell – Baggy
Phill Martin – Goliath
Gabriel Andreu – Matador
Michael Ryan – Silverman
Kavern Batchelor – Skinny Orphan
Orlando Loo Alfred – Yung
Ami Metcalf – Sister Thomas
Amanda Lawrence – Sister Joseph
Tunji Lucas – Tribesman 1
Tomislav English – Tribesman 2
Aaron Monaghan – Robbins
Emerald Fennell – Commander
Amy Morgan – Operator
Harry Lister Smith – Pilot Parker
Nicholas Agnew – Pilot Primrose
Salo Gardner – Older Blackbeard
Jamie Beamish – Not-Dobkins
Tony Allen – Himself
Production Companies and Distributors:
Warner Bros
RatPac-Dune Entertainment
Berlanti Productions
Moving Picture Company
Tanweer
A.A.