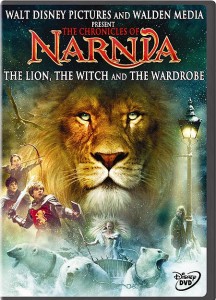 Production Companies and Distributors:
This movie is that movie adaptation of the book "the Chronicles of Narnia: the Lion, the Witch and the Wardrobe" by Clive Lewis. This is a fantasy adventure from the director Andrew Adamson and Walt Disney Company. Narnia was produced in USA in 2005.
In Greece the DVD of this movie is distributed by Prooptiki SA. The duration is 142 minutes with Dolby Digital 5.1 sound. You have the option to choose Greek subtitles or dubbed dialogues in Greek.
Cast:
Before we talk about the movie plot and our impressions let's take a look at the actors. Peter Pevensie is portrayed by William Moseley, Susan Pevensie by Anna Popplewell and Lucy Pevensie by Georgie Henley. Skandar Keynes has the role of Edmund Pevensie and Liam Neeson gives the voice to Aslan. We must also mention Tilda Swinton as White Witch and James McAvoy as Mr. Tumnus.
Plot:
At the beginning we are in London of World War Two. Germans are borbarding the British capital, and the citizens are sending their children to the provinces in the country, to save their lifes. Thus we meet the four children of the Pevensie family. Peter, Susan, Edmund and Lucy are temporarily relocated in the cottage that belongs to a teacher. While the kids play hide and seek, Lucy opens a forgotten wardrobe that works as a Portal to the land of Narnia.
Narnia is a magical place where animals can talk, and there exist dwarfs, giants, minotaurs and much more mythical creatures. Unfortunately Narnia is ruled by the evil White Witch who is keeping the land in a perpetual winter. Even Christmas are banned in Narnia. But according to a prophecy the Land will be saved by two boys and two girls.
Maybe our young friends are the children mentioned in the prophecy, but will they be able to bring back Spring and Freedom in this wonderful land? You will find out when you see this movie!
Our impressions and movie review:
This movie is not only suitable but must-see for the whole family. This is a fantasy adventure, like "the Lord of the Rings" and "Harry Potter". The trilogy of "the Lord of the Rings" is top of the crops, in our subjective view, but it is not a movie that little children can watch. On the other hand "Harry Potter" movies are good (well, not as good as the "Harry Potter" books), still they can frighten little children too. "The Chronicles of Narnia: the Lion, the Witch and the Wardrobe" is an excelent movie adaptation and is probably the movie you should choose if you want a fantasy adventure appropriate for the whole family.
Andrew Adamson has also directed Shrek 1 and Shrek 2. In his immediate plans are Shrek 3 (2007) and The Chronicles of Narnia: Prince Caspian (2008). We can't wait to see these movies, because we are great fans of Shrek and Narnia!
"The Chronicles of Narnia: the Lion, the Witch and the Wardrobe" is the first book that Clive Lewis wrote in "the Chronicles of Narnia" book series. The book series consists of the following titles:
The Lion, the Witch and the Wardrobe (1950)
Prince Caspian: The Return to Narnia (1951)
The Voyage of the Dawn Treader (1952)
The Silver Chair (1953)
The Horse and His Boy (1954)
The Magician's Nephew (1955)
The Last Battle (1956)
The Chronicles of Narnia: the Lion, the Witch and the Wardrobe – trailer
https://www.youtube.com/watch?v=25fsWWCWlDo