Genre:
Action Movie
Release Date:
July 23, 2015
Duration:
124 minutes
Plot:
Billy Hope (Jake Gyllenhaal) just won the boxing finals. He is the lightweight world boxing champion – something rare for a southpaw (lefthanded) boxer. His wife, Maureen (Rachel McAdams), believes this is the best timing for him to retire, now that he is at the zenith of his fame, and Billy agrees with her. He wants to spend more time with his daughter Leila (Oona Laurence). After a charity event at "Monte Carlo Casino Night", an upcoming boxer Miguel 'Magic' Escobar (Miguel Gomez), provokes Billy to get the media attention. Billy ignores him at first, till Miguel offends Maureen. The two of them begin to fight and Hector Escobar (Danny Henriquez), when he sees his brother being beaten, he pulls a gun and shoots. The bullet hits Maureen who leaves her last breath on her husband arms.
The death of his wife is the breaking point in Billy Hope's psychology. He starts drinking, he fights with a referee after losing a boxing match and he searches for Hector. He finaly finds him hidden in his woman's home, and he decides to forget about taking revenge, after learning that Hector has a kid. The sports court suspends him for a year for hitting the referee. The former boxing champion is now an outcast. And the knock out hit comes when the Child Protective Services take custody of his daughter Leila, because Billy Hope is an alcoholic.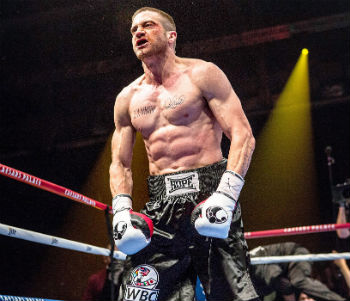 They say that a friend in need is a friend indeed, and this is certainly the case for Billy, because his friends help him – or "force" him to continue. They convince Titus Wills (Forest Whitaker), a veteran boxer, to accept Billy in his gym. This way Billy has a job and a chance to practice boxing. In the meantime, his former manager Jordan Mains (50 Cent), works now for Miguel Escobar. When he hears that Billy is not an alcoholic anymore and that he has started boxing again, he tries to convince to have a match against Miguel Escobar. Everybody believes that Miguel will win, making Mains richer. But this fight is the last chance for Billy Hope to take his life back. To stand on his feet and get the custody of his daughter. Will he make it?
Our impressions and movie review:
"Southpaw" is the first work for the cinema of the screenwriter Kurt Sutter, known from the TV seris "The Shield", "Sons of Anarchy" and "The Bastard Executioner". Antoine Fuqua does an excelent job directing this movie. Jake Gyllenhaal, a good actor, is better than ever. Some journalists even suggest that with this movie he can win an Academy Award! Pay attention to the young Oona Laurence who plays Leila Hope. This young actress, who has performed on stage at Broadway for Matilda the musical when she was just 10, is really talented. In tgis movie you will also enjoy seeing Rachel McAdams, Naomie Harris and 50 Cent, who besides his "bankruptcy" still tries to become a known actor. On the other hand Forest Whitaker, helps the movie with his strong presence.
"Southpaw" premiered in Greece on July 23rd, 2015. This is a movie with many boxing scenes – do you remember Rocky? – with the ambition to go one step beyond with a good screenplay. Maybe the plot needed more time than the boxing games. Anyway, this is a movie that will raise discussions (mostly among men cinemagoers), and this movie is waiting for you in a cool movie theater, or in a wonderful summer cinema under the stars!
Southpaw – Trailer
https://www.youtube.com/watch?v=nTV3IuDX9_U
Movie Quote from Ο Αριστερόχειρας – Southpaw
The more they hit you, the more you fight.
Movie Trivial for Southpaw
Kurt Sutter said he was inspired from the life of rapper musician Eminem and that this movie can be considered as a sequel to "8 Mile". Most boxers are right-handed, Sutter said, and a left-handed boxer (a southpaw) is a link to Eminem, the white musician who took a stand in the rap scene.
The protagonist studied the technique of the left-handed boxer Miguel Cotto to be convincing in his role.
Eminem is also left-handed.
Antoine Fuqua wanted James Horner for the Motion Picture Soundtrack της, but the low budget made this prohibited. In the end, Horner composed the music pro bono (without getting paid), because he really liked the story. The last movie with Horner's music, who died in a plane accident on June 22nd, 2015, will be "The 33".
Credits:
Writers:
Kurt Sutter
Director:
Antoine Fuqua
Cast:
Jake Gyllenhaal – Billy Hope
Rachel McAdams – Maureen Hope
Forest Whitaker – Tick Wills
Oona Laurence – Leila Hope
50 Cent – Jordan Mains
Skylan Brooks – Hoppy
Naomie Harris – Angela Rivera
Victor Ortiz – Ramone
Beau Knapp – Jon Jon
Miguel Gomez – Miguel 'Magic' Escobar
Dominic Colón – Mikey
Jose Caraballo – Eli Frost
Malcolm M. Mays – Gabe
Aaron Quattrocchi – Keith 'Buzzsaw' Brady
Lana Young – Gloria
Danny Henriquez – Hector Escobar
Patsy Meck – Judge Kayle
Vito Grassi – Nick
Tony Weeks – Referee
Jimmy Lennon Jr. – Jimmy Lennon Jr.
Charles Hoyes – Stuart Korman
Michelle Johnston – Mrs. Doyle
Patrick Jordan – Deputy / Bronx Detective #2
Clare Foley – Alice
Mark Shrader – Doc Field
Rita Ora – Maria Escobar
Adam Kroloff – Simon Stillman
Cedric D. Jones – Darius Jones
Jim Lampley – Jim Lampley
Rayco Saunders – Kalil Turay
Mike Clark – Reporter #1
Ian Eagle – Reporter #2
Alejandro Chamorro – Reporter #3
David Raine – Detective Miller
David Whalen – Detective Parker
Andre Dobson – ER Doctor
Adam Ratcliffe – ER Police Officer #1
Marie Elena O'Brien – ER Police Officer #2
Dominique Briggs – Aileen
Lou DiBella – Jamison
Ken Alter – Charity Announcer
John Katana – Fight Doctor
Shadeed Suluki – Darius Cornerman #1
Kamil Beale – Darius Cornerman #2
Mike Maples – Reporter #5
Anthony Bonelli – Reporter #4
Roy Jones Jr. – Roy Jones Jr.
Twanee Butterfield – National Anthem Singer
Bernard Hauger – Fight Doctor #2
Willie Monroe Jr. – Umpire
Chris A. Riskus – Referee #2
Edward Flaherty – Gala Announcer
Jeremy Michael Burns – Uniform Cop
Danika Adams-Peterson – Secretary
Asia Fuqua – Talia
David Diamante – Ring Announcer
Rick Steigerwald – Charity Fight Referee
Ryan Ball – Security Guard
Lawrence Burgess – Police Officer #3
Deirdre Horgan – Receptionist
Rodney Prystash – Rodney
John Medlin – Bartender
David Dale McCue – Bronx Cop #3
Terence Mahoney – Bronx Cop #4
Terry Claybon – Billy Cornerman
Juliana Guedes – Apartment Landlord
Production Companies and Distributors:
Escape Artists
Fuqua Films
Riche Productions
WanDa Pictures
Odeon
A.A.