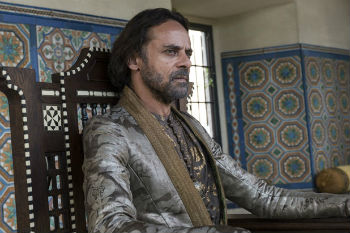 Genre:
Adventure
Fantasy
Episode Title: The House of Black and White
Season: 5th
Episode: 2
Duration:
55 minutes
Episode Plot with small Spoilers:
Arya, uses the mysterious coin she has to pass the Narrow Sea, and reaches the city of Braavos. She wants to stay at the House of Black and White, an unusual temple – hostel – school that she believes will change her life forever.
Brienne and Podrick continue their traveling. They stay at an inn where Petyr and Sansa have found shelter. The young man recognize them at the dinner. Another strange twist of fate.
Cersei tries to hold her position. Her only ally is Jaime and the game of thrones is at a critical moment. Tywin is no longer around and the situation is very difficult for the Lannister.
In south, at Dorne, Prince Doran is trying to balance on a tightrope. He has to choose between the prosperity of his people and the need for vengeance and pride. The fact is that he cannot stay idle after everything that has happened and what is about to happen in the near future.
The way Daenerys rules has put the Unsullied on the target of her opponents. Will she manage to impose order or will chaos erupt in the cities she has already conquered? Could Tyrion and Varys give her a solution? Who knows. Those intriguing men are moving secretly towards Daenerys, the mother of the dragons!
At the Wall the situation can be described as "the calm before the storm". And it will be a really big storm! We will see.
[amazon game of thrones season 5]
Game of Thrones: The House of Black and White – S05E02 – Trailer (Greek subs)
http://www.youtube.com/watch?v=0adHfUUh1tY
Credits:
Creators:
David Benioff, D.B. Weiss
Writers:
David Benioff, D.B. Weiss
Director:
Michael Slovis
Cast:
Peter Dinklage – Tyrion Lannister
Nikolaj Coster-Waldau – Jaime Lannister
Lena Headey – Cersei Lannister
Emilia Clarke – Daenerys Targaryen
Kit Harington – Jon Snow
Aidan Gillen – Petyr 'Littlefinger' Baelish
Stephen Dillane – Stannis Baratheon
Liam Cunningham – Davos Seaworth
Indira Varma – Ellaria Sand
John Bradley – Samwell Tarly
Sophie Turner – Sansa Stark
Maisie Williams – Arya Stark
Hannah Murray – Gilly
Conleth Hill – Lord Varys
Jerome Flynn – Bronn
Michiel Huisman – Daario Naharis
Nathalie Emmanuel – Missandei
Gwendoline Christie – Brienne of Tarth
Tom Wlaschiha – Jaqen H'ghar
Peter Vaughan – Maester Aemon
Ian McElhinney – Barristan Selmy
Julian Glover – Grand Maester Pycelle
Anton Lesser – Qyburn
Tara Fitzgerald – Selyse Baratheon
Owen Teale – Alliser Thorne
Alexander Siddig – Doran Martell
Jacob Anderson – Grey Worm
Ben Crompton – Eddison Tollett
Dominic Carter – Janos Slynt
Daniel Portman – Podrick Payne
Roger Ashton-Griffiths – Mace Tyrell
Joel Fry – Hizdahr zo Loraq
Deobia Oparei – Areo Hotah
Ian Gelder – Kevan Lannister
Ian Beattie – Meryn Trant
Reece Noi – Mossador
Kerry Ingram – Shireen Baratheon
Brenock O'Connor – Olly
Nell Tiger Free – Myrcella Baratheon
Toby Sebastian – Trystane Martell
Elizabeth Cadwallader – Lollys Stokeworth
Cedric Henderson – Jaqen's other Face
Brian Fortune – Othell Yarwyck
Gary Oliver – Ternesio Terys
J.J. Murphy – Denys Mallister (as JJ Murphy)
Michael Condron – Bowen Marsh
Tom Fava – Street Tough #1 (as Thomas Fava)
Derek Lord – Mallister Supporter
Paul Kennedy – Eyrie Guard
Winston Davis – Street Tough #2
Curtis-Lee Ashqar – Harpy