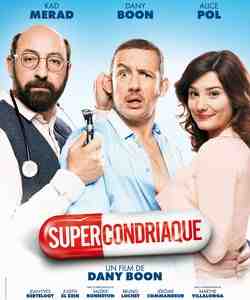 Genre:
Comedy
Release Date:
January 15, 2014
Duration:
107 minutes
Plot:
Romain Faubert, is a 39-years-old photographer who works for an online medical dictionary. The one and only word that can perfectly describe him is: hypochondriac! Afraid of germs, afraid of contact with other people, afraid of contact with animals, even afraid of his own shadow if it does not fall on a totally clean surface. His only friend, the last 18 years, is his doctor Dimitri Zvenka. But even the doctor cannot stand Romain anymore, after he destroys the New Year's Eve party trying not to kiss or embrace anyone. In a desperate last attempt to help his patient, Dimitri takes Romain with him in a immigrants reception center, with the hope that Romain will be cured by the shock of health hazards and diseases. But everything turns upside down. One of the immigrants, is Anton Miroslav, the leader of the revolution in his country. Anton, steals Romain identity card – they look alike a bit – and our hypochondriac friend pretends to be a tough rebel, well at least for the eyes of Anna. What happens next? See this movie and you will find it out, laughing all the way!
Our impressions and movie review:
The french movie "Superchondriac – Supercondriaque" is a very good modern comedy. Full with funny situations, clever dialogues and an amazingly good performance by Dany Boon, this is definitely one of the films that you must see. You will laugh very, very much, you will feel at some point an adrenaline rush and in the end… you will say farewell with a touch of romance! What are you waiting for? Vite vite mes amis!
Superchondriac – Supercondriaque – Trailer (Greek subs)
https://www.youtube.com/watch?v=IOfNVGRkOAg
Credits:
Writers:
Dany Boon
Director:
Dany Boon
Cast:
Dany Boon – Romain Faubert
Alice Pol – Anna Zvenka
Kad Merad – Dr. Dimitri Zvenka
Jean-Yves Berteloot – Anton Miroslav
Judith El Zein – Norah Zvenka
Marthe Villalonga – Dimitri's mother
Valérie Bonneton – Isabelle
Jérôme Commandeur – Guillaume Lempreur
Jonathan Cohen – Marc
Warren Zavatta – Marc Harris
Stéphane De Groodt – Romain's lawyer
Etienne Chicot – professor at Emergency
Laëtitia Lacroix – Constance
Marion Barby – Nina Zvenka
Vanessa Guide – Manon
Camille Chamoux – Dimitri's secretary
Judith Biboni – Daphné
Ornella Fleury – Emilie Guéret
Production and Distribution Companies
Pathé
Les Productions du Ch'timi
TF1 Films Production
Artémis Productions
Seven Films
Spentzos