Genre:
Action
Comedy
Romance
Release Date:
June 16, 2010
Duration:
109 minutes
Plot:
June and Roy meet by chance in an airport. She returns home with a suitcase full of car parts, to complete the restoration of a classic car model as a gift for her sister's marriage. He is trying to escape his pursuers, he is an undercover agent and in his hands there is an invention that will change the whole world. Roy uses June to pass the airport control without the protype being detected. This way begins a chase, with criminals and double agents trying to kill June, Roy and (later) the inventor too. Can a girl next door handle the pressure like a field agent does every day? And can this movie have a lot of funny moments in a relentless pursuit across America and Europe? You will see…
Impressions and review:
"Knight and Day" in an enjoyable action movie, with a lot of laughs and plenty of romance. All these are in doses that will satisfy all moviegoers, regardless age or sex. This is a light-hearted movie that the whole family can hang out together and have a good time, without overworking their minds. Amazing scene… when Tom Cruise rides a bike on full throttle, with Cameron Diaz sitting on his laps and shooting the bad guys with two automatic firearms! And you tell me about Fifty Shades of Gray and the rest… Watch "Knight and Day" and enjoy it like we did!
Movie Quote from Knight and Day
Roy Miller: Some people are gonna come looking for you now.
June Havens: Why?
Roy Miller: They'll tell you I'm mentally unstable and violent and dangerous and it will all sound very convincing.
June Havens: I'm already convinced.
Movie Quote from Knight and Day
Roy Miller: Nobody follow us or I kill myself and then her!
Movie Quote from Knight and Day
June Havens: The pilots are dead?
Roy Miller: Shot.
June Havens: Shot… By who?
Roy Miller: Uh, me. Actually, I shot the first pilot… he shot the second pilot accidentally. It's just… one of those things.
Knight and Day – Trailer
https://www.youtube.com/watch?v=Ddw4Rhw8bBY
Credits:
Writer:
Patrick O'Neill
Director:
James Mangold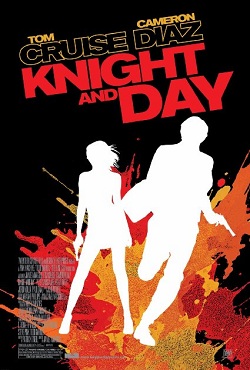 Cast:
Tom Cruise – Roy Miller
Cameron Diaz – June Havens
Peter Sarsgaard – Fitzgerald
Jordi Mollà – Antonio
Viola Davis – Director George
Paul Dano – Simon Feck
Falk Hentschel – Bernhard
Marc Blucas – Rodney
Lennie Loftin – Braces
Maggie Grace – April Havens
Rich Manley – Danny
Dale Dye – Frank Jenkins
Celia Weston – Molly
Gal Gadot – Naomi
Jack O'Connell – Wilmer
Trevor Loomis – Eduardo
Nilaja Sun – Allison
Tommy Nohilly – Randy Mechanic
Taylor Treadwell – Gate Agent
Christian Finnegan – Ticket Agent
Brian Dykstra – TSA Officer
Brian Tarantina – Scrap Yard Man
Natasha Paczkowski – Petra The Tailor
Jerrell Lee– Fireman Paul
Matthew Lawler – Passerby Agent
Ronn Surels – Flight Attendant
Eric Robert Bradshaw Bennett – 18 Wheeler Driver
Scott Wahle – Newscaster
Sara Underwood – Newscaster #2
Helen L. Welsh – Neighbor
King Orba – Smuggler
Michael Enright – Train Engineer
Adam Gregor – Train Cook
Mitch E. Bowan – Medivac EMT
Gerry Carbajal – Doctor In Hallway