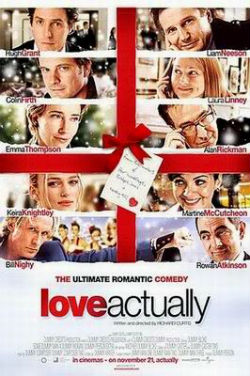 Genre:
Comedy, Romance
Release Date:
September 3, 2003
Duration:
135 minutes
Plot:
We are five weeks before Christmas.
Billy Mack (Bill Nighy) is an old rocker. He does a cover of "Love is All Around" by the Troggs, changing the word Love with the word Christmas. He doesn't like his new song and he doesn't try to hide it. But he promises, if this song reaches the number one this Christmas – leaving behind the new and young pop singers – he will sing it totally naked!
Juliet (Keira Knightley) and Peter (Chiwetel Ejiofor) get married and their best man, Mark (Andrew Lincoln) has prepared a wonderful musical surprise for them. There is something about Mark and many try to uncover his secret, but without success.
Daniel (Liam Neeson) is a widower and he doesn't know how to help Sam (Thomas Brodie-Sangster), his adopted 11-year-old son, who seems to have some trouble. Do you think the kid is in love?
Jamie (Colin Firth) is a famous author. One day, he goes earlier back home, and he catches his wife with his brother. Disappointed, he retires to a farm-house in rural France to write his next novel. There he meets Aurelia (Lúcia Moniz) who will be his housekeeper. Jamie speaks only english and Aurelia only portuguese, but a sparkle is lit in their hearts.
Sarah (Laura Linney) is in love with her colleague Karl (Rodrigo Santoro) but she hesitates to confess her feelings. The days are passing and the Christmas party is coming. Maybe there will be an opportunity, but will this be enough to get their relationship going?
Harry (Alan Rickman) and Karen (Emma Thompson) are married with children. Mia, his new secretary, has a romantic interest in him, and the foundations of his marriage are shaken.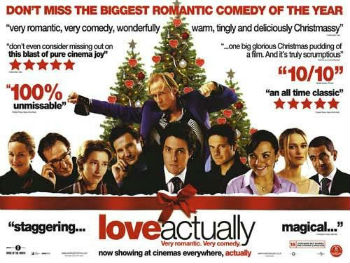 David (Hugh Grant) is the new british Prime Minister. On 10 of Downing street he will meet and be charmed by Natalie (Martine McCutcheon). He has a serious personality and he will not do the next step, but winged love has not said his final word.
Colin (Kris Marshall) decides to go to USA to… get laid! Girls in Britain always looked down on him. He is sure, despite the efforts of Tony (Abdul Salis) to reason him, that American girls will be enchanted with his british accent and that in USA he will not know which girl to… choose first.
John (Martin Freeman) and Judy (Joanna Page) professional body doubles for sex scenes in films. Strange job but someone's got to do it. Do you think these two will match?
And what about Rufus (Rowan Atkinson), how is he related with these love stories?
Our impressions and movie review:
Love Actually is the first movie that Richard Curtis directed. Curtis, who also wrote the scenario, knew exactly what he wanted to show as a director and how to make it happen with the excellent actors he worked with. The "squid" guy from the Pirates of the Caribbean Bill Nighy gives an outstanding performance as the old "washed out" rocker, Colin Firth has his know british nobility, Liam Neeson is a tender step father who does not hesitate to mess with his image and Thomas Brodie-Sangster, as Liam's son, gives a very good first performance. Emma Thompson gives an excellent performance, Keira Knightley is charming and Laura Linney is moving. Hugh Grant is a british Prime Minister with guts – maybe the opposite of Tony Blair, Martine McCutcheon has a shrewdness and aliveness that goes very well with the movie and young Olivia Olson is enchanting as the student who can sing in Thomas' heart.
Love Actually is an amazing film. You can safely ignore any (heartless) movie critic who has dared to say the opposite. See this movie on your own, with your love or maybe all the family with the older kids. Whether you would like to see a romantic movie, or a Christmas movie, "Love Actually" is your choice!
Love Actually – 2003 – Trivial
The word "actually" can be heard 22 times in the movie script.
When Love Actually was aired on ABC Family Channel, they cut all the scenes with John and Judy, the pair that – according to the scenario – were professional body doubles for preparing the sex scenes in films.
When Richard Curtis was in college his girl left him for a guy named Bernard. In every movie script he writes, there is an unpopular character called Bernard. In "Love Actually" Bernard is Emma Thompson's "horrid son".
Rowan Atkinson was going to be a Christmas angel who would appear to help some of the movie characters.
Quote from the movie Love Actually
Daniel: So what's the problem, Sammy-o? Is it just Mum, or is it something else? Maybe… school – are you being bullied? Or is it something worse? Can you give me any clues at all?
Sam: You really want to know?
Daniel: I really want to know.
Sam: Even though you won't be able to do anything to help?
Daniel: Even if that's the case, yeah.
Sam: Okay. Well, the truth is… actually… I'm in love.
Daniel: Sorry?
Sam: I know I should be thinking about Mum all the time, and I am. But the truth is, I'm in love and I was before she died, and there's nothing I can do about it.
Daniel: [laughs] Aren't you a bit young to be in love?
Sam: No.
Daniel: Oh, well, okay… right. Well, I mean, I'm a little relieved.
Sam: Why?
Daniel: Well, because I thought it would be something worse.
Sam: [incredulous] Worse than the total agony of being in love?
Daniel: Oh. No, you're right. Yeah, total agony.
Quote from the movie Love Actually
[talking about her ex-boyfriend]
Natalie: He says no one's gonna fancy a girl with thighs the size of big tree trunks. Not a nice guy, actually, in the end.
Prime Minister: Ah! You know, um, being Prime Minister, I could just have him murdered.
Natalie: Thank you, sir. I'll think about it.
Prime Minister: Do. The SAS are absolutely charming. Ruthless trained killers are just a phone call away.
Quote from the movie Love Actually
Karen: True love lasts a lifetime.
Love Actually – 2003 – Trailer
Credits:
Writers:
Richard Curtis
Director:
Richard Curtis
Cast:
Bill Nighy – Billy Mack
Gregor Fisher – Joe
Rory MacGregor – Engineer
Colin Firth – Jamie
Sienna Guillory – Jamie's Girlfriend
Liam Neeson – Daniel
Emma Thompson – Karen
Lulu Popplewell – Daisy – Her Daughter
Kris Marshall – Colin Frissell
Heike Makatsch – Mia
Martin Freeman – John
Joanna Page – Just Judy
Chiwetel Ejiofor – Peter
Andrew Lincoln – Mark
Keira Knightley – Juliet
Hugh Grant – The Prime Minister
Nina Sosanya – Annie
Frank Moorey – Terence – Who's in Charge
Jill Freud – Pat the Housekeeper
Martine McCutcheon – Natalie
Tim Hatwell – Vicar
Laura Linney – Sarah
Lynden David Hall – The Wedding Singer
The Big Blue – Church Musicians
Jont Whittington – Guitarist
Dan Fredenburgh – Jamie's Bad Brother
Julia Davis – Nancy the Caterer
Abdul Salis – Tony
Shaughan Seymour – Movie Cameraman
Helen Murton – Funeral Priest
Edward Hardwicke – Sam's Grandfather
Caroline John – Sam's Grandmother
Thomas Brodie-Sangster – Sam (as Thomas Sangster)
Gemma Aston – Family Mourner
Matt Harvey – Family Mourner
Adrian Preater – Family Mourner
Joanna Thaw – Family Mourner
Junior Simpson – Wedding DJ
Alan Rickman – Harry
Rodrigo Santoro – Karl
Brian Bovell – Radio Watford DJ
Sarah McDougall – Receptionist
Marcus Brigstocke – Mikey – DJ Interviewer
Richard Hawley – Alex – Deputy Prime Minister
Wyllie Longmore – Jeremy
Gillian Barge – Cabinet Minister
Richard Wills-Cotton – Cabinet Minister
Kate Bowes Renna – Cabinet Minister
Kate Glover – Cabinet Minister
Nicola McRoy – Cabinet Minister
Anthony McPartlin – Ant
Declan Donnelly – Dec
Elisabeth Margoni – Eleonore (as Elizabeth Margoni)
Lúcia Moniz – Aurelia (as Lucia Moniz)
Billy Bob Thornton – The US President
Rowan Atkinson – Rufus – Jewellery Salesman
Ivana Milicevic – Stacey – American Dreamgirl
January Jones – Jeannie – American Angel
Elisha Cuthbert – Carol-Anne – American Goddess
Olivia Olson – Joanna Anderson
Claudia Schiffer – Carol
Shannon Elizabeth – Harriet – the Sexy One
Denise Richards – Carla – the Real Friendly One
Rebecca Frayn – Joanna – Daniel's Dead Wife
Richard Curtis – trombone player
A.A.