Genre:
Drama
Thriller
Release Date:
January 25, 2011
Duration:
107 minutes
Plot:
A big and renowned financial firm makes cuts and staff reductions. Eric Dale (Stanley Tucci), though he is a senior executive, is getting fired. When he is leaving the building, he gives a USB stick to his protégé and says: "I was working on something, but they wouldn't let me finish it. So, take a look at it. Be Careful!"
Peter Sullivan (Zachary Quinto) always admired Dale and he has an inquiring mind. Therefore he sheds weight in the unfinished economic forecasting model he finds in the USB stick. He completes the project and according to the model if the firm's assets (in mortgage-backed securities) decrease by 25%, the firm will owe more than its market capitalization. It is midnight but he decides to phone his superiors to come to the company building, check the data and see how they will handle the situation. They, in turn, notify their superiors and finally, sometimes around three in the morning, there is a company meeting with president John Tuld (Jeremy Irons) present. This night everyone will stay awake and the next morning will not be just even worse. It will be the start of the global economic crisis.
Our impressions and movie review:
This movie script is amazing and shows what happened in this company during the 24 hours from the staff reductions till the Stock Market Panic. JC Chandor is a great writer and a very good director. The script is based on the global economic crisis that began in 2008 with the collapse of Lehman Brothers and stands critical against the greet of Wall Street investment companies. Many believe that the unnamed investment bank is Lehman Brothers, but there are several differences in the script with facts that put this comparison in question. I personally tend to agree with the Jake Zamansky's view as published in Forbes:
Is this how Lehman Brothers crumbled? Is this how Merrill was rescued from ruin by Bank of America? Are these just thinly veiled depictions of Goldman Sachs, Citigroup and JP Morgan, who have paid combined fines of over $1 billion for betting against their clients while selling them these same worthless securities?
Unfortunately for investors, the answer is "yes" to all of the above.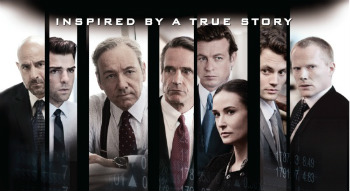 Kevin Spacey and Stanley Tucci gave amazing performances, inside in the skin of the role and they raised the overall quality of the movie. Simon Baker and Jeremy Irons stood out with their very good performances. On the other hand Demi Moore was not that good and Paul Bettany was mediocre. Penn Badgley and Zachary Quinto were the younger actors who got my attention. JC Chandor is a good director but there is some road ahead. If you remember Oliver Stone's "Wall Street" then you understand what I mean. I do not mean that JC Chandor is bad as a director, just that there is some room for further improvement. "Margin Call" is an interesting movie, with fast and strong rhythm and is definitely worth seeing.
Movie Quote from Margin Call
Eric Dale: I run risk management… it just doesn't seem like a natural place to start cutting.
Movie Quote from Margin Call
John Tuld: Let me tell you something, Mr. Sullivan. Do you care to know why I'm in this chair with you all? I mean, why I earn the big bucks.
Peter Sullivan: Yes.
John Tuld: I'm here for one reason and one reason alone. I'm here to guess what the music might do a week, a month, a year from now. That's it. Nothing more. And standing here tonight, I'm afraid that I don't hear – a – thing. Just… silence.
Movie Quote from Margin Call
Jared Cohen: This is bizarre. It's like a… dream.
Sam Rogers: Oh, I don't know. Seems like we actually may have just woken up.
Movie Quote from Margin Call
Sarah Robertson: I didn't think they were going to be able to get you back here.
Eric Dale: Well, they told me they were going to drag me through hell on everything for the next two years – my options, my healthcare. Or I could come back here and make, uh, 176,471 dollars an hour to sit quietly in this room. Didn't seem like much of a choice.
Sarah Robertson: It never is.
Movie Quote from Margin Call
Eric Dale: Did you know I built a bridge once? I was an engineer by trade. It goes from Dilles Bottom, Ohio to Moundsville West Virginia. … It cut out 35 miles each way of extra driving to get from Wheeling to New Martinsville. That's a combined 847,000 miles of driving a day… and 25,410,000 miles a month and 304,920,000 miles a year saved.
I completed that project in 1986… 22 years ago. Over the life of that one bridge that's 6 billion… 708 million… 240 thousand miles that haven't had to be driven! At let's say… 50 miles an hour that's 134,164,800 hours… or 559,020 days… so that one little bridge has saved the people of those two communities a combined 1531 years of their lives not wasted in the car… give or take.
Movie Quote from Margin Call
John Tuld: So you think we might have put a few people out of business today. That it's all for naught. You've been doing that everyday for almost forty years Sam. And if this is all for naught then so is everything out there. It's just money; its made up. Pieces of paper with pictures on it so we don't have to kill each other just to get something to eat. It's not wrong. And it's certainly no different today than its ever been. 1637, 1797, 1819, 37, 57, 84, 1901, 07, 29, 1937, 1974, 1987-Jesus, didn't that fuck up me up good-92, 97, 2000 and whatever we want to call this. It's all just the same thing over and over; we can't help ourselves. And you and I can't control it, or stop it, or even slow it. Or even ever-so-slightly alter it. We just react. And we make a lot money if we get it right. And we get left by the side of the side of the road if we get it wrong. And there have always been and there always will be the same percentage of winners and losers. Happy foxes and sad sacks. Fat cats and starving dogs in this world. Yeah, there may be more of us today than there's ever been. But the percentages-they stay exactly the same.
Margin Call – Trailer (greek subs)
" frameborder="0" allow="accelerometer; encrypted-media; gyroscope; picture-in-picture" allowfullscreen title="eRBgRjxVcLU" loading="lazy" src="//www.youtube-nocookie.com/embed/eRBgRjxVcLU?feature=oembed&controls=1&autoplay=1&enablejsapi=1&rel=1" >
Credits:
Writer:
J.C. Chandor
Director:
J.C. Chandor
Cast:
Kevin Spacey – Sam Rogers
Paul Bettany – Will Emerson
Jeremy Irons – John Tuld
Zachary Quinto – Peter Sullivan
Penn Badgley – Seth Bregman
Simon Baker – Jared Cohen
Mary McDonnell – Mary Rogers
Demi Moore – Sarah Robertson
Stanley Tucci – Eric Dale
Aasif Mandvi – Ramesh Shah
Ashley Williams – Heather Burke
Susan Blackwell – Lauren Bratberg
Maria Dizzia – Executive Assistant
Jimmy Palumbo – Security Guard
Al Sapienza – Louis Carmelo
Peter Y. Kim – Timothy Singh
Production Companies and Distributors:
Before The Door Pictures
Benaroya Pictures
Washington Square Films
Spentzos Films
Official Site
margincallmovie.com
A.A.