This film is exclusively adult and not suitable for people under 18.
Αυτό το έργο είναι ακατάλληλο για ανηλίκους.
Genre:
Drama
Release Date:
May 17, 2014
Duration:
120 minutes
Plot:
Devereaux is a very rich and very powerful man, with passions that are larger than life. He is used to get what he wants, to do what he wants, without limits or consequences. His position of power lets him control millions of dollars, but he is led by his sexual hunger. Women are just objects to satisfy his desires. There is a characteristic scene in the begining of the film: Deveraux urges a bussiness partner to "use" the sexual favors of an assistant to loosen up. When he politely refuses and leaves, Deveraux does not waste the opportunity.
Professional obligations bring him to Carlton Hotel, New York. He invites his colleagues to his suite, along with some call girls. The night ends in a sexual orgy with champagne, cognac and ice cream. When everybody leaves, he gets two more call girls and leads them to his bed – his sexual desire is insatiable.
Next morning, Deveraux, as he comes out of the bathroom, he sees a maid. He asks her "do you know who I am" and forces her to do oral sex. Then, he pays the hotel bill and leaves gracefully, to meet with his daughter and her boyfriend. He talks with him, and after exchanging two or three small phrases, he asks him if he enjoys sex with his daughter. After a pause of embarassment, and while Deveraux persistently asks relevant questions, the young man tells him that his daughter is great in bed and they all continue the conversation casualy.
The maid on the other hand, after overcoming the initial shock, she goes to a police station and files a complaint for sexual assault. Thus, when Deveraux goes to the airport to fly to France, the flight attendant asks him politely to follow her, and leads him to a room with two police officers. They inform him that he is wanted bt the Police of New York to answer some questions. He invokes his diplomatic immunity, but does not have the relevant documents with him. Eventually they take him to a police station and after many delays they allow him to use his one phone call. Having understood that things are not evolving as he is used to, he notifies his wife and asks for help. After a few days in prison he appears before a judge and she refuses to set bail and let him go. The man who controlled the world, feels the earth lost beneath his feet…
Our impressions and movie review: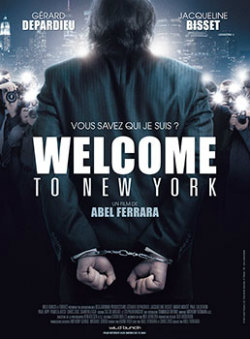 Abel Ferrara and Christ Zois wrote the scenario inspired from the arrest of Dominique Strauss-Kahn. Ferrara and Gérard Depardieu claimed that the former Managing Director of IMF used his fortune and his influence to stop this movie from being released in theaters. The movie went to Cannes Film Festival on May 17th 2014 but no distribution company have showed interest. Then it was released as Video on Demand and participated on many film festivals. On September 25 2014 it aired on Athens Film Festival 2014 and on 2 Οκτωβρίου it will be released in Greek theaters.
Gérard Depardieu is not hiding his dislike for Strauss-Kahn and apparently he believed that his performance and his fame would help this movie pass some political messages. Depardieu is fantastic as Deveraux. I was amazed that, despite his fame and his long carreer, he did not hessitate to appear naked in the erotic scenes of the films and in the humiliating body cavity search in prison. Deveraux is depicted in very intense colors, as a unscrupulous man, with insatiable desire for sex, who is not intimidated or change his mind.
My career is over, my wife wants a divorce, my girlfriends dumped me, nobody returns my calls… besides these I am perfectly fine.
Jacqueline Bisset gives a powerful performance as Deveraux's wife. She depicts an ambitious, tough and decisive woman. I wish she had more screen time, but her part was rather small, just like her position in Deveraux's life. From the rest cast, Marie Moute stands out as Deveraux's daughter and Drena De Niro, Robert De Niro's adopted daughter, as an executive next to Deveraux in the begining of the film.
Maybe this is not the best movie of all time, but this is a well made movie, all the actors are convincing in their roles, the scenario is lifelike and well written. This is a bold movie, based on true events that were discussed a lot, and relate to one of the protagonists of the entry of Greece in the Memorandum. This movie is worth your time.
Movie Quote from Welcome to New York – 2014
-Where are you going on vacation?
-I 'm off to Greece soon, apparently. Have you ever been?
-Watch out for those Greeks!
Movie Quote from Welcome to New York – 2014
What turns you on more? Womanizers or intelligent men?
Welcome to New York – Trailer (Greek subs)
https://www.youtube.com/watch?v=oDpDUlsR1SE
Credits:
Writers:
Abel Ferrara, Christ Zois
Director:
Abel Ferrara
Cast:
Jacqueline Bisset – Simone
Gérard Depardieu – Devereaux
Drena De Niro – Executive Assistant
Paul Calderon – Pierre
Amy Ferguson – Renee
Paul Hipp – Guy
Maria Di Angelis – Stewardess
Ronald Guttman – Roullot
Shanyn Leigh – Female Journalist
Natasha Romanova – Russian Yelena
Claude Jade – (archive footage)
Aurelie Claudel – Air France VIP Escort
Anh Duong – Livia
Pascal Yen-Pfister – Hotel Security Chief
Anna Lakomy – Anna
José Ramón Rosario – Detective Rosario
Brett G. Smith – SVU Detective
Marie Moute – Sophie Devereaux
Joe Lawless – Benjamin
Nneoma Nkuku – Female Supervisor
Kathryn Lill – Bebe (rumored)
Lee Godart – Airport Security Representative
Ged Dickersin – Bail Hearing Judge
Elizabeth Kemp – Florence
Frank Aquilino – Prisoner
John Patrick Barry – Port Authority Chief
Stephen Reich – Male Assistant DA
Ilinca Kiss – Concierge
Tania Santiago – Housekeeper
JD Taylor – Josh
Norm Golden – George
Jean-Stéphane Sauvaire – Male Journalist
José Báez – Man in Restaurant
Lucy Campbell – Roxanne
Emmanuelle Vill – Emmanuelle
Pablo Gonzalez – Inmate #1
Raquel Nave – Russian Desiree
Spelman M. Beaubrun – Michel
James Heaphy – Detective Fitzgerald
Pamela Afesi – Maid
Nikki James – Judge
Tarikk Mudu – Inmate #2
Jeremy Brena – Waiter
Jackie Raynal – Dinner Guest
Caroline Huet – Fifi
Robert Dvorin – Real Estate Agent
Teresa Kelsey – Female Assistant DA
Chris Zois – Chris
Brian McCabe – Port Authority Detective
Louis Zaneri – Sergeant Landano
Armand Dahan – Gentleman
Agnes Caballa – Gallery Patron
Ify Enemuo – Inmate 3
Paul Mitchell – Corrections Officer
Victoria Reton – Little Girl
Larry Davis Jr. – Transpo Officer
Brooke Chaffee – Female Operator
Samantha Allison Josephine Opitz – Hotel Receptionist
Production Companies and Distributors:
Belladonna Productions
Wild Bunch
Hollywood Entertainment
Official Site
To visit the Official Site for Welcome to New York click here.
A.A.