Genre:
Sci Fi
Thriller
Release Date:
August 29, 2013
Duration:
108 minutes
Plot:
An alien creature has come to our planet with a specific mission. It kidnaps people, mostly people who are alone in this life, to avoid getting noticed. To make this plan easier this creature has taken the form of a beautiful young woman (the role is played by Scarlett Johansson). At some point, perhaps influenced by solidarity and humanism practiced by some people, the alien decides to stop hunting humans and live in peace among them. But this is not as easy as it sounds.
Our impressions and movie review:
The only thing that the movie "Under the Skin" has to offer is some scenes with Scarlett Johansson being nude, she goes full frontal. And in this movie Scarlett has black hair! Besides that… nada! The script is shortsighted and ludicrous, the performances are aloof and the general picture can be described with just one word: Βαρετή, Boring, Ennuyeux, Langweilig, Noioso, Aburrido… have I made myself clear or we need a translator for Mandarin Chinese as well? Do yourselves a favor: stay away from this movie, do not even consider renting this DVD… or you will lose your money and your time! 😀
Movie Quote from Under the Skin
Laura: Come to me.
Movie Quote from Under the Skin
Laura: When was the last time you touched someone?
Movie Quote from Under the Skin
Laura: You don't wanna wake up, do you?
Under the Skin – Trailer
https://www.youtube.com/watch?v=NoSWbyvdhHw
Credits:
Writers:
Walter Campbell, Michel Faber, Jonathan Glazer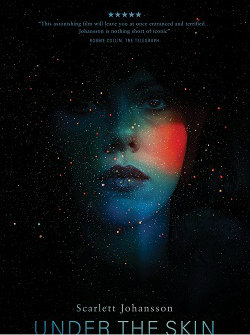 Director:
Jonathan Glazer
Cast:
Scarlett Johansson
Jeremy McWilliams
Lynsey Taylor Mackay
Dougie McConnell
Kevin McAlinden
D. Meade
Andrew Gorman
Joe Szula
Krystof Hádek
Roy Armstrong
Alison Chand
Ben Mills
Oscar Mills
Lee Fanning
Paul Brannigan
Production Companies and Distributors:
Film4
British Film Institute
Silver Reel
Odeon