Genre:
Biopics
Thriller
Release Date:
November 20, 2015
Duration:
131 minutes
Plot:
Reggie (Tom Hardy) and Ronnie Kray (Tom Hardy) are two mobsters in the London of the '60s. They are identical twins, but the two brothers have really different characters. But they have one thing in common: exercising violence. Ronnie is already sentenced for an assault and he is at a psychiatric clinic. Reggie, who always takes care of his brother, sends Pat Connolly (Adam Fogerty), his "muscle", to threaten the professor of Psychology who treats Ronnie, and thus he sets him free.
Dr. Humphries: Your brother Ron is violent and psychopathic and I suspect he's paranoid schizophrenic… to put it simply he's off his fucking rocker!
[he thrusts a bottle of pills to Reggie]
Dr. Humphries: Make sure he takes these… or there 'll be serious trouble
The Kray twins are operating at London's East End. Across river Thames are Eddie (Martin McCreadie) and Charlie Richardson (Paul Bettany), two mobsters notorious for the "torture trials" they performed to punish and intimidate their opponents. Kray and Richardson engage in turf war, and after a series of incidents they arrange a meeting in neutral turf to negotiate a truce. When Ronnie and Reggie arrive there, instead of Richardsons they meet a dozen gang members ready for a brawl.
Ronnie: What is that? I come here for a PROPER shootout. What are you doing with that rolling-pin? Gonna bake me a cake?
[he puts his hands in his pockets mimicking two guns]
I come here for a fucking shootout. A proper shootout with some proper men. Like Colonel Custer and Geronimo, you ever heard of them? No. Cause you're too busy in your pinny baking fucking fairy cakes, weren't ya?
Reg. This lot is fucking nonces to a man, they're fucking nonces. Get out of me fucking way, go on, get out, go on, fuck off. Call yourself a fucking gangster.
A SHOOTOUT, RIGHT, IS A FUCKING SHOOTOUT! Like a western. WANKERS! Fucking embarrassing, waste of my time. FUCKING waste of my time!
Mike Jobber: Well your brother's done a runner
Reggie Kray: Nah he's just genuinely disappointed with you, that's all.
Ron leaves Pig & Whistle Bar. Reggie is alone with all those people eager to break his bones. He serves himself a pint of beer and he seems to be perfectly calm. He's got all the attention and…
Reggie: You don't mind if I fight back, do you? Keep in mind I don't play fair.
[he wears brass knuckles and, in the mean time, Ronnie is back unnoticed]
Reggie: Let me tell you a joke. A paranoid schizophrenic walks into a bar…
The numerical superiority does not matter at all, and the Kray twins do not leave anyone standing, using unnecessary violence and enjoying every punch they gave, every face they made bleed, every bone they broke. They decide that they will kill the Richardsons. It just happened that Scotland Yard arrested the rival gang and send them in prison for many years. Now, without any opponents, the twin gangster dominate London with blackmailing, "protection", police bribes, illegal bets, selling barbiturates pills and much more. They have big plans, and for the time being they are satisfied with the fact that celebrities, boxers and aristocrats.
Frances Shea (Emily Browning), the girl Reggie fall in love with, has big dreams too. She hopes her beloved will become a 100% lawful night club owner and that the good parts of his character will prevail. In her eyes he is a wonderful man and the only problem is that he is a gangster. Reggie promises to her, time and again, that he will stop any illegal activities. But, when Los Angeles Mafia talks to them because they want to expand their operations to London, the Kray twin manage to cooperate as equal to equal. And while all these happen, Leonard Nipper Read (Christopher Eccleston), an incorruptible Scotland Yard detective, whose purpose on life is to send the Kray twins to prison, awaits for the perfect opportunity to arrest them.
Our impressions and movie review: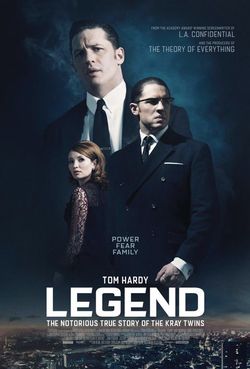 "Legend" is based on the book "The Profession of Violence: The Rise and Fall of the Kray Twins" by John Pearson. Brian Helgeland ( L.A. Confidential, Mystic River ) is behind the excellent screenplay and the flawless direction. The screenplay is about a difficult story, but it has many ideas and deeper messages. The direction is great and, along with the photography, makes you feel that you are in the '60s from the first minute. The background actors are really very good and the movie is full of music – songs of the era and original soundtrack with Duffy (as Timi Yuro), that fit like a glove with the plot and make good impression in our period when films have less and less songs.
Tom Hardy is undeniably the star and an extremely talented actor. He said in an interview that he would play Reggie but he got both parts and we must say that the result is excellent! He plays two totally different characters and he convinces the audience that they are two different people. Next to him, Emily Browning, was amazing as Reggie's wife. She was also the narrator, and her own point of view for the story and her beloved's nature, will touch the women who will see the movie.
"Legend" premieres on USA on November 20th, 2015, distributed by Universal Pictures.
Movie Quote from Legend 2015
Leonard Nipper Read: EastEnders, they won't talk to a policeman but they'll kiss a gangster.
Movie Quote from Legend
Ronald Kray: Me and my brother, we're gonna rule London.
Movie Quote from Legend
Reggie Kray: As soon as you turn your back, life, it plays dirty tricks on you.
Movie Quote from Legend
Angelo Bruno: Come to Philadelphia! You see a nice girl, we'll get her for you!
Ronald Kray: I prefer boys. Italians, sometimes Greek, but I am not prejudiced.
[the Mobster boggles for a second]
Angelo Bruno: You have big balls to admit that.
Movie Quote from Legend 2015
Frances Shea: You could go straight…
Reggie Kray: Life isn't always what we want it to be.
Movie Quote from Legend
Ronald Kray: You're not laughing now are you?
Movie Quote from Legend 2015
Leonard Nipper Read: We're going down into the sewer after the Krays
Movie Trivial for Legend 2015
Initialy, Tom Hardy wanted to play the Reggie Kray part, but he got interested in Ronnie's more complex and demanding character. "I was like, 'Well, I feel Ronnie,'" he says. "So which actor am I gonna give up Ronnie to, if I play Reggie? Errrrrggh…. I can't have that. 'Cos that's all the fun there! And Reggie's so straight! But there was a moment when I could have come away just playing Reggie. We could have gone and found a superlative character actor to play Ronnie, and that would have been the best of everything." The director convinced him to play both parts "I'll give you Ron if you give me Reg".
Legend – Trailer
https://www.youtube.com/watch?v=ey7S4hko_Mc
Credits:
Writers:
Brian Helgeland
Director:
Brian Helgeland
Cast:
Tom Hardy – Ronald Kray / Reggie Kray
Emily Browning – Frances Shea
Paul Anderson – Albert Donoghue
Christopher Eccleston – Nipper Read
Joshua Hill – Constable Scott
Colin Morgan – Frank Shea
Tara Fitzgerald – Mrs. Shea
Nicholas Farrell – Dr. Humphries
Adam Fogerty – Pat Connolly
Mel Raido – Ian Barrie
Major John Finley – The Double R Club Singer
Millie Brady – Joan Collins
Chris Mason – Ronnie Hart
Stephen Thompson – Ronnie Bender
Sam Spruell – Jack McVitie
Taron Egerton – Mad Teddy Smith
Alex Ferns – Mclean
Martin McCreadie – Eddie Richardson
Shane Attwooll – George Cornell
Richard Riddell – Mike Jobber
Huggy Leaver – Pig & Whistle Barman
Sam Hoare – Stefan De Faye
David Thewlis – Leslie Payne
Frankie Fitzgerald – Jack Dickson
Christopher Adamson – Philip Testa
Chazz Palminteri – Angelo Bruno
Alex Giannini – Tony Caponigro
Duffy – Timi Yuro
Samantha Pearl – Shirley Bassey
Mark Theodore – Sonny Liston
Lara Cazalet – Mrs. Payne
Charley Palmer Rothwell – Leslie Holt
Tim Faraday – Big Screw
John Sessions – Lord Boothby
Kevin McNally – Harold Wilson
Tim Woodward – Superintendent Cummings
Nick Hendrix – Hew McCowan
Robert Ashby – Arnold Goodman
Geoffrey Beevers – Old Bailey Judge
Jane Wood – Violet Kray
Jon McKenna – Charles Kray Senior
John Sears – Father Foster
Stephen Lord – Fuller
Lorraine Stanley – Blind Beggar Barmaid
Ashley Byam – John
Esther Adams – Jack the Hat's Ex at the Party
Clive Aitkins – Security Guard (uncredited)
Fraser Andrews – Criminal (uncredited)
James Francis Andrews – Club Punter (uncredited)
Lasco Atkins – Club punter (uncredited)
David Olawale Ayinde – Lagos Soldier (uncredited)
Aneurin Barnard – David Bailey (uncredited)
Francesca Bennett – Wedding guest (uncredited)
Jimmy 'The Bee' Bennett – Club Guest (uncredited)
Paul Bettany – Charlie Richardson (uncredited)
Martin Bishop – Earl (uncredited)
Steven Blake – Prosecutor (uncredited)
Andy Blithe – Sex shop client (uncredited)
Ancuta Breaban – Wedding Guest (uncredited)
Steve Brunton – Prisoner (uncredited)
John Carr – Guest at club (uncredited)
Alan Chimes – Prisoner (uncredited)
Holly Cofield – Gangsters Wife (uncredited)
Trevor Comber – Screw (uncredited)
Carmen Cowell – Detective / Police Woman (uncredited)
Chris Cowlin – Orderly in Broadmoor Hospital (uncredited)
Bob Cryer – Charles Kray Snr (uncredited)
Leigh Dent – Party Guest (uncredited)
Raphael Desprez – Bartender (uncredited)
Christian Di Sciullo – Associate in Double R Club (uncredited)
Gary Douglas – Club Punter (uncredited)
John Duggan – Juror (uncredited)
Shola Ebofin – Passport Officer (uncredited)
Dino Fazzani – Club punter (uncredited)
Ellie Fox – Mara Toole (uncredited)
Ellis Fuller – Regal Punter (uncredited)
Chris Geden – Club Punter (uncredited)
Paul Grant – Stagehand (uncredited)
Claire Greasley – Wedding Guest (uncredited)
Guna Gultniece – Club Punter (uncredited)
Abigail Halley – Young Violet Kray (uncredited)
Shane Hart – Richardson Heavy (uncredited)
Michael Haydon – Journalist (uncredited)
Robin Hooper – Prison Doctor (uncredited)
Kornelia Horvath – Wedding Guest (uncredited)
Philip Howard – Club (uncredited)
Katie Hudson – Market customer (uncredited)
Danny Jackson – Club Guest (uncredited)
Steven J. Jobes – Casino Gambler (uncredited)
Paul Kerry – Photographer (uncredited)
Jefferson King – Passerby (uncredited)
Evia Laizane – Lady at the Bar (uncredited)
Nick Longland – Police Officer (uncredited)
Darren Luckin – Kray firm (uncredited)
Christopher Marsh – Gambler (uncredited)
Sonia Mason – Club guest (wife) (uncredited)
Martyn Mayger – Broadmoor Visitor (uncredited)
Matthew David McCarthy – kray Associate (uncredited)
Rowena Meddeman – Secretary (uncredited)
Jackson Milner – Tommy Brown (uncredited)
David Mott – Gangster (uncredited)
Campbell Muirhead – Reggie's Brother-in-law (uncredited)
Benjayx Murphy – Reggie Gang (uncredited)
Josh Myers – Guzeppi (uncredited)
Debbie J. Nash – Rita (uncredited)
Johnny Neal – MOD Guitarist (uncredited)
Celina Nessa – Exotic Stripper (uncredited)
Tyrone Nestor – Prisoner (uncredited)
Yves O'Hara – 1940's Civilian (uncredited)
Tom Ogg – Ronnie's Boy (uncredited)
Jeremy Oliver – Club guest (uncredited)
Tony Pankhurst – Barrister (uncredited)
Julia Papp – Casino Guest (uncredited)
Stephen Parker – D Trodden the Butcher (uncredited)
Christophe Philipps – Club Guest (uncredited)
Scott Plumridge – punter & Criminal (uncredited)
Glenn Power – Mickey (uncredited)
Mark Preston – Kray Firm (uncredited)
Matt Rentell – Prison Officer (uncredited)
David G. Robinson – Blind Beggar Customer (uncredited)
Katherine Rodden – Market Girl (uncredited)
Jd Roth-round – Orderly R.White (uncredited)
Tiger Rudge – Club abused lady (uncredited)
James Thomas Scott – Kray Relative (uncredited)
Timothy Scott – Regal Punter (uncredited)
Janette Sharpe – 1940's Civilian (uncredited)
Teresa Shaughnessy – Bar Girl (uncredited)
Ruth Shaw – Graveside Mourner (uncredited)
Vince Taylor – Gang Boss / Boxer (uncredited)
Tom Urie – Tommy Brown (uncredited)
Daniel Westwood – Kray firm (uncredited)
Leila Wong – Esmeralda Guest (uncredited)
Production Companies and Distributors:
Anton Capital Entertainment (ACE)
Cross Creek Pictures
StudioCanal
Working Title Films
A.A.