Genre:
Action Movie
Thriller
Release Date:
April 2, 2015
Duration:
137 minutes
Plot:
Deckard Shaw (Jason Statham), is full of rage for his brother Owen death, and wants to take revenge. To find information, he goes to the office of the FBI agent Luke Hobbs (Dwayne Johnson) and copies files from his computer. At that moment, Hobbs returns to the office and Deckard attacks him. Agent Elena Neves (Elsa Pataky) hears the noises and goes to check what is going on. Deckard throws a grenade. Hobbs grabs Elena and they jump out of the window to save their lives. They don't get hurt from the explosion, but they end up in the hospital with broken ribs. Thank God!
Letty (Michelle Rodriguez), who still suffers from amnesia, tells Dominic Toretto (Vin Diesel) goodbye. Dominic goes to discuss with his sister Mia (Jordana Brewster), and meets with his nephew and Brian O'Conner (Paul William Walker), who is his friend and brother-in-law. Mia tells him she received a parcel for him from Tokyo and then his mobile phone rings. It is Deckard and he tells Dom he just killed Han (Sung Kang) and Dom is his next target. The phone shows that the call was from Tokyo, and Dom realises that the parcel is booby-trapped with explosives. He shouts that everyone should take cover and at that time the bomb explodes destroying the house completely! Fortunately they all were outside and nobody got hurt.
Frank Petty (Kurt Russell), a high ranked official of the Secret Service, known as… Mr Nobody, is the new player. Frank explains to our team that it is very difficult to track down Deckard Shaw. But there is God's Eye, an innovative device that can hack into any pc, mobile phone or gps in the world. Megan Ramsey (Nathalie Joanne Emmanuel), the genius who designed it, has been arrested by a foreign secret service. And of course our friends will help her escape!
Our impressions and movie review: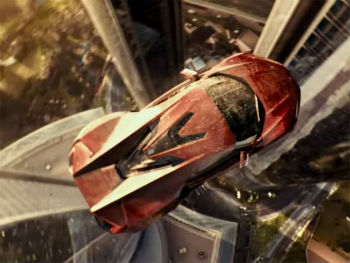 The "Fast & Furious" franchise has a simple recipe: pretty women, unbelievably fast cars and breathtaking action scenes. The laws of Physics do not really matter. The cars of the protagonists jump from a plane, parachutes open and they land with their wheels spinning fast. In another scene they "fly" from one skypescraper to the next one driving a Lykan Hypersport – take note that there are less than ten Lykan Hypersport cars in the whole world and each one cost more than $3.000.000. And since we are talking about money, "Furious 7" movie budget is $250.000.000 – almost two times the budget for "Fast & Furious 6".
In November 2013, and while the film shootings have not been completed, Paul Walker died in a car crash. The car, a Porsche Carrera GT, was driven by Roger Rodas, a friend and business associate of Paul. Unfortunately like is not like the movies, and the excessive confidence in our abilities and in a car, can have disastrous results. May God rest their souls in peace. Filming was completed with the help of Paul's brothers and the movie "Furious 7" is dedicated to the memory of Paul Walker.
"Furious 7" premiered at greek movie theaters at April 2nd 2005 distributed by UIP.
Furious 7 – Fast & Furious 7 – Trailer (Full HD, Greek subs)
http://www.youtube.com/watch?v=0PW3cOtKVB4
Movie Quote from Furious 7 – Fast & Furious 7 – 2015
[Hobbs catches Shaw accessing his computer. He clears his throat to get Shaw's attention]
Hobbs: You sure as hell ain't the I.T. guy.
Deckard Shaw: One second…
Hobbs: You just earned yourself a dance with the devil, boy. You're under arrest.
Deckard Shaw: Like I said: I'm here for the team that crippled my brother.
Hobbs: There was no damn team. It was just one man… and he's standing right in front of you.
[Shaw removes his USB flash drive]
Deckard Shaw: Like Elena said: You're a terrible liar.
Movie Quote from Furious 7 – Fast & Furious 7 – 2015
Brian O'Conner: Do you realize what this is? Lykan HyperSport. $3.4 million, 0-60 in less than 3 seconds. There's seven of these in the world and this guy keeps it locked up in a vault.
Dominic Toretto: Nothing's sadder than locking a beast in a cage.
Brian O'Conner: I wanna punch him in the face.
Movie Quote from Furious 7 – Fast & Furious 7 – 2015
Brian O'Conner: [Etihad towers scene] Cars can't fly, Dom, cars can't fly!
Movie Trivial for Furious 7 – Fast & Furious 7 – 2015
In Furious 7 we see the following cars:
W Motors Lycan Hypersport
Subaru Impreza WRX STi
Dodge Charger R/T
Dodge Challenger SRT-8
Chevrolet Camaro
Jeep Wrangler Unlimited
Aston Martin DB9
Maserati Ghibli
Kässbohrer Setra S 215 HDH Transcontinental
Hyundai Elantra
Plymouth Barracuda
Plymouth Road Runner
Credits:
Writer:
Chris Morgan
Director:
James Wan
Cast:
Vin Diesel – Dominic Toretto
Paul Walker – Brian O'Conner
Jason Statham – Deckard Shaw
Michelle Rodriguez – Letty Ortiz
Jordana Brewster – Mia Toretto
Tyrese Gibson – Roman Pearce
Ludacris – Tej Parker
Dwayne Johnson – Luke Hobbs
Lucas Black – Sean Boswell
Kurt Russell – Frank Petty aka Mr. Nobody
Nathalie Emmanuel – Megan Ramsey
Elsa Pataky – Elena Neves
Gal Gadot – Gisele
John Brotherton – Sheppard
Luke Evans – Owen Shaw
Tony Jaa – Kiet
Djimon Hounsou – Jakande
Noel Gugliemi – Hector
Ali Fazal – Safar
Sung Kang – Han
Ronda Rousey – Kara
Iggy Azalea – Female Racer
Miller Kimsey – Jack
Charlie Kimsey – Jack
Eden Estrella – Samantha Hobbs
Gentry White – Letty's Fan
Jon Lee Brody – Male Racer
Levy Tran – Race Starter
Anna Colwell – Hot Teacher
Viktor Hernandez – Doctor
Steve Coulter – Priest
Robert Pralgo – Merc Tech
Antwan Mills – Weapons Tech
J.J. Phillips – Billionaire
Jorge Ferragut – Dominican Priest
Sara Sohn – Hana
Benjamin Blankenship – Merc Driver
D.J. Hapa – DJ
Faheem Najm – DJ
Brian Mahoney – Drone Tech
Brittney Alger – Jasmine
Romeo Santos – Mando
Jocelin Donahue – Advisor
Stephanie Langston – Field Reporter
Jorge Luis Pallo – Cop
Daniel McGraw – Dubai Party Guest
Production Companies and Distributors:
Universal Pictures
Dentsu
Fast 7 Productions
One Race Films
Original Film
UIP
A.A.