Genre:
Comedy
Sci Fi
Release Date:
August 12, 2015
Duration:
85 minutes
Plot:
In 1972, NASA sent Pioneer 10 into deep space. In the spacecraft, there was a golden plaque with a message for any intelligent extraterrestrial being, and a "map" to Earth. Decades passed, people forgot about it, but the Pioneer 10 has finally reached the aliens! Four of them, who call themselves the Intergalactic Council. This is not the first time they get such a message. Millions civilizations have tried to contact other extraterrestrials, and still the Council members wonder why they depict themselves without clothes. But this is not the issue. Every time the Intergalactic Council gets in contact or discovers a new civilization, they evaluate them. How? The same way they will evaluate Earth!
The usual test. One earthling will be picked up random to prove he can use absolute power for good… But if he uses it for evil, the Earth will be eliminated!
All Earth people are entered into a digital "lottery" – and for a moment, it looks like Sarah Palin will be the chosen one – and finally the teacher Neil Clarke (Simon Pegg) will become allmighty. Neil is an everyday man, without anything special or anything interesting. He likes his neighbour, the tv journalist Catherine (Kate Beckinsale), at the school he is hanging out with Ray (Sanjeev Bhaskar), he suffers – like everyone else – with the Headmaster (Eddie Izzard) and, instead of trying to get the attention of naughty students, he is detached.
Till the day the aliens choose him to become an almighty superior being. What does Neil do when he discovers his omnipotency? He orders his clothes to dress him up, he makes his dog talk english and have a logical mind, and… he deals with his personal appearance.
[he stands in front of the mirror]
Neil Clarke: Give me a body that people find attractive!
[He turns into a topless woman]
Neil Clarke: No! A male body! Give me the body of a great man!
[Turns into Albert Einstein]
Neil Clarke: No! Give me the body of a man who people find attractive!
[Turns into a hunky guy]
Neil Clarke: Better.
His irresponsibility will get him in trouble, the situation in his social enviroment becomes chaotic and the future of the Earth looks extremely bleak.
Our impressions and movie review: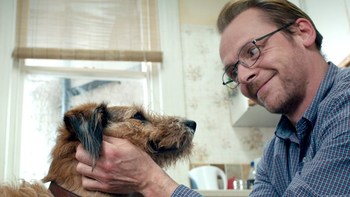 With Absolutely Anything" the Monty Python return to the big screen led by Terry Jones. Terry Gilliam, John Cleese, Eric Idle, Michael Palin and of course Terry Jones, lend their voices to the members of the Intergalactic Council and to an alien hitman. The script, written by Jones and Gavin Scott, reminds the good times of Monty Python and the humour of the author Douglas Adams. Actually, as Terry Jones said in an interview, Adams had read the script and he really liked Dennis, Neil's dog. And Dennis is a great dog indeed, and it is obvious that the screenwriters know and love dogs. The scenario have many comical momments – you will laugh out loud, and it offers some food for thought. A movie that you will enjoy, it will make you laugh, it will make you thing, and, tell me, what would you do if you had the power to do anything?
Absolutely Anything – Trailer (Full HD, Greek subs)
https://www.youtube.com/watch?v=HrW01S6HjXw
Movie Trivial for Absolutely Anything
Terry Jones said he got inspired reading the tale "The Man Who Could Work Miracles" by H.G. Wells.
This is the last movie with Robin Williams.
The movie premiered on August 12, 2015, exactly one year after the announcement of Williams' death.
In the movie Absolutely Anything the Monty Python are together again (apart from Graham Chapman who died in 1989).
Judy Loe, Kate Beckinsale's mother, makes a brief appearance in the movie.
The working title was "The Dog Who Saved The World".
Credits:
Writers:
Gavin Scott, Terry Jones
Director:
Terry Jones
Cast:
Simon Pegg – Neil Clarke
Kate Beckinsale – Catherine
Robin Williams – Dennis (voice)
Mojo the dog – Dennis
Terry Gilliam – Maureen, Intergalactic Council member (voice)
John Cleese – Sharon, Intergalactic Council member (voice)
Terry Jones – Kylie, Intergalactic Council member (voice)
Michael Palin – Janet, Intergalactic Council member (voice)
Eric Idle – Salubrious Gat, the Extraterrestrial (voice)
Joanna Lumley – Fenella
Rob Riggle – Grant
Eddie Izzard – Headmaster
Alexa Davies – Sandwich Girl
Sanjeev Bhaskar – Ray
Emma Pierson – Miss Pringle
Meera Syal – Fiona
Ryan Oliva – Presidential Security
Robert Bathurst – James Cleverill
Judy Loe – Canteen Lady
Marianne Oldham – Rosie
Brian Cox – Himself
Gavin Scott – Newsreader
Mark Preston – Bob
Marty McFly – Time Traveler
Ronan Summers – Presidential Aid
James Kermack – Policeman
Mojo – Dennis
David Annen – Newsreader
Georgie-May Tearle – Ray worshipor
Tony Pankhurst – Father
Margarita Doyle – Señorita Lopez
Gemma Rourke – Party Guest
Marat Khairoullin – Zombie
Lennon Clarke – Bank Robber
Debbie J. Nash – Ray Worshipper
Wilson – Grant
Simon Coleman – Police Inspector
Jud Charlton – Mortician
James David Robinson – Steve
Basia Forrest – Ray Worshipper
Lasco Atkins – Party Guest (uncredited)
Hannah Blamires – Photographer (uncredited)
Stuart Budd – Passerby (uncredited)
Jorge Leon Martinez – Celebrity (uncredited)
Production Companies and Distributors:
Bill and Ben Productions
GFM films
Odeon
A.A.