Genre:
Adventure
Romance
Science Fiction
Thriller
Release Date:
March 19, 2015
Duration:
119 minutes
Plot:
Tris (Shailene Woodley), Four (Theo James), Peter and Caleb have found refuge in the Amity Faction. Johanna (Octavia Spencer), Amity leader, lets them stay on one condition. They must be… peaceful. This does not seem like a difficult task for the Dauntless, till one day Peter (Miles Teller) provokes Tris and they start to fight. Four seperates them, but Johanna is extremely dissatisfied. The quarrel upset the members of the Amity and they are no longer welcome here. Four talks her to give them one more chance, to let them stay hidden for some more days to plan their next steps. Suddenly, armored vehicles with Dauntless soldiers arrive. Amity will be really disturbed now. Eric (Jai Courtney), following Jeanine's (Kate Winslet) orders, is trying to locate the fugitives, who are also blamed for the crimes Jeanine actually committed. Peter betrays their position to keep himself safe, but Four, Tris and Caleb (Ansel Elgort) manage to escape. The cross a little forest, running and shooting, while Eric and his soldiers give chase, and they eventually get on a passing by train.
But there are more stowaways on the train. They are the Factionless. armed and full of bad attitude. Tris tries to protect Caleb, who cannot keep his mouth shut and Four is ready to do anything it takes. A fight erupts. Caleb hides somewhere, but a Factionless confronts him with a knife, so Caleb fights back and kills him with a crowbar. After a little while, he sees that his sister is in danger, and doesn't even move his fingers to help her. Is he shocked or is he a selfish pig? Factionless are too many and our heroes are just two. And when they are about to die, Four opens his mouth and says…
-Tobias Eaton.
-What is he to you?
-I am.
[small pause]
-You won't believe it but we have been searching for you!
Maybe you are wondering what has just happened. Believe me, Tris is really surprised too!
Evelyn (Naomi Watts), Four's mother, is the Factionless leader. Abnegation help her fake her death to escape from her abusive husband. But she left her 6-year-old son Tobias behind, and let him believe that she was dead. Now she is about to attack Jeanine and overthrow the regime controlled by Erudite. She asks her son and Tris to help her in her plans. Tris wants an alliance against the common enemy, but Four does not trust her. And he has a point.
This power game has many strong players and nothing is certain. Tris wants to become a tyrannicide. Jeanine, has found a box with a message from the Founders of the Factions System. She is sure, that if she opens it she will be able to defeat all her opponents and kill all Divergents. But the box is locked and only a Divergent could open it, after passing with 100% success five simulations: one for each faction!
Our impressions and movie review:
"Insurgent is an AMAZING movie! Screen writers Brian Duffield, Akiva Goldsman, Mark Bomback did a great job, based of course in the best seller book Insurgent by Veronica Roth. Robert Schwentke succeeds Neil Burger in directing, and he does so pretty good. He will direct "Allegiant", the movie based on the third book of the "Divergent" trilogy.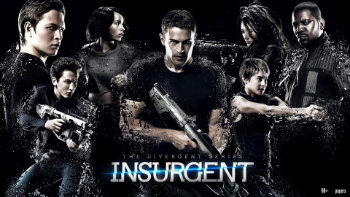 Shailene Woodley is very good in her role and Theo James is perfect. His performance and his reaction while under the Truth serum, the test for all Candor initiates, makes the difference. Very good is also Miles Teller performance, who has a demanding supporting role, and succeeds in showing different aspects of his talent. Naomi Watts was good, like Octavia Spencer and the ever charming Kate Winslet. We must make special mention for Daniel Dae Kim, Candor leader, who deserves to play protagonistic roles.
"Insurgent" will be released in greek movie theaters at March 19th, 2015, distributed by Odeon and you have to see the 3D edition. If I haven't told you before, this movie is… AMAZING!
Insurgent – Trailer
http://www.youtube.com/watch?v=k2jiQ3Y8wxI
Quote from the movie "Divergent series: Insurgent"
Four: It's time we fight back!
Quote from the movie "Divergent series: Insurgent"
Tris: I can't let anyone else die because of me.
Quote from the movie "Divergent series: Insurgent"
Tris: I'm not important. Everyone will do just fine without me.
Four: Who cares about everyone? What about me?
Quote from the movie "Divergent series: Insurgent"
Tris Prior: I'm not gonna fight you.
Jeanine Matthews: Of course you're not. You're gonna fight you.
Credits:
Writers:
Brian Duffield, Akiva Goldsman, Mark Bomback
Director:
Robert Schwentke
Cast:
Shailene Woodley – Tris
Miles Teller – Peter
Theo James – Four
Ansel Elgort – Caleb
Naomi Watts – Evelyn
Kate Winslet – Jeanine
Jai Courtney – Eric
Zoë Kravitz – Christina
Ashley Judd – Natalie
Maggie Q – Tori Wu
Suki Waterhouse – Marlene
Ray Stevenson – Marcus Eaton
Jonny Weston – Edgar
Daniel Dae Kim – Jack Kang
Octavia Spencer – Johanna
Rosa Salazar – Lynn
Mekhi Phifer – Max
Rob Fuller – Dauntless Rebel
Emjay Anthony – Hector
Justine Wachsberger – Lauren
Keiynan Lonsdale – Uriah
Lyndsi LaRose – Amity Teacher
Ben Lamb – Edward
Rich Graff – Aeneas
Rebecca Ray – Dark Tris
Jae Hitch – Core Dauntless Rebel
Hunter Burke – Erudite Administrator
Arian Ash – Erudite Technician
Gregory Fears – Candor Factor
Charlie Bodin – Amity Server
Lawrence Kao – Erudite Tech
Kendrick Cross – Candor Guard
Shelby Townsend – Erudite Teen Girl
John Kap – Factionless
Nelson Bonilla – Erudite Guard
Melissa Chandler – Candor Girl
Alphonso A'Qen-Aten Jackson – Dauntless rebel
Fred Galle – Candor Lawyer
Pete Burris – Candor Man
Walter Hendrix III – Factionless EMT
Ian Casselberry – Dauntless Soldier
David Landry – Dauntless Soldier
Dale Liner – Dauntless Soldier Captain
Steve Warren (Stephen Craig Monheimer) – Amity Farmer
Production Companies and Distributors:
Red Wagon Entertainment
Mandeville Films
Summit Entertainment
Odeon
A.A.