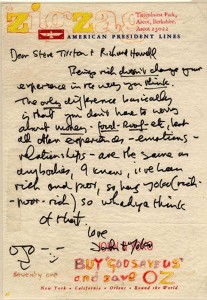 Dear Steve Tilston + Richard Howell
Being rich doesn't change your experiences in the way you think. The only difference basically is that you don't have you worry about money – food – roof – etc. But all other experiences – emotions – relationships – are the same as anybodies. I know, I've been rich and poor and so has Yoko (rich-poor-rich). So whadya think of that.
Love,
John + Yoko
This letter was the inspiration for the movie "Danny Collins" staring Al Pacino.