Genre:
Action, Adventure, Science Fiction
Release Date:
July 21, 2014
Duration:
121 minutes
Plot:
In 1988 Peter Quill, a kid back then, is abducted by aliens.
Since then, 26 years have passed, and Peter calls himself Star Lord and, despite the impressive alias, he is a mere thief in outer space. But, when he steals a mysterious Orb, thing begin to take an unexpected turn. Korath, having failed to prevent him from stealing the Orb, reports to Ronan, the Accussor of Kree Empire. Ronan in turn, wants the Orb to offer it to Thanos as an exchange for the destruction of Xandar, the base-planet of Nova Corps, a space police force. Gamora offers to chase and get Peter Quill.
Peter is on Xandar and he is trying, unsuccessfully, to sell the Orb on the black market. Gamora meets him and attacks him, but, on the same time, he is attacked from Rocket Raccoon and Groot, who wants the price for Peter's head. Not a very smart move in a planet full of police officers, don't you agree? And indeed they catch them and send them to prison-planet Kyln (actually it is an artificial satellite but you get the point). Our protagonists escape and discover that the Orb contains an Infinity Stone, which, if it falls into the wrong hands, will mean the end of the world. So, they decide to make a new start in life and to try to stop the bad guys and save the world and not only… because now, they are: the Guardians of the Galaxy!
Our impressions and movie review: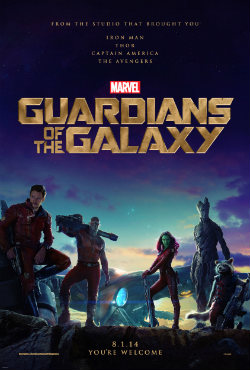 Guardians of the Galaxy is a movie based on Marvel Comics Guardians of the Galaxy. The strength of this, too much advertised, movie lies on the funny scenes. Many of these are related to the walkman of Peter Quill! Remember that he was just a little kid in the 80s when he was abducted by aliens. There are also some good puns and gags with Peter's quotes and his way of thinking. He is a such a wannabe but he has a great heart too!
Many good actors have a role in Guardians of the Galaxy. Among them are Zoe Saldana, Djimon Hounsou, Glenn Close, Benicio del Toro. However, James Gunn does a mediocre, and sometimes bad, job as a director. Additionaly the writers tried to fit into the scenario too much information and too many comic book characters from the Marvel Universe. But I did find funny that the Collector, who has an eye on the Infinity Stone too, has in his collection Howard the Duck and Cosmo the Spacedog. If you are a comics fanatic or a fan of Marvel movies, you will see it for sure. Otherwise you will pass…
Movie Quote from Guardians of the Galaxy
Rhomann Dey: Drax aka the Destroyer. Since his wife and family were killed, he's been on a rampage across the galaxy in a search for vengeance.
Gamora. Soldier, assassin, wanted on over a dozen counts of murder.
Rocket. Wanted on over 50 charges of vehicular theft and escape from custody.
Nova Corps Officer: What the hell?
Rhomann Dey: Groot. He's been travelling recently as Rocket's personal houseplant slash muscle.
Peter Jason Quill. He's also known as Star-Lord.
Nova Corps Officer: Who calls him that?
Rhomann Dey: Himself, mostly. Wanted mostly on charges of minor assault, public intoxication and fraud…
They call themselves the Guardians of the Galaxy.
Nova Corps Officer: What a bunch of assholes.
Movie Quote from Guardians of the Galaxy
Nova Prime Rael: The fate of 12 billion people is in your hands.
Peter Quill: Hold on a second, you're being serious right now?
Guardians of the Galaxy – Trailer (Greek subs)
https://www.youtube.com/watch?v=mJ_EVhZfQ2k
Credits:
Writers:
James Gunn, Nicole Perlman
Director:
James Gunn
Cast:
Chris Pratt – Peter Quill
Zoe Saldana – Gamora
Dave Bautista – Drax
Vin Diesel – Groot (voice)
Bradley Cooper – Rocket (voice)
Lee Pace – Ronan
Michael Rooker – Yondu Udonta
Karen Gillan – Nebula
Djimon Hounsou – Korath
John C. Reilly – Corpsman Dey
Glenn Close – Nova Prime
Benicio Del Toro – The Collector
Laura Haddock – Meredith Quill
Sean Gunn – Kraglin / On Set Rocket
Peter Serafinowicz – Denarian Saal
Christopher Fairbank – The Broker
Krystian Godlewski – On Set Groot
Wyatt Oleff – Young Quill
Gregg Henry – Grandpa
Janis Ahern – Meredith's Mother
Solomon Mousley – Meredith's Brother
Lindsay Morton – Meredith's Best Friend
Robert Firth – Dr. Fitzgibbon
Melia Kreiling – Bereet
Tom Proctor – Horuz
Nick Holmes – Horuz's Mate
Max Wrottesley – Sacrifice Nova Corpsman
Stan Lee – Xandarian Ladies' Man
Nicole Alexandra Shipley – Pretty Xandarian
Sharif Atkins – Nova Arresting Pilot
Brendan Fehr – Corpsman Dey's Partner
Tomas Arana – Kree Ambassador
Mikaela Hoover – Nova Prime's Assistant
Emmett Scanlan – Head Riot Guard
Dominic Grant – Angry Guard
Spencer Wilding – Mean Guard
Alison Lintott – Sad Woman with Horns
Alexis Rodney – Moloka Dar
Nathan Fillion – Monstrous Inmate (voice)
Keeley Forsyth – Mottled Prisoner
Frank Gilhooley – Burly Prisoner
Alexis Denisof – The Other
Enzo Cilenti – Watchtower Guard
Richard Katz – One Legged Prisoner
Enoch Frost – Rifle Guard
Ronan Summers – 'Drop the Leg' Guard
Ophelia Lovibond – Carina
Laura Ortiz – Tortured Pink Girl
Marama Corlett – Pit Boss
Rosie Jones – Lady of the Boot of Jemiah
Abidemi Sobande – Lady of the Boot of Jemiah
Alex Rose – Lady of the Boot of Jemiah
Ekaterina Zalitko – Lady of the Boot of Jemiah
Emily Redding – Lady of the Boot of Jemiah
Fred – Cosmo the Space Dog
Stephen Blackehart – Knowhere Dispatcher
Jennifer Moylan-Taylor – Sad Krylorian Girl
Bruce Mackinnon – One-Eyed Ravager
Ralph Ineson – Ravager Pilot
Rob Zombie – Ravager Navigator (voice)
Naomi Ryan – Nova Centurion
John Brotherton – Nova Starblaster Pilot
Graham Shiels – Alien Nova Pilot
James Gunn – Maskless Sakaaran
Douglas Robson – Maskless Sakaaran
Rachel Cullen – Corpsman Dey's Wife
Isabella Poynton – Corpsman Dey's Daughter
Imogen Poynton – Corpsman Dey's Daughter
David Yarovesky – Goth Ravager
Miriam Lucia – Crying Xandarian Citizen
Josh Brolin – Thanos
Seth Green – Howard the Duck
To see Deleted Scenes from Guardians of the Galaxy (2014) click here!
A.A.