Genre:
Drama, Romance
Release Date:
April 11, 2014
Duration:
126 minutes
Plot:
Hazel Grace is a cancer patient and she is on her teens. One of the side effects of her illness is COPD, her lungs have permanent and severe damage. As a result she cannot go anywhere without her portable oxygen concentrator. And since Haze is a fan of rationalism and she is sure that her life will be short, she avoids relationships with other people. Her doctor, however, urges her to join a support group of young people who are fighting cancer. There she meets Augustus Waters – Gus for his friends. Gus wins her attention but what he really wants is to win her heart. She resists. He insists. Hazel suggests they be just friends. However, when Gus arranges to travel to Netherlands to meet Peter Van Houten – author of An Imperial Affiction, the book Hazel loves – they get closer.
Our impressions and movie review: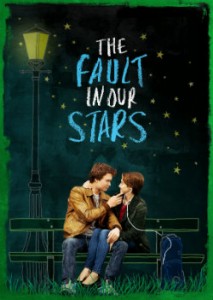 This is a movie adaptation of the novel "The Fault in Our Stars" by John Green. Needless to say, the subject is very difficult – a disease such as cancer and particularly in young patients…
Scott Neustadter and Michael H. Weber did a very good job with the adaptation, and the director Josh Boone was exemplary! The actors Shailene Woodley (Hazel) and Ansel Elgort (Gus), who we met in Divergent (as Tris and Caleb), interpret amazingly their parts and Nat Wolff as Isaac, Gus best friend, is very good.
This film, despite the difficult and unsettling topic, has a message to give. A message of struggle, humanity, solidarity. A message of love. See this movie and have a pack of tissues nearby…
Movie Quote from The Fault in Our Stars
Frannie: You two are so adorable!
Hazel: We are just friends.
Gus: Well, she is, I'm not.
Movie Quote from The Fault in Our Stars
Hazel: I fell in love with him the way you fall asleep: Slowly, and then all at once.
Movie Quote from The Fault in Our Stars
Peter Van Houten: So Zeno is most famous for his tortoise paradox. Let us imagine that you are in a race with a tortoise. The tortoise has a ten-yard head start. In the time it takes you to run that ten yards, the tortoise has moved one yard. And then in the time it takes you to make up that distance, the tortoise goes a bit farther, and so on forever. You are faster than the tortoise but you can never catch him; you can only decrease his lead. Of course, you just run past the tortoise without contemplating the mechanics involved, but the question of how you are able to do this turns out to be incredibly complicated, and no one really solved it until Cantor showed us that some infinities are bigger than other infinities.
Movie Quote from The Fault in Our Stars
Gus: That is amazing.
Waiter: Do you know what Dom Pérignon said after he invented champagne? "Come quickly," he said. "I'm tasting the stars." Welcome to Oranjee. Would you like a menu, or will you have the chef's choice?
Gus: Chef's choice sounds wonderful. And, sir, um… something tells me we're gonna need a little bit more of this.
Waiter: We have bottled all the stars for you this evening, my young friends.
Movie Quote from The Fault in Our Stars
Hazel: But, Gus, my love, I cannot tell you how thankful I am for our little infinity. I wouldn't trade it for the world. You gave me a forever within the numbered days, and I'm grateful.
Το Λάθος Αστέρι – The Fault in Our Stars – Trailer (Greek subs)
https://www.youtube.com/watch?v=fLO4pYDOYYQ
Credits:
Writers:
Scott Neustadter
Michael H. Weber
Director:
Josh Boone
Cast:
Shailene Woodley – Hazel
Ansel Elgort – Gus
Nat Wolff – Isaac
Laura Dern – Frannie
Sam Trammell – Michael
Willem Dafoe – Van Houten
Lotte Verbeek – Lidewij
Ana Dela Cruz – Dr. Maria
Randy Kovitz – Dr. Simmons
Toni Saladna – Flight Attendant
David Whalen – Gus' Dad
Milica Govich – Gus' Mom
Allegra Carpenter – Hostess
Emily Peachey – Monica
Emily Bach – Monica's Mom
Tim Hartman – Minister
Mike Birbiglia – Patrick
Bethany Leo – Speaker #1 (Beth)
Alexis Hodges – Speaker #2 (Angel)
Jean Brassard – Waiter
Carly Otte – Young Girl (Alisa)
Lily Kenna – Young Hazel
Silvio Wolf Busch – European
Viviana Cardenas – Support Group Member (Julie)
Jordan Drexel – Speaker #3 (Sid)
Pj Rossotto – Speaker #4 (PJ)
Tanner Boatwright – Gus' Leg Double
Cheyenne Hurley – Coffee Shop Worker
Jennifer Kline – Giggling Girl
Carole Weyers – Anne Frank (voice)
A.A.