Genre:
Biopics, Drama
Release Date:
September 7, 2014
Duration:
123 minutes
Plot:
Born on January 8th, 1942. One of the most brilliant minds alive. Theoretical physicist, author, cosmologist and research director at the Centre for Theoretical Cosmology, University of Cambridge. We are talking, of course, about Stephen Hawking.
The film "The Theory of Everything" presents his life, starting from the years he was doing his PhD. Then he met Jane Wilde, who he later married and together they have three children. Shortly after their acquaintance and mutual love at first sight, Stephen was diagnosed with motor-neuron disease (ALS – amyotrophic lateral sclerosis). The doctors predicted he would only live for two years.
His first reaction was to move away from Jane, because he wanted to save her from the expected tragical events of his disease. Yet, their love was bigger and stronger than the obstacles and they married and had three children… their most important creations!
Stephen is still alive despite the medical predictions, and he is still pioneering in Physics, even though he is almost completely paralyzed. He moves around with an electrical wheelchair and communicates via a computer (equipped with speech synthesizer) that he controls with his glance.
Our impressions and movie review: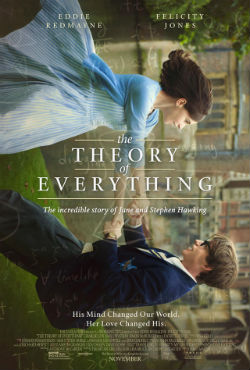 The movie "The Theory of Everything" is based on the book "Travelling to Infinity: My Life with Stephen" by Jane Wilde-Hawking, his first wife.
During the two hours of the movie, the viewers can learn some of the scientifical accomplishments of the acclaimed cosmologist, but this is not the main theme of the movie. The main theme is Stephen Hawking as a person. Their life with Jane and their children. The struggle with the ALS disease and above all the message "if you want something very much, and fight for it with all your strength, then you will succeed".
The excellent screenplay encourages you to read the book. The performances of the actors are excellent and Eddie Redmayne really deserves an Academy Award. As for the flow of the story? It flows even faster than one would life, with incredible scenes and a finale that makes you say "it is a pity that it ended". "The Theory of Everything" is a must-see film!
The theory of everything – Trailer (Greek subs, HD 720p)
http://www.youtube.com/watch?v=Pac8A3-ti48?vq=hd720
Credits:
Writers:
Anthony McCarten
Director:
James Marsh
Cast:
Eddie Redmayne – Stephen Hawking
Felicity Jones – Jane Hawking
Tom Prior – Robert Hawking (Age 17)
Sophie Perry – Lucy Hawking (Age 14)
Finlay Wright-Stephens – Timothy Hawking (Age 8)
Harry Lloyd – Brian
Alice Orr-Ewing – Diana King
David Thewlis – Dennis Sciama
Thomas Morrison – Carter
Michael Marcus – Ellis
Gruffudd Glyn – Rees
Emily Watson – Beryl Wilde
Guy Oliver-Watts – George Wilde
Simon McBurney – Frank Hawking
Lucy Chappell – Mary Hawking
Charlotte Hope – Philippa Hawking
Abigail Cruttenden – Isobel Hawking
Christian McKay – Roger Penrose
Nicola Sloane – Bedder
Lottie Hamilton – Robert Hawking (New Born)
Enzo Cilenti – Kip Thorne
Rufus Taylor – Robert Hawking (Age 2)
Delilah Sexton – Lucy Hawking (New Born)
Eileen Davies – Eileen Bond
Simon Chandler – John Taylor
Georg Nikoloff – Khalatnikov
Oliver Payne – Robert Hawking (Age 8)
Raffiella Chapman – Lucy Hawking (Age 6)
Charlie Cox – Jonathan Hellyer Jones
Sam Houston – Timothy Hawking (Baby)
Victoria Emslie – Sarah
Maxine Peake – Elaine Mason
Production Companies and Distributors:
Working Title Films
UIP